The best gold ETF in 2012 continues to be the iShares Gold ETF, IAU. It has outperformed the much larger and more expensive GLD, the SPDR Gold Trust, by almost 20bps year to date. Here's the performance grid from GoldETFs.biz illustrating year to date performance and expense ratios of all physical gold ETFs listed in the United States.

As a second mover ETF, IAU has positioned itself with the lowest expense ratio in the physical gold ETF peer group. This tactic been rewarded by the marketplace through disproportionate inflows into IAU. Despite GLD's AUM advantage of nearly 8 to 1, IAU has managed to capture 77% of the size of GLD inflows over the last 12 months. Here's the one year inflow numbers for IAU and GLD from Index Universe's Fund Flow Tool.

In addition to recent inflows, a five year performance comparison shows IAU with a slight advantage over GLD, even though its lower expense ratio was just introduced in 2010. Here's the graphic from stockcharts.com showing IAU is also the best gold ETF in terms of five year performance.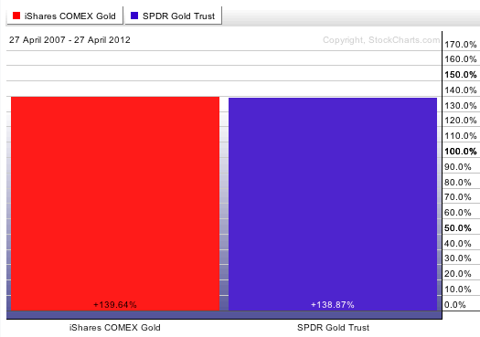 Fans of GLD will point to its higher per share price and larger trading volume as more favorable cost inputs that place GLD ahead of IAU. One wonders however, if the inflow trend will cause GLD to use its massive scale to implement a more competitive expense ratio or if it will continue to cede traction to IAU.
For investors, both IAU and GLD continue to provide convenient and efficient access to the performance of physical gold. Further price competition will only increase the attractiveness of owning gold through the ETF structure and one wonders how low (expense ratio) and how high (AUM) gold ETFs will reach in the coming years. May the best gold ETF win.
Disclosure: I have no positions in any stocks mentioned, and no plans to initiate any positions within the next 72 hours.
Additional disclosure: Christian Magoon publishes GoldETFs.biz.