Goldman Sachs (NYSE:GS) is the fourth largest bank in the U.S. in terms of market capitalization. The bank, which is headquartered in Manhattan, has a market capitalization of $58.4 billion. The bank's price to earnings ratio is 16.94, and its price to book ratio is 0.88.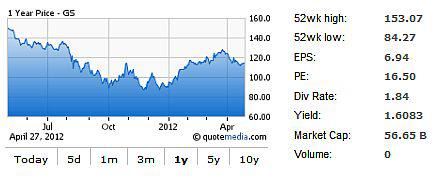 In mid-April, Goldman Sachs reported earnings for the first quarter of 2012. The bank reported earnings per share of $3.92, which handily beat analysts' estimates of $3.55 per share. First quarter revenues were $9.9 billion, which reflected a 37% decrease from the first quarter of 2011, when it had revenues of $13.6 billion. First quarter net income was $2.1 billion, which was a 28% decrease from the first quarter of 2011, when it had net income of $2.7 billion. Only two main business segments - investment bank and fixed income - performed better than in the first quarter of 2011.
A review of the bank's first quarter revenue figures show that it was not performing poorly. The $9.9 billion in revenues was 23% higher than its fourth quarter revenues of $8.01 billion. For investors, this is welcome news, as quarterly revenues had been trending downward.
Goldman Sachs, like its competitors, has been challenged by recent federal regulations which have negatively impacted revenue. On October 1st, the Durbin rules came into effect. These rules limit the fees that banks can charge when consumers use debit cards. It is estimated by the Javelin Strategy and Research firm that these rules could cost banks as much as $6.6 billion in revenue per year, beginning in 2012. Another Federal regulation which limits overdraft fees went into effect in July 2010, and could cost banks $5.6 billion in revenues per year. A 23% increase in revenues should therefore be considered as a victory for Goldman Sachs.
The bank's net income of $2.1 billion was 100% higher than its fourth quarter net income of $1.01 billion. The bank was able to increase its net income because investment banking revenues were up by 35%, financial advisory revenues were up 4%, and underwriting revenues were up 72%.
Expenses were down by 8%. First quarter non-compensation expenses were $2.4 billion, 8% lower than the fourth quarter, reflecting reduced costs across a number of expense categories.
Goldman Sachs has six primary U.S. competitors in Wells Fargo (NYSE:WFC), JPMorgan Chase (NYSE:JPM), Citigroup (NYSE:C), Bank of America (NYSE:BAC), US Bancorp (NYSE:USB) and Morgan Stanley (NYSE:MS). The stock price of Goldman Sachs and all its competitors have moved higher during 2012. They have benefited from the overall stock market rally and an improving economy.
Stress Test
One of the catalysts that has helped to push the stock price of major banks higher is the Federal Reserve's stress test. All but four of 19 major banks passed the stress test. The stress test measures a bank's overall financial strength and ability to survive a downturn worse than the Great Recession. The Federal Reserve's findings signaled its confidence that the financial system, which nearly collapsed 4 years ago, is healthy again. Only one of the banks that I listed among Goldman Sachs competitors failed the stress test, and that was Citigroup.
In addition to increasing investor's confidence in the financial strength of major banks, passing the stress test empowers banks to pay higher dividends and engage in stock buyback programs. In the company's first quarter conference call, Goldman Sachs executives announced that the bank would raise its dividend by 31%, from $0.35 per share to $0.46 per share. It was also announced that the bank, which repurchased 3.3 million shares of common stock for a total cost of $362 million in the first quarter, will continue to repurchase shares of stock in the second quarter.
Goldman Sachs Pros
In the first quarter, the bank was able to increase revenues in its investment banking, financial advisory and underwriting businesses. Total revenues were up by 23% from the prior quarter. The bank was able to continue its cost cutting program and decrease its staff by 3%, and overall costs by 8%. The stock has been trending higher and is up by over 20% since the beginning of the year. The bank beat analysts' earnings per share estimates by $0.37. Bank executives showed confidence in the company's future earnings, and increased its dividend by 31%.
Goldman Sachs Cons
First quarter revenues and net income were significantly less than in the first quarter of 2011. The company's long-term growth outlook is poor. Its three year earnings per share growth stands at zero. Its three year revenue growth is negative 9%.
Conclusion
I believe that U.S.-based banks will see increased earnings and higher stock prices as the economy improves. Banks like Wells Fargo and JPMorgan have already reported first quarter earnings, and have shown that they can maintain revenues and increase earnings. Banks such as Goldman Sachs, Bank of America and Citigroup have improved earnings. However, their earnings have not been stable, and their stock prices have seen tremendous run ups since the beginning of the year. I believe that Goldman Sachs' stock price could move higher, but Wells Fargo and JPMorgan are my top picks in the banking sector.
Disclosure: I have no positions in any stocks mentioned, and no plans to initiate any positions within the next 72 hours.