Cheniere Energy (NYSEMKT:LNG) has had a huge run (skyrocketing over 115%) since January, on investor excitement over the company's unique position in the international natural gas market. According to some of the most enthusiastic bulls, Cheniere has one of the best arbitrage opportunities in the world due to low natural gas prices in the U.S. and higher prices abroad. Since the company is an intermediary that stores and ships compressed natural gas from the U.S. abroad, Cheniere can pocket the price differential as long as it remains profitable.
Natural gas, as many energy investors may know, has been on an extreme downtrend (in price) due to huge expansion of natural gas production brought about by fracking. This directly benefits Cheniere due to the ability to buy incredibly cheap natural gas in North America (at $2.186 MMBTU) and sell it to needy regions like Europe (with prices near $13.5 MMBTU) and others, making huge profit margins in the process.
Cheniere is particularly well positioned to take advantage of the gap due to its license to export to some of the biggest worldwide importers of natural gas (like China). Despite some recent data that has suggested a rapid slowdown of emerging market growth, natural gas demand has actually remained quite strong as people continue to substitute methods of producing energy due to high oil prices.
Overall, the stock looks like a real winner. Not only has it exploded from $3.01 at the start of 2009 to $18.74 (over 600% appreciation), but the prospects seem to have improved even further due to a recent approval for the company's $10 billion project in Louisiana. If Cheniere Energy can get the funds to build the largest natural-gas exporting terminal in the United States, there's reason to believe that the company can begin to generate some truly outstanding profits.
The problem is that funding the project is a big if, and there's also the importance of the natural gas price differential between major regions of the world. Fracking has induced an impressive supply shock in the natural gas market over the last few years. The recent hyperbolic growth of natural gas production in the U.S. has induced quite an enormous quake in natural gas prices, and consumption of the stuff has been slow to react.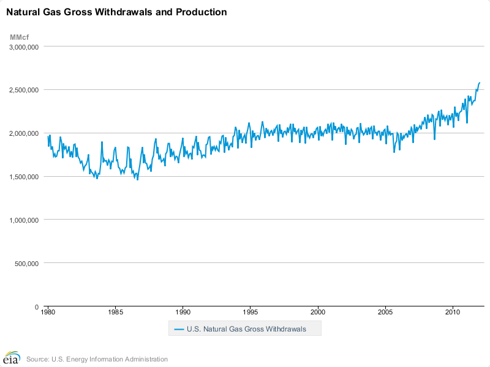 The problem with Cheniere is that it relies quite heavily on this huge gap to justify its monstrous expenses. While the exact timing is unclear for now, natural gas prices across the world will converge as consumption and supply adjust to the hydrofracking boost that we've experienced in the U.S. recently.
In the immediate term, the biggest danger lies in the availability of funding for Cheniere's big project in Louisiana. The company made a major blunder with its investment in the Sabine Pass exporting terminal a few years ago (a terrific overview was written by Paulo Santos), and as it said in Santos' article, we may be seeing a repeat in the opposite direction with an even larger budget.
In an attempt to capture the natural gas price differential, Cheniere is making an enormous bet based on current prices which is expected to take until 2015-2016 to become operational. That is a long time to hope for stability in natural gas prices while financing a debt that is quickly approaching the current market cap of the company itself. Oil & Gas companies have already begun their reaction to low NG prices and low margins through production cuts in North America. This puts bullish pressure on natural gas prices.
Lastly, Cheniere still has to raise $5B for completion of its export terminal, and its existing ~$2.5B of debt (according to the company's latest 10-Q filing) makes it difficult to trust the company's financial situation. If the company manages to finish the project by 2015, and if the company can begin exporting with the absurd price differential, LNG will be a winner. These are big stretches-- and even then-- much of the upward momentum has been exhausted in the last two years.
LNG has obviously been a very painful stock to short (~12.5% of shares are still being shorted), and even though I think we will definitely see a natural gas rally, it's a risky play. The stock has already had a huge run, and if you are insistent on making the wild bet on LNG, I would wait for the stock to drop below $10 at the most before adding more. Bullish sentiment has been ferocious due to the recent approval of the exporting terminal.
There is a lot of room for Bears to pick apart at the LNG rally, and a lot of room for natural gas to move up right now.
Disclosure: I have no positions in any stocks mentioned, and no plans to initiate any positions within the next 72 hours.