In the first incarnation of the Web (or Web 1.0) the glory belonged to companies like Netscape and Yahoo (YHOO), but the money lay with the picks-and-shovels players such as Cisco (NASDAQ:CSCO) and Juniper (NYSE:JNPR), companies that still endure. The 'green shoots' of Web 2.0 or the Social Web have started with LinkedIn (LNKD) and Zynga (NASDAQ:ZNGA) and one might expect a full bloom with the Facebook IPO. Unlike Yahoo and Netscape in their day, the Web 2.0 gang of stocks are real companies making real money. So you can certainly bet on the Web 2.0 phenomenon via these above-mentioned companies. But the picks-and-shovels argument still holds. You might still be better investing in the arms merchants than the warriors (since for every victor in a war lies much roadkill).
So what's the Web2.0 (or Social Networking) picks-and-shovels play? To understand this here's a short tutorial on Web2.0. Where the 'old' web was about web pages, the new web is about Applications. Applications are those square things you download onto your iPhone. A number of applications live in the Web (or the cloud). Whether it is your pictures on Flickr, or your files on Google Docs, or your Games on Facebook - as you own more devices, you want to get at your 'stuff' from anywhere without diddling and fiddling. Just as the old web of pages created demand for routers and switches to move pages around, Web 2.0 creates demand for network companies that manage applications 'in the cloud' for hundreds of millions of users - or Application Delivery Networks, in contrast to companies in transport networks (such as CSCO and JNPR). The figure below shows Gartner's categorization of vendors in the space, with folk in the top right being on Gartner's favored list. The three horsemen in application delivery networks are F5 Networks (NASDAQ:FFIV), Radware (NASDAQ:RDWR) and Citrix (NASDAQ:CTXS), with Cisco as one of the old guard trying to broaden its base.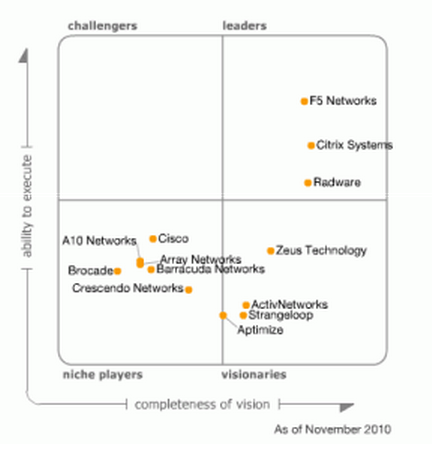 So how are the 'new guard' of Application Delivery Networker stocks doing compared to the old guard of Cisco, Juniper, Brocade et al? Well, the table below tells the tale.
| | | |
| --- | --- | --- |
| Ticker (Company) | Stock : % below 52 week high | Comments |
| FFIV (F5) | 5% below 52 week high | stock up 11% on earnings announcement |
| RDWR (Radware) | 1% below 52 week high | several social media security deals, partnership with Juniper |
| CTXS (Citrix) | 3% below 52 week high | stock up 10% on earnings 4/25 |
| JNPR (Juniper) | 50% below 52 week high | profit issues, product transition issues |
| CSCO (Cisco) | 10% below 52 Week high | trying to expand into Application Delivery Networks, but many old business a drag |
While traditional networking isn't doing badly, there is no large catalyst driving earnings there, as wireless carriers (their big customers) struggle with increased expenses that they can't pass on to their customers. The new guard of networking companies that feed the Social Web have no such woes.
A caveat - these companies are volatile in absolute terms as well as susceptible to the 'summer swoon' that ails most tech companies. However, it is my expectation that in the short-term these companies will be buoyed by the enthusiasm for the Facebook IPO, and in the long-term by gangbuster earnings.
Disclosure: I am long FFIV.