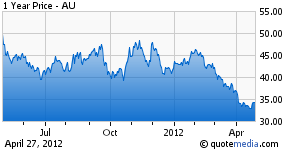 "Some gold miners are hitting new 52-week lows. AngloGold Ashanti's (NYSE:AU) U.S. listed stock was recently down 3.9% to $32.75," wrote the Wall Street Journal's MarketWatch blog on April 10th. Indeed, AngloGold Ashanti had been trading at $47 only two months back in February after which it went into a nosedive. Perhaps you should not be plunking your spare change into AngloGold? But wait -- you've heard of PIGS; eurozone; debt crisis. Put all those red-flag terms and phrases together and they spell "U-P" for gold and precious metals stocks, sooner or later. For those and a few other reasons, there's only one direction for AngloGold Ashanti to head: up - or at least, not down. This is not meant to imply a short-term bullish outlook on AngloGold, just a short-term non-bearish outlook.
AngloGold focuses on gold mining and extraction throughout Africa. It also mines silver and mineral salts, and operates in Australia and the western hemisphere. That said, it is gold-centric and Africa-centric: it is headquartered in Johannesburg, is Africa's biggest gold producing company and obtains about 40% of its gold from South African mines. AngloGold's 2003 purchase of Ashanti Goldfields of Ghana created what is now a trillion-dollar company
Like most miners, be they diversified or precious metals, AngloGold's stock has taken a hit. Above $48 in mid-November and mid-December, it now trades at around 33. AngloGold can take solace from rival Agnico-Eagle Mines (NYSE:AEM) plight. Riding high at $70 in September, it too has tumbled and is trading at around $32. Based in Toronto, Canada, Agnico-Eagle's main focus is also gold exploration and mining. Similarly, Barrick Gold Corporation (NYSE:ABX) shares were at about $55 in September and were touching $50 as late as end-February, but now hover at $41. You'd be forgiven for mixing up Barrick with Goldcorp (NYSE:GG) - the charts and stock-price trajectories are that similar with the two stocks starting to diverge significantly only in mid-March. Would you believe that Goldcorp also peaked in end-February at $50 per share and then slid down to where it now hovers, at around $41.
We are not seeing any contrasts, only similarities. Clearly, stock-price woes are not unique to AngloGold; this malady of anemic share prices is endemic to gold and precious metals stocks these days.
There may be a common cause behind the recent rise and fall of gold and precious metals stocks. Speculators may have been loading up on gold-producing stocks anticipating currency crises, deflation, and stringent conditions to exert an upward pressure on gold. In February, however, Greece was forced by the eurozone's financial mandarins to accept an austere bailout plan and though that spread socio-economic turmoil within the unfortunate country, the bailout brought some stability to roiling financial markets. As a result, speculators may have been offloading on their 'security blanket' gold holdings.
However junk paper and bad loans still afflict Europe and the IMF remains engaged in a two-step with the eurozone, citing Italy and Spain as worries. Some days back The Guardian even ran a reader poll, asking whether Spain will need a bailout! The ayes had it, 73% to 27% - fears about Spain run that high. A run on a bank, unbridgeable costs of borrowing, a missed loan payment - any financial event in Europe - may roil the markets again. Only last week Reuters reported that generalized eurozone anxiety and particularized Spain worries impelled investors to choose German treasuries and government bonds as a "safe haven." In such conditions gold is the traditional safe haven, and - unlike its other large competitors - AngloGold is all about the yellow stuff. AngloGold's fortunes are tied to gold, and gold has a 'bright' future as long as Europe remains wracked with uncertainty and doubt.
Comparing AngloGold with its smaller 'boutique' competitors who also have a gold focus would be like comparing apples to oranges - or, more accurately, comparing a bunch or cluster of grapes to two or three individual grapes. This analogy may be strange but it gets two key points across. First, because of its sheer mass AngloGold would not be buffeted much by an ill wind that would blow individual grapes hither and thither. Second, whereas many other mining and extraction companies have their geographical focii with three or four high-performance mines, AngloGold is so geographically diverse and has so many mines that one might think of it as a bunch or cluster of mining companies.
AngloGold is fundamentally strong. Its stock will tank when it starts running out of gold, when its gold mines stop yielding the metal, when its mining commissions start to fail. With AngloGold sitting on proven or probable gold reserves of 70-plus million ounces, none of that is likely to happen soon.
So what ails AngloGold? The company has not suffered any failure in its core business; rather, cash-related misadventures seem to have stung the company. A combination of over-investing or bad investments, and dividend payouts contributed towards hurting its bottom line in fiscal year 2010.
First, "South African safety stoppages cost top gold producer AngloGold Ashanti 76,000 ounces of lost production in the first three months of 2012." That explains a lot doesn't it? The April 10 story, "Safety stoppages hit AngloGold Ashanti Q1 output", also mentioned that these production losses translate to a dollar figure of 175 million.
Second, political upheaval in Western Africa is engendering investor anxiety. In an April 4 story, Gold miners shrug off risks of Mali disruptions, Reuters reported that AngloGold's "London-listed shares have dropped 20% since soldiers seized power in Mali on March 22, suggesting that investors are worried over the potential risk of disruption as a result of the political situation." In other words, a bout of panic selling. No actual threat to AngloGold's mining operations has arisen and anyway, its Mali operations account for only 4% of its overall production.
These are not symptoms of a diseased corporate organism; these are merely cases of skin rash and hives - inconvenient but not harmful, let alone fatal.
However, a threat has emerged which will cause AngloGold's stock price to suffer from a nagging depressant for the foreseeable future and may even body-slam it in years to come. The company is squarely in the sights of super lawyer Richard Spoor who will shortly be filing a class action lawsuit in Johannesburg against AngloGold and two other mining majors on behalf of nearly 7,000 affected parties. These parties would be miners who have contracted silicosis and their families. Silicosis is a lung-destroying disease that is caused by working with insufficient safety apparatus in mines. The mining companies, which the story refers to as "targets," face an exposure running into the millions of dollars.
This lawsuit related to ex-miners' health is the real, long-term threat to AngloGold's own health. It may be wise of AngloGold to avoid a prolonged slugging match which would steadily sap it of funds, image, and corporate energy.
Here's the "Kersie Solution": Negotiate hard for an early settlement of all claims. Absorb a (relatively) small short-term hit by way of a charge rather than jeopardize overall long-term financial strength and vitality and, at the same time, do the right thing ('corporate responsibility', to use the standard buzzword) by the diseased miners and their families. Pay out one-time lump sum payments depending on severity of condition and length of service, and set up a respectable trust fund for some medical bills. Lose some money; gain a lot of goodwill and positive press. It's high time that a gold company acted with a golden heart.
Fool.com is bullish on AngloGold, and reports "For the upcoming fiscal year, AngloGold is predicting that gold production will be in the range of 4.3 to 4.4 million ounces with a cash cost of $780 to $805 per ounce." Perhaps to be taken with a pinch of salt but the upbeat forecast has some factual foundation: after two successive years of losses in 2008 and 2009, AngloGold returned to profitability in 2010. Its net income was $112 million.
As its name indicates, AngloGold is not a particularly diversified miner with respect to metals. Even the major player it acquired in 2003 had the word 'gold' in its name: Ashanti Goldfields. For AngloGold, the yellow stuff is the steak, the rest of it is steamed veggies. However, if gold is the steak, then AngloGold owns most of the cattle breeds: it has mines and commissions throughout the gold- and metals-rich arc of South and Western Africa, from South Africa through Congo to Ghana, plus other resource-rich regions such as United States, Australia and Argentina.
AngloGold's (forward) price/earnings to growth ratio (PEG ratio) is 0.14. No matter how one looks at it this is an extremely attractive PEG ratio and indicates that the stock is undervalued. (Traditional price-per-earnings is 10.46 which too is lower than the time-honored magic number of 16.) Add to that its debt-to-equity ratio of 2.76, which is not high considering the capital-intensive nature of exploration, mining and extraction, and we have a few signals that the company's vital signs are strong.
Reports of AngloGold's disease are greatly exaggerated. This is a thriving firm that has caught a cold. Its shares may stagnate, and they may even decline a little. But a rise, if not imminent, is inevitable.
Disclosure: I have no positions in any stocks mentioned, and no plans to initiate any positions within the next 72 hours.