If I could ask for a moment of your time, I would urge investors to go to cefconnect.com and click on the Fund Sorter tab to be taken to the rankings of all closed-end funds, stock and bond, sorted by their Discount and Premium prices.
The first sorting you will see should be by Discount and if not, please click on the drop down menu to get to the funds sorted by discount. There you will see the first page of 16 showing all 395 funds that currently trade at a discount market price to a fund's Net Asset Value (NAV) price. These are the worst of the worst of the funds at the widest discounts. As most investors know, the NAV of a fund is a fund's true net worth, its liquidation value, whereas the market price of a fund is the fund's "perceived" value by investors. Logically, funds at discounts are perceived to be of less value than their net worth whereas funds at premiums are perceived to be of more value.
Close to the bottom of page 1 on the funds sorted by discount, and this listing will obviously vary day to day, is the Gabelli Healthcare & WellnessRx Trust (NYSE:GRX). This is a fund that I recommended earlier this year which currently trades at a -14.2% discount as of April 27, 2012, one of the widest discounts of all 636 CEFs, bond or equity. Here is GRX's 1-year Discount/Premium chart in which you might think that GRX has one of the worst reputations among CEFs. Longer term, GRX's 3-year average discount is -17.1%.

Now I want you to go back to the drop down menu and click on Premium to find the top funds trading at the highest premium market prices over their NAVs. These are the best of the best of the 241 funds trading at premium market prices and if you go to page 2 about half way down, you'll find the ING International High Dividend Equity Income fund (NYSE:IID) trading at a +10.4% premium as of April 27, 2012. So out of 636 total CEFs available to investors, IID is in the top 35 funds perceived to be of greater value than their net worth. Take out fixed income and bond funds, and IID is actually in the top 5 of all equity based funds trading at a premium. Here is IID's 1-year premium/discount graph in which you might think that IID must have some secret formula to be trading at such a high valuation. Longer term, IID's 3-year average premium is +10.52%.

Can we agree then that we are looking at two funds at opposite ends of the discount/premium range, i.e. funds that are on opposite ends of their perceived value from their true net worth?
Now what I want to do is actually compare the performance of these two funds since their inceptions and see if investors have gotten this perception right, since I would imagine that funds that trade at high premiums should have some reason why they trade at such lofty valuations and funds at extreme discounts should have some reason why investors choose to value the fund so lowly.
Brief Fund Descriptions
Let me first describe the two funds before we go into their performances. The Gabelli Healthcare & WellnessRx Trust is a 23% leveraged pure equity fund that focuses in the healthcare, nutrition and wellness sectors of stocks. Roughly 15% of GRX's portfolio is in international stocks. Leveraged funds generally do very well in strong up markets and GRX has not disappointed, up 15.9% on its NAV YTD which is the third best NAV performance of all equity CEFs I follow. In addition, GRX's market price is up a healthy 18.4% YTD as well. Gabelli is one of the best equity managers around and when combined with a leveraged portfolio, can offer some of the best performance returns of any CEF or even ETF in an up market.
Now for the ING International High Dividend Equity Income fund. IID is also a pure equity fund but instead of leverage, uses an option-income strategy to generate income that it passes on to investors in the form of high distributions and yields. Option-income funds are generally more defensive than leveraged funds but IID uses a relatively low 30% notional coverage on its mostly overseas stock portfolio so it can also see excellent NAV growth when the global markets are doing well. So far in 2012, IID's NAV is up a solid 10.9% but its market price is up a whopping 22.1%, fifth best of all equity CEFs I follow.
The reason why I am comparing these two funds is not just that they are on opposite ends of the valuation scale, but because they both went public around the same time in 2007 near the highs of the market, GRX in June of 2007 and IID in September of 2007. So this should provide an interesting comparison of the two funds to see if the valuations are indeed appropriate.
NAV Performance Comparisons
The following two tables look at GRX's and IID's NAV performances beginning from around the high of the market at the end of the 3rd quarter of 2007 and then from near the low of the market at the end of the 1st quarter of 2009. NAV performance is the true measure of how each fund is actually performing whereas a fund's market price performance can be more a reflection of market and investor sentiment towards the fund. The tables show quarterly ending valuations with all distributions added back to give a running total return performance for both funds. Red represents down quarters for the markets and green represents up quarters.
Table 1: NAV Performances from Market High - 3rd Qtr 2007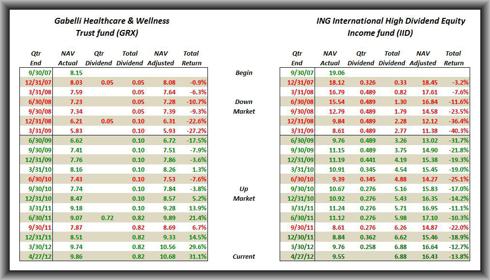 Now let's look at the NAV performance of the two funds from the market lows.
Table 2: NAV Performances from Market Low - 1st Qtr 2009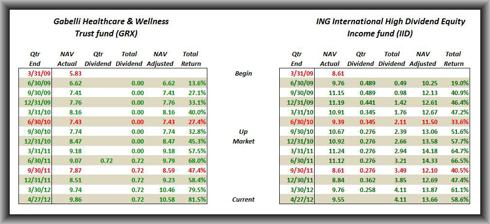 So here we have two funds at opposite ends of the perceived valuation scale and yet it's the fund with one of the lowest valuations of ALL CEFs that has crushed the fund with one of the highest valuations. And this is occurring in ALL market environments, not just in an up or down market. I run numbers on a lot of equity CEFs and I can tell you unequivocally that GRX has one of the best NAV performances of all equity CEFs since the market high in late 2007 and that IID has had a very average to below average NAV performance over the same period, even compared to other global option-income CEFs. And yet you would think that IID is the fund that has performed far better. In actuality, it's not even close.
Since the market highs from the 3rd quarter of 2007, GRX's NAV is up 31.1% compared to IID's NAV down -13.8% (Table 1). For comparison, the S&P 500 over the same period and with dividends included, is still down fractionally at -0.7%. Most comparisons to the S&P 500 DON'T include dividends but in my analysis, they do because I use the SPDR S&P 500 ETF Trust (NYSEARCA:SPY), which has quarterly dividends.
From the market lows since the 1st quarter of 2009, GRX's NAV is up 81.5% compared to IID's 58.6% (Table 2). For comparison, the S&P 500 over the same period is up 85.5%, again including all dividends. Performance figures are through April 27th, 2012.
Now one could argue I suppose that the US markets have done better than the overseas markets over the past 5 years and that should favor GRX but leveraged funds like GRX are more vulnerable to the downside in difficult markets whereas option-income funds should hold up better so even at the market lows on 3/31/2009 in which all markets, US and international, were showing similar steep declines from the market highs only 18 months earlier, GRX's NAV was down only -27.2% compared to IID's down -40.3% (Table 1). The only positive you could say about IID's NAV from the 3rd qtr 2007 to the 1st qtr 2009 is that it outperformed the S&P 500, which was down -45.2, again including all dividends added back.
These are extremely compelling tables in my opinion and I do this for a lot of equity CEFs to find the truly best and worst performing funds. When investors can look at CEFs from their total return standpoint and ignore all of the other hype such as high distribution yields and tax-advantaged dividends, then they can see exactly which funds deserve high valuations and which ones do not. GRX deserves a much higher valuation and IID frankly, should not be at a premium at all. But why are these two funds reflecting such massive valuation differences?
Part of the reason why investors don't see the best performing funds is because they often only invest in CEFs that have high distribution yields. Often times the higher the yield, the higher the valuation, though this can come at a steep price and let me get into that right now.
Correlation of Distribution Yields and CEF Valuations
As on option-income fund designed to offer high distributions and yields, IID offers a 9.8% current market price yield though its NAV yield is a much higher 10.8%. In other words, new investors in IID aren't even receiving the full yield the fund is actually paying because of the premium market price. After a difficult 2011, in which IID saw its NAV decline -9% and its market price -12.6%, IID's distribution was cut 7% beginning in 2012. So here we have a fund that has CUT its distribution in the last 6-months and yet trades at one of the highest valuations of all equity CEFs.
Now let's take a look at GRX's distributions and yields. If you go back to Table 1, you'll see that GRX has really had no distributions until mid 2011 when it finally made a large one time distribution of $0.72/share. Investors in CEFs don't like irregular distributions or low yields and that usually accounts for why CEFs trade at wide discounts.
I even argued in my article on the Gabelli funds back on February 1st, which you can read here that if Gabelli instituted a more regular dividend/distribution cycle for GRX, then it should start to see a decline in its perpetually large discount. Then on March 5th Gabelli announced that GRX would initiate a $0.10/share quarterly dividend beginning in June of 2012. This equates to a relatively low 4.7% current market yield and an extremely conservative 4.1% NAV yield, though I believe this could be just the beginning of distribution increases for GRX. In any event, it should be noted that in one fund, we see a distribution raise and in the other, a distribution cut.
Conclusion and Why GRX is Undervalued and IID is Overvalued
I wanted to make one final comparison between these two funds to drive home the absurdity of where these two funds currently trade at:
GRX current market price: $8.44
GRX current NAV price: $9.86
GRX current discount: -14.2%
GRX inception NAV price (June 2007): $8.00
IID current market price: $10.54
IID current NAV price: $ 9.55
IID current premium: +10.4%
IID inception NAV price (Sept 2007): $19.06
Take a close look at these numbers. GRX currently has a HIGHER NAV than IID (even though IID started with a $19.06 NAV) and yet trades at a market price over $2 LOWER. Then consider the fact that GRX's NAV has far outperformed IID under any market environment as shown above and that GRX recently raised its distribution instead of a distribution cut for IID, and you have to wonder if these two fund's valuations are somehow mixed up?
Going back to cefconnect.com, I would encourage investors to look closely at a fund's holdings, distributions, performances, etc. before they invest in any CEF. Some quick calculations and due diligence can uncover some extremely undervalued and overvalued funds that most investors overlook. In my experience with CEFs, these anomalies can last for awhile but over time, they will correct themselves and fund's like GRX and IID will finally reflect the valuations they deserve.
Disclosure: I am long GRX.
Additional disclosure: Short IID