Zynga's (NASDAQ:ZNGA) Mark Pincus said something almost two years ago that I only discovered recently, but will likely quote, here and there, for some time:
"In five years, everybody will always be connected to each other, instead of the web," he noted. He said that he often thinks of today's social companies as "dial tones." That is, they're merely entry points for these social connections.

He noted that Facebook is the big overall dial tone for this social experience. But also singled out others as sub-dial tones, Pandora, for example, is the music dial tone, he said. He also said he hopes that his company, Zynga, will be the gaming dial tone ...
Please allow me to add Domino's (NYSE:DPZ), the pizza dial tone for social experiences. While Domino's does not quite connect people to one another in the way Pincus was presumably thinking, it certainly is coming as close as a pizza joint possibly can.
I have written about Domino's well-executed turnaround and the subsequent rise in the stock here on Seeking Alpha. However, I have not spent much time on the company's excellent social strategy.
Before I get into it, it's always nice to look at the chart on a stock that has done well for shareholders over the long haul.
(courtesy of Yahoo Finance)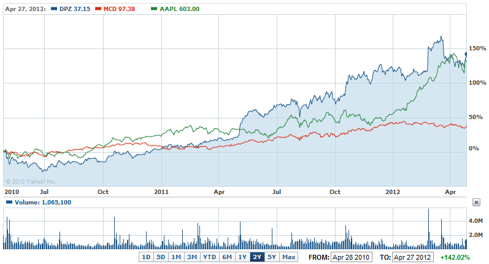 (Click to enlarge)
Domino's managed to outperform McDonald's (NYSE:MCD) and hang tough with Apple (NASDAQ:AAPL) over the last two years. That's saying something.
Analysts expect Domino's to post a 17% rise in profits on a 4% jump in revenue, year-over-year, when it reports earnings on Tuesday. The company beat EPS estimates last quarter by $0.04.
Much of the growth (51% of retail sales) comes from Domino's international business. This segment should continue to generate formidable numbers as it aggressively expands.
Domino's makes an attractive pitch to prospective franchisees. Start-

up is not incredibly prohibitive for several reasons, particularly the tiny footprint of most Domino's locations. Most stores are set up for carry-out and an incredibly efficient process from order routing and execution to delivery.
While wholesale changes to the quality and taste of Domino's pizza and its efficient franchise model deserve a lion's share of the credit for its success, investors should not overlook its social strategy. It's one reason for the company's resurgence and could end up being, at least on some level, a driver for more upside.
Domino's CEO Patrick Doyle makes frequent appearances on Jim Cramer's Mad Money during earnings season. On his last two live spots, Doyle acknowledged the importance of "social" to his company's business.
DPZ has also moved into the digital age. Doyle pointed out that almost 30 percent of orders are now digital, either online or mobile. And that has helped the company save on costs.

"Our corporate stores just did a terrific of driving efficiencies, but part of that ... is the digital play," he said. "When the customer is placing their own order, we don't need somebody standing there taking their order, so you can kind of ease off on the labor a little bit."
Doyle said social media has also become a very important part of the business.

"It's a more efficient way to market and it's a way to have one-on-one communications with our customers," he said.
I have seen social work firsthand. I am almost shocked, given the company's history, that I think Domino's makes pretty darn good pizza, particularly for the price. I have tried any number of local pizza places here in Santa Monica and not one makes a better pie. And they come nowhere even close to Domino's on overall service and delivery. There's no reason for a pizza to take an hour to arrive in any city, let alone one as small as the one I live in.
Like Doyle said, it comes down to efficiency. Instead of spending five to ten minutes on the phone repeating my order and reciting my credit card number to a person who continues to put me on hold to answer other ringing lines and deal with in-the-flesh customers, I can order online in what has been a completely flawless process. Local joints get my order wrong 5 out of 10 times, whereas Domino's has yet to mess up.
Domino's really impresses, however, with its online and mobile ordering platform. Even though I talk to a live human to order at most other pizza places, I - and it strikes me as strange to say this - feel a connection to the Domino's staff. And I only ever see one member of it - the delivery driver.
Outside of actual in-person restaurant experiences, I have never ordered food and, prior to placing the order, discussed with my family who will be preparing, quality checking and delivering our meal. Every time we order, however, my 8-year old asks, "Do you think Edgar will be making our pizza?" And, likely because we tend to order pizza on a pretty predicable schedule, he usually does.
We can use Domino's interactive interface to send him "words of encouragement" as he does his thing. Although I usually do not, we have the option of sharing the fact that we're ordering pizza on Facebook (NASDAQ:FB). And when we get the alert that Erik is on the way with our grub, we actually have a visual image of who we will see when the door opens.
That creates a loyalty that leads to more frequent and consistent orders, bigger tips for Erik and an increased willingness to add a dollar to my order when Domino's promotes a charity like St. Judes.
I know it sounds cheesy (just like that pun), but Domino's connects with me. While I'm not going to run out and buy Domino's apparel or tattoo its name on my chest, I've never ordered pizza as frequently as I do now (once every ten days or so). And I definitely never have kept track of the ordering process and actually look forward to doing so. If I paid attention to pizza ordering and delivery in the past it was out of frustration triggered by some likely avoidable problem.
Domino's found a way to change how a large percent of its population orders pizza. That number should continue to grow. As it does the company becomes increasingly efficient and, if my experience serves as an indicator, builds a larger and more loyal customer base.
It's often difficult deciding how to play a stock like DPZ ahead of earnings. It could get punished on the slightest miss, but, if it beats again, you run the risk of missing out on considerable upside. If you own the stock and plan on staying in it, there's probably no better strategy than selling out-of-the-money covered calls against your position.
Whether you are a shareholder or not, scaling into DPZ on any post-earnings weakness should pay off over the long-term. The company has an incredible amount of room to grow and innovate in two of the most important areas driving so many industries in the 21st Century - international and social. You can accumulate on weakness in several ways, most notably buying the stock directly or selling puts at a strike price you would be happy owning DPZ at on a sustained pullback.
Disclosure: I have no positions in any stocks mentioned, but may initiate a long position in DPZ over the next 72 hours.