Apple (NASDAQ:AAPL) has started off 2012 with a bang as it rapidly surged from $400 to $640 in mere weeks. After surpassing a $600 billion market capitalization, Apple had a correction and fell below $575 only to regain $600 after reporting earnings. I have recommended option strategies for Apple since 2010 with tremendous results (remember, past results do not guarantee future results). For reference, please view the first and other articles in the series to fully understand the strategy and its strong potential returns. I perform a weekly analysis of Apple's stock, options, recent news, and competitive analysis. In essence, the investment objective is to capitalize on Apple's volatility by selling out-of-the-money options to generate weekly income without sacrificing long-term returns.
Click to enlarge all images.

Source: Yahoo Finance.
A brief recap of this past week in Apple, which was up $32.39 (5.7%):
Apple reported another quarter of stellar earnings and all is right with the world again. After two of the most tumultuous weeks in Apple's recent history, it beat expectations by a wide margin to restore confidence in the company. I conducted a detailed analysis of the earnings press release, and one of the most important takeaways is that Apple is an international company now that it is becoming less and less reliant on AT&T (NYSE:T) and Verizon (NYSE:VZ). The month of May should be relatively quiet for Apple, but it is possible that the MacBooks will be refreshed in the upcoming months. iPhone 5 rumors will start to swirl as the Worldwide Developers Conference nears, but I believe Apple will stick with its new fall launch date. No competitor phones stand to threaten the iPhone in the next few months, and all flavors of iPhones will continue to sell well until the new phone is released. Simply look at Apple's explosive growth in China to see that the best is yet to come.
As I said last week, "the iPhone 4S is now six months old and soon the iPhone 5 will be on the scene to put competitors further behind. I spend so much time discussing the competitive landscape every week because this is the primary threat to Apple's future growth. If Apple continues to out-innovate its rivals the company will continue to grow earnings and drive the stock higher." After Apple reported great earnings the P/E actually fell from 16 to 14 before removing the "cash+" -- and there is now a healthy margin of safety if you were ever worried about Apple. I have closed my open long option positions as I do not view them as an optimal choice given the absence of a clear short-term catalyst for the stock. I still believe that Apple is a very attractive opportunity and now the climb to $720 can resume.
Below I present three possible scenarios and the potential returns for the Apple options. The first scenario represents a negative outlook for Apple while the final two scenarios are more reasonable. These scenarios are just projections and there is no guarantee that they will come to fruition. Even if you are optimistic, it is important to generate both positive and negative circumstances in order to stress your assumptions. As a general rule, selling calls with higher strike prices has greater potential return but additional risk of loss due to the lower (or lack of) downside protection. For more information on the fundamentals of covered calls, consult Investopedia.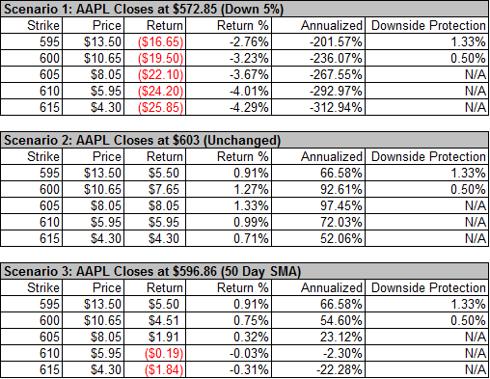 Additionally, if you would like even more information, in the chart below I have prepared a sensitivity analysis for absolute return and percent returns, respectively. After studying the information above, these two charts make it easy to pick a strike price based on where you believe Apple will close at the end of the week. Estimate where you believe Apple will close and select the strike price with the highest return.

With this information, executing a buy-write on AAPL May 4 (Weekly) 615s is the optimal risk/return strategy. This makes for an excellent trade if you are currently not long Apple; however, if you are a long-term Apple investor I would exercise restraint. The time/value ratio has fallen into a normal range and the 615s have a 0.7% ratio. If you are uncomfortable with this strategy, I suggest a buy-write in the range of 605-620s. Even if you are extremely bullish you can still profitably sell covered calls; Apple is volatile enough that you will have opportunities to repurchase on dips.
An alternative approach is to sell out-of-the-money 600 puts and collect the premium without having to purchase the stock outright. Note that if the stock declines to the strike price, you are obligated to buy the stock (or close out the position). You should always consider the risk factors raised in this article in light of your personal circumstances (including financial and taxation issues), and seek professional advice from an accountant, broker, or other professional advisor.
Disclosure: