Costco Wholesale Corp. ("COST" or the "Company") is a very well managed U.S.-based membership warehouse concept with about 488 stores worldwide. While COST is a great company, its valuation appears to imply COST is immune to the headwinds facing the broader retail sector. Given these potential challenges, COST investors could sustain losses should the Company underperform the aggressive expectations impounded into the Company's current valuation.
For attractive short candidates, I generally prefer to identify companies that can potentially "break." Such companies have specific issues related to their financial statements or capitalization that can become a significant obstacle to furthering equity value. COST doesn't have any of those issues, and is in fact an excellent retailer. Nonetheless, I believe the macro trends in retail will eventually adversely influence COST's operations, resulting in compression across its lofty valuation multiples relative to its broader comparables illustrated in Table I. The adjusted metrics include just Wal-Mart Stores ("WMT"), Target Corp ("TGT"), and BJ's Wholesale Club ("BJ"), generally considered COST's direct peers.
TABLE I: COST's PUBLIC COMPARABLES (click to enlarge)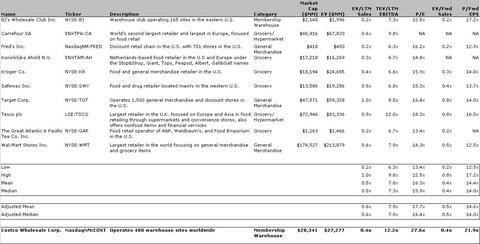 The Company's latest results were somewhat underwhelming with net income actually decreasing and EPS increasing due to COST's share repurchase program. However, investors have been generally impressed with COST's consistent comparable sales performance but the Company's product mix may be overstating current comp store sales figures considering that 30% of COST sales are from food products which have been experiencing significant inflationary pressures.
The Company's current valuation prices in expectations that consistent comp store sales growth will persist in the coming years and that operating margins will expand through both gross margin expansion (50 basis points over a few years) and SG&A leverage. COST's latest gross margins were about 10.6% when excluding one-time items, exceeding 2006 gross margins by 3 basis points. According to the Company, this improvement was due to performance in food sales which offset declines in hardlines and softlines. This supports the notion that food inflation is a real contributor to operating performance and can be masking softness in COST's operations.
The minor improvement in gross margins demonstrates just how well-run COST is and as a result, how difficult squeezing more in terms of gross margins will be for the Company in a challenging retail environment. COST's gross margins have generally been declining in recent years while SG&A operating leverage has dropped, resulting in declining EBIT margins. The retail environment in those prior years was more favorable than it is now, which could make one skeptical of management's ability to improve gross margins by such a significant degree in the coming years. Yet those expectations are driving the sellside's models and investors' expectations.
Results and commentary from the retail sector suggest a challenging U.S. environment and irrespective of how strong COST is in terms of operations, it's very difficult to believe that it can outperform or even match valuation expectations when other skilled competitors have struggled. Those competitors have experienced valuation discounts across EPS and EV/EBITDA multiples in the past year as the Street incorporates reality into its models. For example, TGT, which caters to a generally middle class consumer has seen EV/EBITDA and P/E multiples shrink by 20+% reflecting slower margin expansion and earnings growth. COST's expectations are very aggressive in this environment and any miss or signal that suggests a reduced outlook could result in a valuation correction for COST shares. This has been occuring with many larger retail stocks that already trade at - in some cases - all time lows in terms of valuation multiples.
Table II: COST's EPS & EV/EBITDA SENSITIVITY (click to enlarge)

All too often the Street comes up with overly aggressive estimates and then pegs a lofty valuation multiple to justify a current valuation target (i.e. "company X is undervalued against our EPS estimate of $2.00 multiplied by a conservative P/E multiple of 30.0x). What is rarely (if ever) considered is the possibility of valuation contraction. Table II provides a sensitivity analysis based on COST's EPS and EBITDA multiples. These are my estimates which may be slightly below the general consensus. However, the corresponding net income margin and EBITDA margins are multi-year records, demonstrating that these are still aggressive estimates. If COST begins to experience lower comp store sale growth or has a few quarters that underperform expectations, the Company's valuation multiples could experience a considerable discount to reflect a lower growth environment. This is not far fetched when one considers the massive valuation compression that occured with WMT in recent years and now appears to be occuring with TGT and even Starbux ("SBUX").
Another COST-specific risk is that COST, like TGT, is largely US-based with 93% of sales generated in the US and Canada. In addition, nearly 30% of COST sales are from California, which has generally experienced economic turbulence after prior housing busts. This combination of economic headwinds for a US-centric operation, lofty operating expectations, and a significant valuation premium across peers make COST an appealing short in the coming year.
Disclosure: Author manages a hedge fund that is short COST