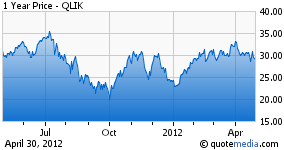 I have written about QlikTech (NASDAQ:QLIK) several times over the past year, including a follow-up piece regarding their Q4-11 and FY2011 results. With the recent release (26 April 2012) of the Q1-12 results, I am compelled to submit an article that demonstrates their continued negative trajectory.
The principal issues that I highlighted:
--Missed Q4-11 projections - only a small miss by non-GAAP, but enormous via GAAP. (11 cents vs. projected 30 cents)
--Expenditures Growing Faster than Revenues.
--Projected losses of 6-8 cents for Q1-12 and 2012 non-GAAP profit of 40-44 cents.
--Exclusion of stock-based compensation expenses -12.6M in 2011 (317% increase y/y)
--Stock Unconnected to Reality - 47.6% decline in EPS + 40% insider selloff = 25% increase in stock price.
Updates on Trajectory as of Q1-12 Report:
Once again, QLIK has missed their own projections with a loss of 9 cents vs. projections of 6-8 cent loss. The stock seems unphased by this miss, as investors seem to be eating up the headlining facts:
Total revenue of $79.2 million increases 26% compared to first quarter of 2011
License revenue of $46.3 million increases 22% compared to first quarter of 2011
Although the above facts look respectable, shareholders and analysts choose to ignore the 21.9% increase in marketing costs, the 32.4% increase in R&D expenditures, and 52.5% increase in general & administrative expenses.
It is acceptable for a new growth company to operate at a loss. With minimal sales, marketing and R&D often far outweigh revenues; however, QLIK is not a new growth company. QLIK has been operating in this sector for several years and since their IPO, the results are only getting worse.
QLIK is performing so inefficiently that they could spend $0 on future R&D and still operate at a loss.
Losses would be acceptable if revenues were growing faster than expenditures; however y/y QLIK's revenues increased by 25.6% while expenditures increased by 29.8%.
Stock-based Compensation Strikes Again
QLIK spent $12.6M on this compensation in 2011, representing a 317% increase y/y. Once again QLIK has spent over $4M ($16M+ annual run) in Q1-12 which represents an increase of 168% y/y.
Trading Implications?
The only thing that is keeping QLIK afloat is hopes of an acquisition by a large cloud-tech company. I believe that this represents a long-shot at best. QLIK does not seem to gather much attention overall, so it will likely take a while for the stock to reconnect to reality. I am holding a naked short position, but long-term puts present a safer approach. I recommend an assortment of $20-$25 January '13 puts.
Disclosure: I am short QLIK. I may purchase some put options (likely to be $20-$25 strikes at or around January 2013) within the next 72 hours.