Lately it seems that if a financial sector company reports bad news, but tempers it with the phrase "the worst is over", the stock will increase in value as investors see a buying opportunity. Case in point: Countrywide's (CFC)stock popped after reporting a loss and rapidly accelerating delinquency rates for Q3, based on the company's expectation that Q4 will see a return to business as usual, calling a veritable mortgage bottom, etc. As if Countrywide's customers are going to suddenly start paying their mortgages on time next quarter. Bear Stearns' (NYSE:BSC) stock popped an initial 5% after reporting a 60% YoY earnings decline because its write down of $1.2 billion was less than expected, and on Wednesday of this week Bank of America's (NYSE:BAC) stock popped 3% after announcing a $3 billion write down.
Don't fall into this value trap. Don't forget that the worse was supposed to be over after the Q3 earnings were announced, but those same banks went on to announce billions more in additional write downs. Bank of America, Bear Stearns, Citibank (NYSE:C), Chase (NYSE:JPM), HSBC (HBC), Morgan Stanley (NYSE:MS) and Wachovia (NASDAQ:WB) have announced over $30 billion in write downs and Q4's write downs are easily on track to exceed Q3's number. Let's not forget that many of these same companies were saying the mortgage situation was contained, over, not that bad, etc, back in Q1 & Q2 and look at where we are now.
At present, the markets simply aren't receiving honest guidance from many financial companies and/or these guys simply don't know their own businesses well enough to give proper guidance in the first place. As a result, investors should be wary of throwing their money into the financial sector until the consumer credit, mortgage crisis, credit crunch, et al, unwinds a bit more.
The key to value investing is to have enough information to place a proper valuation on the company, and then buying if the stock's intrinsic value is sufficiently higher than the current trading price. At present investors simply don't have enough information to place a proper valuation on financial sector stocks, so it's probably smart to avoid the lot of them for now. Don't blindly run after an alleged blue chip just because the stock is down and you figure "it's a solid business it just has to go back up", a true value investment is one that the market is ignoring but you know is truly undervalued. Considering the lemming behavior investors are showing towards financial sector stocks provided the company claims "the worse is over" after reporting bad news, most financial sector stocks don't qualify as value investments at this point.
This is not to say that these stocks won't go back up at some point, these companies won't recover, etc. However, it's too early to tell how everything is going to shake out, so why risk your money? Isn't the first rule of investing to "not lose the money"?
Finally, has everyone just forgotten the billions worth of ARMs that are scheduled to reset over the coming months? The problem with the ARM situation is that rate cuts won't help nor will refinancing, because in many cases the ARMs teaser rate payment is about as much as the borrower can afford. Once the teaser rate period is over the borrower has a loan they can't afford even if they refinance to an uber-prime fixed rate mortgage, and rate cuts won't prevent the loan from resetting to a rate that's higher than the teaser rate. Over the next 2-4 months there is going to be a spike in ARM resets, followed by an accompanying spike in foreclosures 3-6 months later.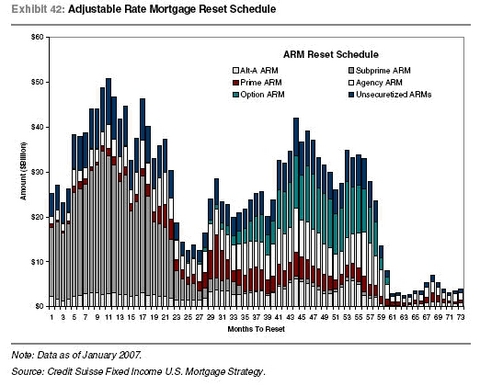 Things are going to get worse for the banks before they get better, consumer credit losses will probably accelerate well into 2008 and we have no reason to believe that the CDO write downs factor in potential losses from 2008-2009. After all, these CDOs were overvalued by optimistic mark to model valuation methods in the first place, why should we believe that the Bank's have suddenly gotten cynical?
Sources:
Graphic Courtesy of Credit Suisse
Associated Press: "Countrywide Loses $1.2B, Sees Turnaround" – Alex Vega, October 26, 2007
Bloomberg: "Bear Stearns Cuts Subprime Assets, Limits Writedown" - Yalman Onaran, November 14, 2007
Forbes: Street Discounts Bank of America Write-Down – Ruthie Ackerman, November 13, 2007
NY Times: "HSBC to take $3.4 Billion Charge" - Julia Werdigier, November 14, 2007
Disclosure: at the time of publishing the Author didn't own a position in any of the companies mentioned in this article.