"We all live every day in virtual environments, defined by our ideas." -- Michael Crichton, novelist
New technology and lower costs have transformed the business of virtualization software into a booming market.
Virtualization, in essence, is a framework for enabling the resources of a computer to function as multiple "virtual" systems, thereby dividing up its resources into multiple execution environments.
To better understand virtualization's impact, we recently surveyed Alliance corporate IT members about their company's spending on virtualization software and services. The survey was conducted October 16 – 22, and a total of 935 Alliance members participated.
The main survey finding will come as virtually no surprise to anyone; namely, VMware (NYSE:VMW) is the acknowledged leader in this space. But exactly where is the market headed? And is VMware's momentum still accelerating or is it beginning to slow down?
The Virtualization Horse Race
First, we asked our respondents to tell us which virtualization software vendor(s) their company uses. Note that a total of one in four (25%) said their company is currently utilizing virtualization software or services.
Among this group, better than half (55%) said their company uses VMware software – more than double that of each of the next two closest vendors, Microsoft (NASDAQ:MSFT) (25%) and Citrix Systems (NASDAQ:CTXS) (25%).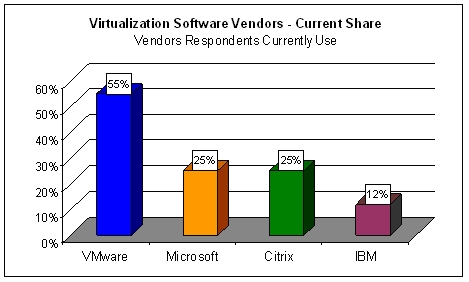 Future Purchases
Next we asked respondents about their company's plans for future virtualization software purchases, and it is here that VMware shows just how deeply it has established itself as the dominant force.
While a total of 8% of respondents say their company will purchase virtualization software and services over the next 90 days – a relatively small sample – better than seven in ten (71%) of these future purchasers say they'll buy from VMware.
That's six times greater than Microsoft (12%), VMware's next closest competitor.
The following chart shows just how far ahead of the other top virtualization software vendors VMware is in terms of future purchasing share.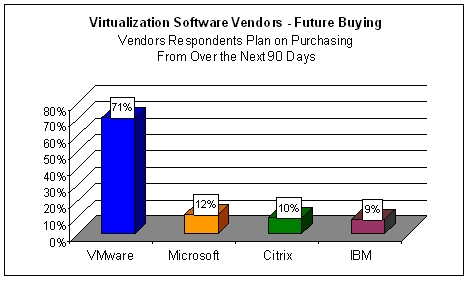 In sum, while VMware controls 55% of the current virtualization market, going forward the ChangeWave survey shows that it's set to garner an astonishing 71% of future purchases.
Given such market dominance, it comes as little surprise that VMware customers are reporting the highest satisfaction levels in the industry – with 56% saying their firm is Very Satisfied with VMware's virtualization products.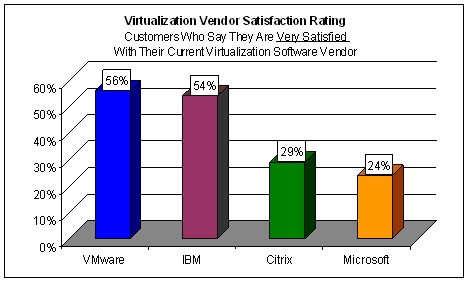 IBM (NYSE:IBM) also received a high overall rating, with 54% of their corporate customers saying they were Very Satisfied with Big Blue's virtualization software.
At the other end of the spectrum, Citrix Systems (29%) and Microsoft (24%) received the lowest customer satisfaction rating among the top virtualization vendors.
We also asked respondents to elaborate on their virtualization software and tell us why their company feels the way it does.
Regarding Microsoft, Alliance member FEA9527 writes, "It would be nice if there were something newer than VM PC 2004 for those that don't have high end Vista (which will run VM PC 2007)." And MAZ00465 adds, "Microsoft does enough to compete in the virtualization market, but I don't feel they're sufficiently responsive to customers' needs."
The VMware comments were far more upbeat, including those of Alliance member KAG043, who writes, "VMware's offerings on IBM microcode-based virtualization solutions are a powerful combination..." Respondent HAM93877 adds, "VMware is solid and very reliable, with decent performance."
The Key Factor – It's Performance That Counts
When it comes to choosing a virtualization vendor, nothing counts like performance. Better than three-in-five respondents (61%) say Performance ranks as the most important factor in their decision. Completeness of the Technology Offering (36%) was a distant second, with Price (28%) even further back in third place.
Which of the following factors do you think are most important when choosing a virtualization vendor? (Choose No More Than Two)

With performance being the key measure for choosing a virtualization vendor – and VMware customers reporting the highest satisfaction levels in the industry – it's clear why VMware has become one of the great momentum stories of 2007.
And as the current ChangeWave survey results show, VMware is not just the undisputed leader of the virtualization market, but has extraordinary momentum going forward.
Competitors beware. One company is forging a virtual stranglehold on the market, and that's bad news for most everyone else.
Unless, of course, you're a VMware investor.
Paul Carton co-wrote this article.
--------------------------------------------------------------------------
This article summarizes the results of a recent ChangeWave Alliance survey. The Alliance is a research network of 13,000 business, technology and medical professionals who spend their everyday lives working on the front line of technological change. For more info on the ChangeWave Alliance, or if you are interested in joining, please click here.