When Simon & Garfunkel recorded "Bridge over Troubled Water" back in 1969, they knew they had a potential hit on their hands. And they were right, as it went on to become a number-one hit (staying atop the top of the charts for six weeks) and be covered by literally dozens of other singers.
Like Simon & Garfunkel, those who started investing in the gold market around 2001 have also scored a smash hit. Quite simply, gold has performed spectacularly here in our new century. And the best news? We're still early in what should prove to be an epic bull run. With so many other investments looking dubious and the world economic situation experiencing significant uncertainty, gold can provide the savvy investor with a bridge over troubled water.
Demand Far Surpassing Supply
According to the World Gold Council, the demand for gold reached a record high of $65.3 billion in 2006, driven by strong demand for industrial purposes and jewelry manufacturing. At the same time, the supply of gold has contracted considerably. Central banks have reduced their planned sales, while mining companies have accelerated the unwinding of their hedge books. In fact, the mine supply of gold dropped by a jaw-dropping 15 percent during 2006.
This supply/demand imbalance is expected to continue — and it may even increase. Indeed, several recent articles have indicated that many central banks, including those in Spain and Germany, intend to curtail their gold sales. Most central bank officials have recognized that gold's strong financial performance makes it a useful counter to the swings shown by the U.S. dollar. While it is no longer the foundation of the international financial system, central banks still consider gold to be a crucial reserve asset. Rumors are also abuzz that China and a number of wealthy nations in the Middle East have swiftly scooped up what little gold that the European central banks have been selling.
The data around the gold supply strongly signals that it will not keep pace with demand in coming years. The global mine supply of gold peaked in 2002, and has fallen each year since. Several of the world's largest mining companies expect further declines in production next year, and are in a scramble to increase reserves through acquisition of new mining properties. Last year South Africa, the world's single-largest gold producer, produced its lowest amount of gold since 1922 — and its overall output is down 72 percent from its 1970 peak.
Importantly, no major new mine production is expected in the near term. In general, it takes more than a decade to acquire, finance, build and staff a mine and commence production. The permitting process is also highly stringent, as evidenced by Coeur's Kensington Mine in Alaska — a $250 million investment that has yet to process any ore due to issues around the disposal of waste rock — and Northgate's Kemess North project in Canada, which has essentially been placed on hold due to environmental concerns. Compounding the supply problem is an acute global shortage of trained geologists, miners, diamond drills and mining equipment.
Demand, on the other hand, continues to increase in the face of the newfound prosperity and increased discretionary disposable income being freed up by the Asian economic boom, particularly in China and India. This is not a short-term trend by any means; rather, it is evidence of a long-term shift in consumption demand. Asia and its three billion people lead the world in economic growth. In much of Asia, the Middle East and the Indian subcontinent, the people value gold as the best possible protection against both economic and political crisis. Throughout the developing world, gold is the most liquid, efficient and widely accepted form of exchange and the best store of value — especially in rural areas that lack access to banking services. Jewelry is coveted in the developing world, where it functions as both adornment and savings. Jewelry is often the only asset a Muslim or Hindu woman is culturally permitted to own, and therefore can be her only form of protection against financial adversity. Additionally, the dowry concept is alive and well in India today, where gold is commonly transferred from the family of the bride to the groom.
A Hedge Against Inflation and Irresponsible Money Supply Creation
The price of gold in terms of the U.S. dollar is up more than 30 percent over the past year, pointing to its status as a proven and effective hedge against inflation. In fact, gold has outperformed the Consumer Price Index by a factor of more than 2 to 1 over the past seven years. The gold market is benefiting from the fact that the annualized money supply growth in the world's largest economies is increasing at a rate far in excess of the growth in each countries' respective GDP — a situation that is highly inflationary and certainly not sustainable. Figure 1 shows how the money supply has been growing in some of the world's leading economies this year.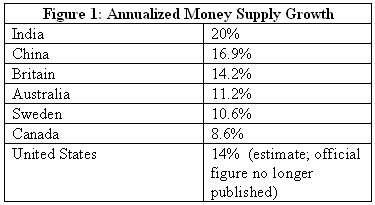 It is no wonder that gold has outperformed nearly every other asset class over the past several years, as it is protecting investors now in the same way that it has during other turbulent times. If gold had a voice, it would likely be heard to sing, "I'm on your side, when times get rough/And friends just can't be found."
Gold's Special Qualities
Gold has functioned as an adornment and store of value for more than 6,000 years. The earliest gold jewelry dates from the Sumerian civilization that flourished around 4,000 BC. Gold's intrinsic beauty, warmth, glitter, sensuality and spiritual richness have evoked powerful human emotions throughout history.
Gold plays a vital part as a symbol of love and devotion. It also has significance for occasions like weddings, anniversaries and birthdays, as well as a host of other holidays, ceremonies and customs. Consider, too, the ways in which gold has enriched our language — the best years of our lives are known as "the golden years"; an advantageous situation is referred to as a "golden opportunity"; a civilization's time of peace, prosperity and creativity is referred to as a "golden era."
The Bible contains a detailed and lengthy description of the role that gold played during King Solomon's reign (1 Kings Chapter 10 verses 14-21). To hold a gold coin is to hold something that has provided security and value for thousands of years.
Just how rare is gold? How small is the supply? According to the World Gold Council, as of 2001 the total amount of all gold ever mined comes out to a mere 4.661 billion ounces. Given that the total world population now exceeds 6.6 billion people, there is less than one ounce of gold available per capita to invest in right now — a figure that shrinks even further in light of the fact that central banks already hold a considerable amount of gold.
Why is this relevant? For one thing, financial portfolio managers suggest that at least 5 percent of a person's total net worth should be invested in precious metals as an insurance policy to protect against very hard economic times and periods of geopolitical instability. Yet very few people have followed this advice — which is somewhat fortunate, as there is not enough gold to go around should the general public ever decide to act on this advice en masse!
Concluding Thoughts
Gold is, quite simply, on a powerful run. It is currently trading at more than $800 an ounce, more than triple what it was going for just six years ago. As a result, gold is slowly and gradually appearing on people's radar. It is becoming more mainstream — and making its way into Main Street portfolios.
Major investment banks and brokerage firms that were long silent on gold are now talking it up. On October 30, Credit Suisse, a major broker/dealer in precious metals, issued its price forecasts for gold: $838 an ounce in 2008, $950 an ounce in 2009 and $1,050 an ounce in 2010. Credit Suisse knows that the combination of slowing U.S. economic growth, the inflationary effects of rising oil and commodity prices and a change in supply-and-demand dynamics make gold a safe haven, which will put further upward pressure on gold prices given the tight supply. Soon enough we are likely to see one of the giants of business publishing a book that advises investment in gold and precious metals, which will likely serve as the tipping point toward a new Gold Rush in the financial markets.
Those who do not own gold need to realize that the time to act is now. Do it to protect and diversify your portfolio. Do it for family. Do it because commodity bull markets typically last 15 years or more, and this one is just beginning.
The train is leaving the station; don't be left behind. The U.S. dollar may well continue to fall relative to foreign currencies. This will fan the flames of inflation as foreign goods become more expensive. Asian investors have been dumping the U.S. dollar since midyear 2007, and the central banks of Singapore, South Korea, Taiwan and Vietnam have either begun to or have signaled their intention to cut purchases of U.S. bonds. China is becoming less friendly to the dollar and clearly intends to diversify. August 2007 marked the first time since 1998 that the rest of the world has sold more U.S. treasuries than it has purchased. The recent U.S. Federal Reserve rate cuts have trimmed our yield advantage over other countries, making for a situation that could not be more gold positive.
The world is awash in fiat paper currencies, none of which are backed by gold. The total value of all paper money and bonds in the world is $100 trillion, while the total value of all the gold ever mined is $3.7 trillion. Essentially, then, for every dollar in paper money there is only 3.7 cents worth of real money to back it up — a disconcerting thought to be sure. The time has come to bring gold into the portfolio and to let it be that "bridge over troubled water."
Be a part of this historic bull run in gold, and rest easier at night knowing that you have preserved your purchasing power and own something of real and increasing value. As Simon & Garfunkel sang, "Your time has come to shine/All your dreams are on their way…."
Gold Is…
Free of religious or political affiliation
Neutral on race, gender and language preference
Easily transported
Universally accepted
A path to portfolio diversification, since it has a low or negative correlation to other major asset classes
Impervious to corrosion, tarnish or decay
Free from debt
Rare, scarce and difficult to produce
A rare and treasured thing that cannot be created on a printing press like a dollar, yen or peso can
All but impossible to counterfeit
Easily bought and sold anywhere in the world
Incapable of being bankrupted