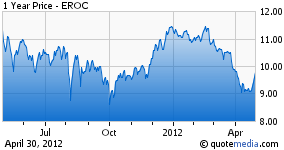 Eagle Rock Energy Partners (NASDAQ:EROC) is part of my portfolio allocated to income producing plays. It has not done much since I bought and recommended in early March. That may change due to recent news and an upcoming earnings report.
Key catalysts for EROC
The company just raised its distribution to 22 cents per unit from 21 cents per unit in the previous quarter and just 15 cents per unit for the same quarter in 2011.
Earlier in the month the company announced its upstream borrowing base had been reconfirmed by its lenders at $375mm. It also recently made $19mm from a warrants offering.
The company reports earnings on May 2nd and consensus estimates for the quarter and FY2012 have ticked up over the last week.
4 reasons EROC offers compelling value at under $10 a share:
The stock is substantially under analysts' price targets for a high yielder. Granted, only two analysts cover the stock. One has a $12 price target on EROC and the other is at $14 a share.
The key reason you buy this entity, of course, is for the dividend yield which now stands at over 9%. Distribution payments have gone from 10 cents on an annual basis to 88 cents currently over the past three years. (NOTE: The company did have to cut payouts to the bone during the financial crisis, which I don't expect a replay).
Earnings and revenue growth is a bit back-end loaded so is not priced into the stock in my opinion. Analysts expect revenue growth of 20% in FY2013 and EPS is expected to climb to 58 cents a unit in FY2013 from the projected 39 cents in FY2012.
The company is steadily growing cash flow over the past two years. OCF growth came increased at just over 20% annually over the last two fiscal years. It also sells at just 19% over book value and has a cheap five year projected PEG (1.20) for a vehicle yielding 9%.
Disclosure: I am long EROC.