Investors who want to make a leveraged bet on a rally in Chinese stocks are often drawn towards the Direxion Daily China Bull 3x Shares ETF (NYSEARCA:YINN). However, over time, this ETF does not track Chinese stocks very well. Evidence for YINN's long-term flaws can be seen when comparing it to the iShares FTSE China 25 Index Fund (NYSEARCA:FXI).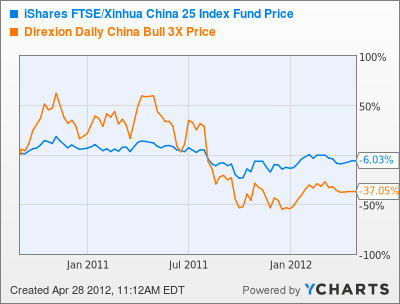 In the time that both funds have been trading, FXI is down 6.03% while YINN is down 37.05%%. For a detailed explanation of why this has happened click here.
Alternative
A good alternative to buying YINN is to buy deep in the money call options on FXI. Buying call options on FXI gives investors leverage to the FXI directly. This strategy can be used by both short-term traders and long-term investors because of the strong liquidity of FXI options. The liquidity of FXI options can be seen by looking at open interest of both short-term and long-term contracts.
May 2012 Open Interest
Strike/ Open Interest
35: 16,215
36: 10,121
37: 20,541
January 2013 Open Interest
Strike/ Open Interest
35: 9,880
36: 4,127
37: 5,333
Conclusion
Investors looking to make a leveraged bullish bet on China should buy FXI calls instead of YINN.
Disclosure: I have no positions in any stocks mentioned, and no plans to initiate any positions within the next 72 hours.