I've written in the past about how many investors are "fooled" by Ford's (NYSE:F) exceptionally low trailing price to earnings multiple. While right now the multiple is particularly faulty due to a one-time gain, it is important to understand what part of the cycle Ford's earnings are.
As is the case with any fairly valued classic cyclical stock, the market heavily discounts future earnings once the economy reaches recovery speed and sales pick up. I don't believe the U.S. SAAR (seasonally adjusted annual rate) has topped out yet. Analysts expect 14.3 million this year, compared to 13.2 million in 2011. February and March car sales were spectacular, leading to increased estimates.
However, European losses are beginning to mount, and I believe after an $150 million operating loss in Q1, a total EU operating loss of $750 million is quite plausible (Ford expects to lose $600 million). As Spanish and Italian private banks run out of LTRO proceeds, and both nations turn to the markets for more debt issuance, the so-called "carry-trade" will no longer be able to keep yields contained. This Summer is almost certain to mimic last year's debacle.
With Chinese demand slowing considerably, I also think a full-year loss for the Asian-Pacific region is quite possible. Ford lost $95 million in the region, and Chinese growth may surprise to the downside.
While North American profits set a record in Q1, and pent-up demand is still abundant, I don't expect sales growth to materialize as expected during 2012. U.S. markets are still extremely sensitive to macro factors, and a decline in automotive lending and consumer confidence is likely over the next few months. Additionally, the recent durable goods report (the worst since 2009), showed that car sales and auto parts were only up .1%, compared to February's 2% gain.
Given these figures, I expect full year earnings estimates to continue to trend down all the way to the $1.20-$1.30 region. Current estimates call for $1.46, down substantially from estimates for $1.55 made three months ago.
EPS in this range would have Ford trading at about 9 times earnings, a very fair multiple for a heavy cyclical. While North American demand may be pent up, European losses, in addition to heavily slowing Asian demand, will prevent Ford from growing earnings YoY.
Techinical Picture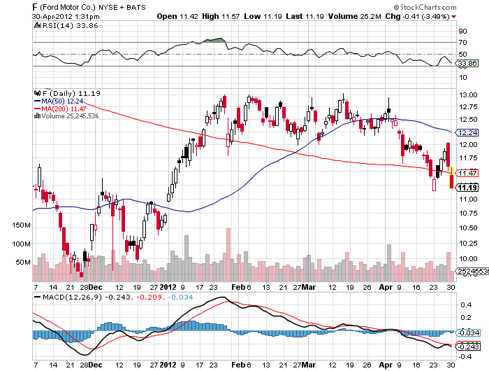 Ford's share price is still seeking out support. Today (April 30th), Ford is $.27 below its 200 DMA on relatively strong volume. Ford has also been a major underperformer during earnings season, as the broader market has moved significantly higher. Ford traders are very quick to react to weak European news, given Ford's operating losses in the region. As the Macro data continues to trend lower, I expect Ford to test the $10 mark, last broken during last year's major summer sell-off. At the $10 region, all other thing equal, I'd probably be a buyer.
I've been long August 12 Puts for about a month, and will remain long unless something changes in the fundamental picture.
Disclosure: I have no positions in any stocks mentioned, and no plans to initiate any positions within the next 72 hours.
Additional disclosure: I am long Ford August 12 Puts.