With record low interest rates, we are looking for investment opportunities in companies that can take advantage of the situation. One of our low interest rate plays is to invest in the equity of highly levered companies that are positioned to grow and repay debt over the next few years. As small investors, we do not have the wherewithal to do take-private LBO transactions like large private equity funds, but we can invest in public companies that have the characteristics of LBO transactions. These companies are not expected to be targets of LBOs themselves, since they already have high levels of debt, but patient investors may be able to generate attractive returns. The high leverage in these situations will amplify the return to equity holders, if successful outcomes are achieved.
We call these situations "Own Your Own LBO" and profiled one such situation, SUPERVALU (NYSE: SVU), here. While the SUPERVALU call was a bit early, we increased our position significantly before the recent earnings release that sent the stock up significantly. In these situations, how you invest is as important as what you invest in; more on that below. Now, on to MGM Resorts International (NYSE: MGM).
Background on MGM Resorts
MGM Resorts is the leading casino owner and operator in Las Vegas, with additional casino operations in Macau, and elsewhere. MGM is primarily a play on Las Vegas, unlike some other casino stocks that are plays on Macau. Our thesis on MGM is based on Las Vegas being in a cyclical recovery. This recovery has begun, but has not yet reached the highs of the 2006/2007 peak. MGM is also a highly levered play, which means that the recovery, should it continue, could have an outsized positive impact on the company's stock price. MGM should benefit from the low interest rate environment for the next few years as its interest expense will be relatively low thereby allowing it to preserve cash. Also, it will likely continue to refinance its debt to push out maturities and reduce its overall cost of debt. The low interest rate environment is giving MGM time to grow its way out of the downturn and, in a few years, generate enough cash flow to reduce its debt burden.
As with any cyclical recovery, it is important to understand the supply and demand dynamics. In this case, supply is the number of hotel rooms in Las Vegas, and demand is the number of visitors to the city. The following chart shows that the number of hotel rooms in Las Vegas has doubled since the late 1980s. However, since 2008/2009 there have not been significant additions to room supply in Las Vegas and much of the increase in 2008/2009 room supply is attributable to CityCenter, an MGM JV.
(Click to enlarge)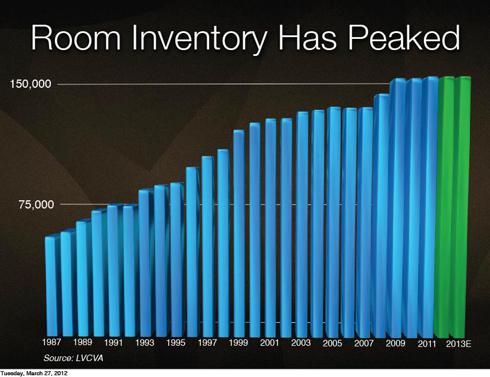 (Source: MGM's investor presentation at the Barclays Capital High Yield Bond & Syndicated Loan Conference)
It is hard to predict room inventory going forward, but we believe that it will be constrained. With bank lending tight and Las Vegas still suffering from the aftermath of the residential construction crash, developers will likely face a more difficult time financing new casino projects in Las Vegas for the next few years. Furthermore, MGM, the largest Las Vegas casino operator, does not seem to have short-term plans for increasing Las Vegas capacity and other large casino operators like Las Vegas Sands and Wynn and more focused on opportunities elsewhere.
Over the last few years, however, visitor volume to Las Vegas has been increasing and MGM's management projects that in 2012 it will surpass the 2007 peak.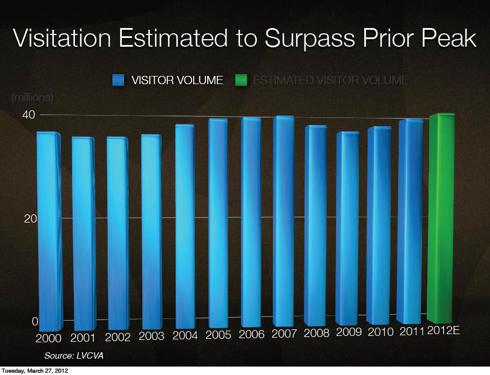 (Source: MGM's investor presentation at the Barclays Capital High Yield Bond & Syndicated Loan Conference)
MGM's management has highlighted the following positive trends for Las Vegas visitor volume (source: MGM's investor presentation at the Barclays Capital High Yield Bond & Syndicated Loan Conference):
Historical Visitation Has Grown At A 4% CAGR Since 1973
Las Vegas - #1 Trade Show Destination In North America
Host Twice The Number Of Shows Of Any Other Destination
McCarran Terminal 3 - Summer 2012
Will Increase Capacity To 53 Million Passengers
Legislation Introduced To Ease Visa Application
Despite the return to peak Las Vegas visitation levels, MGM's financial results do not compare with the results it achieved in 2006/2007. For example, the following chart shows the operating and financial metrics for the Bellagio, MGM's largest Las Vegas casino resort by revenue.

(Note: Revenue and EBITDA in '000s. Source: MGM' financial statements)
By all measures Bellagio's results are significantly below the peak results of 2006/2007. EBITDA for 2011 was $302 million, which was only 70% of the EBITDA achieved in 2007 and only 65% of the EBITDA achieved in 2006.
Bellagio is not necessarily representative of all of MGM's resorts since it caters to the high end of the market, but the trend is similar across the board. In fact, some of the low-end properties are having a harder time returning to peak levels and their 2011 EBITDA was even further away from the 2006/2007 numbers. The low-end resorts are more sensitive to the persistent high unemployment, general consumer malaise and high gas prices.
This, however, is the opportunity. At some point in the future the performance of MGM's resorts will return to the levels it experienced in 2006/2007.
Investment Thesis
Potential to reach $24 per share (~1.76x return and ~23% IRR) by 2014 with Conservative Assumptions - As outlined below we believe that MGM can achieve a higher valuation as Las Vegas continues to improve and MGM again achieves the results that it posted in 2006/2007.
Upside potential to these projections - These projects do not include upside potential from CityCenter, MGM China's growth and multiple expansion, launch of the hotel management operation and the online poker opportunity.
Leverage and de-leveraging - With large amounts of leverage MGM's EBITDA growth will likely have a significant impact on the equity value. Furthermore, MGM current cash flow does not allow for de-leveraging, but future EBITDA growth will likely allow it to begin reducing debt, which would also build value for the equity holders.
Leading position in the Las Vegas market - MGM is the Las Vegas leader with the highest number of hotel rooms. Although there is a big focus on Macau, we think there is still value to having a dominant position in Las Vegas.
Key Risks
Leverage - Leverage works both ways and if MGM's cash flow does not grow, then it may face problems because of its high debt. The current low rate environment is beneficial to MGM as the company has time to restructure its debt to take advantage of low interest rates and extend maturities; however, an increase in interest rates and/or high yield spreads could significantly increase the company's cost of debt.
Competition - MGM's resorts are commodities that face fierce competition in Las Vegas and Macau. MGM must continually invest in its properties to make them attractive to visitors and if it doesn't (or can't because it does not have enough cash flow) it may fall behind. At some point new resorts will be built in Las Vegas, which could add to MGM's competition. And, as states legalize and build casinos to boost tax revenue and local economic activity, some people may prefer to stay local for their casino experience as opposed to visiting Las Vegas.
Ongoing Economic Underperformance in the U.S. - We believe that MGM can achieve our projections without a full recovery in employment. MGM's management believes a record number of visitors will go to Las Vegas this year, even with over 8% unemployment. However, the company's results could be impaired by a weak economic environment.
Valuation
MGM's current valuation is as follows: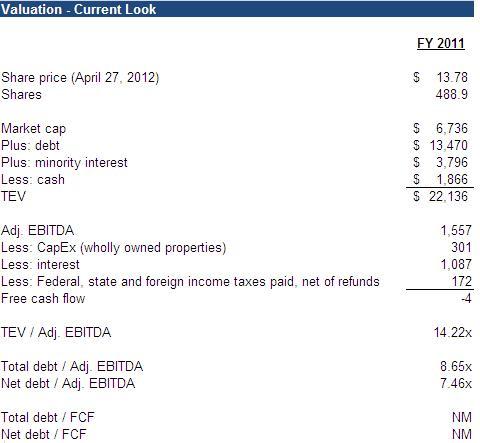 (Note: $ in millions, except per share data)
We believe that MGM can reach a $24.00 per share by 2014 based on a sum-of-the-parts analysis of its four components.
The first component is MGM's wholly owned properties and domestic operations. These properties are mostly located in Las Vegas, but also include a casino resort in Detroit and elsewhere. Additionally, MGM is launching a hotel management operation for non-gaming resorts around the world (the analysis does not ascribe value to this since it is still emerging).
The second component is MGM's stake MGM China, which is listed on the Hong Kong stock exchange and operates in Macau. MGM recently acquired majority control of MGM China and now consolidates MGM China's results in its financials.
The third component is CityCenter, which is owned by MGM through a JV with Dubai World. MGM owns 50% of CityCenter and it is not consolidated in MGM's financials.
The fourth component is the option on the legalization of online poker in the US. MGM is well positioned to profit from online poker if it is legalized, but the analysis assumes no value for this and it represents upside to our estimates.
The valuation analysis below assumes the following:
Wholly owned and domestic operations - Value based on achieving the peak financial results of 2006/2007 in 2014 (although the 2014 date is used in the model, we acknowledge that there could be slippage with these results to 2015/2016)
MGM China - Value based on the current market value of the holding and the future growth is assumed to be future potential
CityCenter - No value attributed to CityCenter at this point as it represents upside potential
Online - No value in the analysis and represents upside potential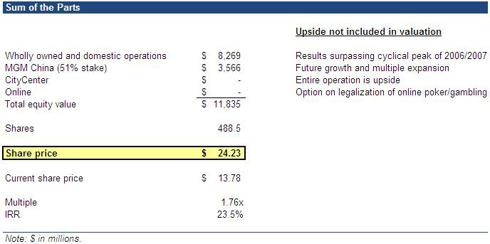 1. Wholly Owned and Domestic Operations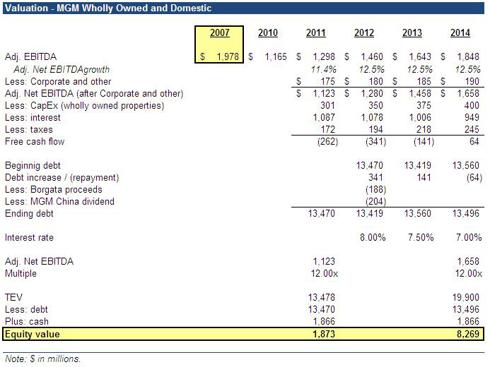 In 2011, MGM generated $1.3 billion of Adjusted EBITDA from its wholly owned and domestic operations, which represented an 11.4% increase from 2010. The model assumes that MGM grows Adjusted EBITDA to $1.8 billion in 2014, close to the peak Adjusted EBITDA of $2.0 billion in 2007. To achieve $1.8 billion of Adjusted EBITDA in 2014 the company needs to grow Adjusted EBITDA at a pace of 12.5% annually. If MGM's Adjusted EBITDA grows more slowly then the valuation would be achieved later than expected.
The analysis assumes that CapEx increases from $301 million in 2011 to $400 million annually in 2014. Interest expense is assumed to decrease as the company restructures the composition of its debt to take advantage of more favorable interest rates (management has discussed this issue on its conference calls). The interest rate is projected to decline to 7% in 2014 from the current rate of approximately 8%. Cash taxes are assumed to grow at the same rate as EBITDA from the $172 million base in 2011.
Debt is also assumed to decrease because of the $204 million dividend from MGM China as well as the $188 million proceeds from the sale of the Borgata holding.
Finally, the model assumes a 12x TEV / EBITDA multiple. This is below the current multiple for the company, in-line with the current multiple for the comps (average of 12.4x) and below the yearly average multiple for the company going from 1999-2011 (average of 13.0x).


We recognize that MGM has a significant amount of debt, which is a major risk to our valuation. However, we believe that MGM can manage this debt load and begin to reduce it in a few years.
Throughout the financial crisis MGM has been able to tap the debt markets when needed. It has successfully pushed out some debt maturities and we believe that it will continue to extend the maturity profile of its debt (and also reduce the interest rate). The following is the company's maturity profile:


(Source: MGM Resorts 2011 10K).
(Note: Our analysis of MGM's wholly owned operations is ongoing. In the analysis above, the debt and cash of MGM China may be included in the debt and cash we presented of the wholly owned and domestic operations. However, MGM China has net cash of approximately $187 million, which does not have much of an impact on MGM's overall net debt balance).
2. MGM China
MGM Resorts owns a 51% of MGM China. The valuation is based on the current market value of this ownership stake. All future growth is upside. Furthermore, MGM China's current valuation represents a TEV / LTM EBITDA multiple of 11.0x.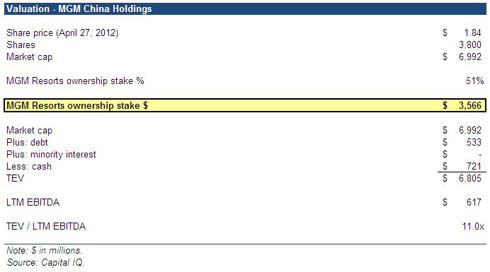 3. CityCenter
As discussed above, the analysis does not ascribe value to CityCenter. CityCenter currently has $2.2 billion of debt and generated $212 million of EBITDA in 2011, representing a Debt / EBITDA multiple of 10.6x. EBITDA will likely increase as CityCenter is still ramping up. However, to be conservative the value of CityCenter is assumed to be upside.
4. Online
Recent reports indicate that the legalization of online poker is becoming more likely. MGM formed a partnership with Bwin to benefit from the potential of online poker. MGM's management made the following statement in the last earnings call (source: Seeking Alpha, which can be found here):
This online poker initiative is important Bwin.Party is expert in this space. The relationship we formed means that MGM will own 25% of this joint venture that will hold rights, exclusive rights to Bwin.Party's existing brands for online wagering here in the United States. In addition and at the same time, we entered into an agreement with Bwin.Party to use their software and technical expertise to deliver any of our brands, the MGM brands to the public under which we would pay them a fee. We therefore believe we are as well positioned as any should the U.S. market come online on a legalized fashion for poker, which we expect it will, we'll be out of the gate as soon as anybody.
The online opportunity could be significant for MGM and represents upside to the analysis.
Management Comments About Future Potential
MGM's management sounded upbeat about the company's prospects on the last earnings call. The following are a few excerpts from the call (source: Seeking Alpha, which can be found here) and it will be interesting to compare these comments with the commentary on the upcoming Q1 call on May 3, 2012.
"We're off to a very good start here in 2012, both in Las Vegas and in Macau. The tone of the business here this year is quite positive."
"These major upgrades to the physical facilities have been matched by major upgrades to our rooms, so the room remodel program here has added tremendously to the ADR at Bellagio and we're seeing great early returns on much higher ADR to MGM as we renovate those rooms as well."
"On the room trend side the operating teams continue to do a tremendous job here, our leisure and FIT rates have been the biggest driver of the upside to our RevPAR gains in the year, these segments in terms of our overall retail segments here are up 9% in the fourth quarter. Our casino trends continue to improve; our international volumes continue to be strong. Over the last couple of quarters we've seen a pickup in our domestic play."
"And we're driving people here to Las Vegas by being very strategic and aggressive on our event calendar. We mentioned last year how strong the event calendar looked the MGM Grand Garden Arena and the Mandalay Event Center and I'm happy to say it's even better this year."
"We think our RevPAR is going to grow nicely throughout the year, even on top of the good growth that we had in 2011. This is based on the booking trends that we see. We're seeing very strong pace throughout the year and our convention base is extremely solid and when you combine that to the growing FIT and leisure bookings, we're seeing a broad based retail improvement in rooms revenue."
"Las Vegas has clearly regained its position as the place to be and looking at this year just alone, to give a sense of it, we had records or near records in almost every event that we've had already this year. The Super Bowl was tremendously effective for the town and for us or half the town in terms of revenue in the Super Bowl. Chinese New Year's was outstanding. We just finished up President's Weekend. It was up nicely versus last year and of course the March Madness coming in next month."
Investment Checklist
Why is this security mispriced?
MGM's stock price has declined significantly from its highs at approximately $100 per share in 2007. The company was hit hard during the recession as it was caught with high debt, declining performance and was in the final stages of building and launching its massive CityCenter project. It survived the downturn and has been recovering, but it lacks some of the appeal of competitors such as Las Vegas Sands that has more exposure to the growing Macau market. Furthermore, with high unemployment and weak economic activity investors are not focused on investing in Las Vegas casino companies. It still has a lot of debt, which scares off conservative investors.
What is the market ignoring about this security?
The market is ignoring the fact that MGM is in the middle of a recovery. It still has a way to go, but we believe that in a couple of years it can generate results that are in-line with the 2006/2007 results. We believe that Las Vegas will continue to be in demand as it is the premier convention site in the US and offers unique entertainment opportunities. Since there is not a lot of new casino construction in Las Vegas we believe that MGM will be able to to increase room rates as demand continues to build. Furthermore, as the economic recovery continues visitors to MGM's properties will likely increase their spending, an emerging trend that MGM's management talked about on the recent earnings call. Because MGM has significant financial leverage the continued recovery and growth could generate significant returns for the equity holders. Finally, we believe that many Wall Street analysts are too focused on the short term and are not making assumptions based on MGM returning to the results it achieve at the top of the previous cycle.
What are the key drivers for the security?
MGM stock has been in a trading range going back to 2009, after falling from the $100 per share level. It has moved with the market in this range through "risk-on" and "risk-off" periods over the last few years.
The downside for the stock could occur if the recovery is halted and MGM does not continue to show growth. In this scenario investor concerns over the high debt would grow and MGM's stock price could break below $9.00 per share, the low end of the trading range.
In the valuation above, we presented our thesis that MGM stock could reach $24.00 per share by 2014. We believe that there are additional upside scenarios that could push the stock higher. We expect to get more clarity about some of the upside over the course of 2012.
What are the upcoming catalysts?
We believe that MGM will continue to deliver improving financial results, but it hard for us to point to specific catalysts that will drive the stock higher in the short term. As some point, MGM's recovery and growth story will become more obvious, in which case concerns about its debt will subside. The beginning of a credible debt reduction program could be a catalyst for the stock. Furthermore, a faster pace of growth than currently forecasted by Wall Street analysts could also serve as a catalyst.
Investment Plan
Our view is that MGM stock price can reach $24 in the next couple of years. However, currently the stock price has been in a trading range of approximately $9.00 to $16.50 going back to 2009, as seen on the weekly chart below. MGM reached a high of approximately $100 per share in 2007, before falling significantly during the financial crisis and recession.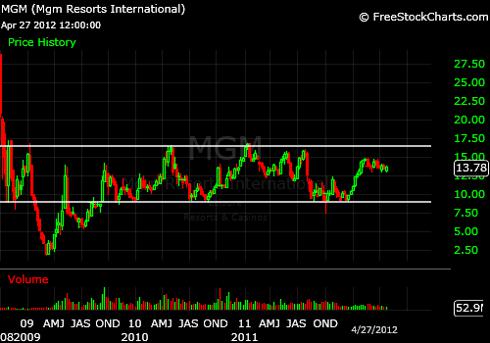 We have owned MGM for some time and added to our positions in the $9-$11 per share range last fall and earlier this year. We then reduced our positions in the $13 per share range as the position became a large holding in our portfolio. We will likely reduce our position further if/when the stock reaches the high end of the range (approximately $15-$16 per share). We believe that the potential for the stock is significantly above this range, but that stocks often continue to trade in pre-established ranges longer than expected. If and when MGM breaks above the $9.00 - $16.50 per share range then we will likely add to our positions since we think that the stock could reach the mid-$20s, under conservative assumptions, and higher, given the upside potential.
Disclosure: I am long MGM, SVU. Long MGM stock and bonds. We may add to the position or reduce it at any time, including in the next 72 hours. MGM is scheduled to release Q1 2012 financial results and conduct a conference call on May 3, which may cause us to change our view on MGM and/or trade the stock or bonds.