On February 13, 2012, I provided a recap of my growth stock picks and discussed recent developments in the individual stocks. Here is another recap.
Microsoft (NASDAQ:MSFT) has been extremely active in the press over the last 3 months. Recently, it was announced that it formed a subsidiary to pursue open-source projects, while shielding the corporation from liability. A large move because Microsoft has long been an opponent of the open source platform. Barron's recently reported on a hypothetical share swap between Facebook and Microsoft. Facebook would receive the Bing search engine and leverage its user data to improve search results. Microsoft would receive Facebook shares. While the Barron's situation is merely a hypothetical, it demonstrates Microsoft's powerful position in the tech world.
One reoccurring theme in arguments against Windows Mobile is its lack of applications. I do not believe this is a relevant argument. Right now there is no "business" smart phone. If Microsoft executes correctly, Windows Mobile is positioned to take over the niche left wide open by Research In Motion (RIMM). The phone is designed to link with Microsoft Office and should fit snugly into the corporate Windows Ecosystem. The ability to connect to the Xbox 360, the consistently highest-selling console in America, gives Microsoft an excellent way to attract young consumers. From a professionals perspective the lack of applications is no reason to avoid the phone. While, the Xbox 360 connectivity sets the stage for an interesting synergy between the mobile phone and the console for the gamers out there.
Electronic Arts (NASDAQ:EA) is getting badly beaten because it cut its Q4 guidance to .10-.20, below Wall Street expectations of .30 a share. To make matters worse, it lost some of its top talent to other organizations.
At the same time, the news seems to be consistently positive for EA's titles. Mass Effect 3 sold 3.5 million copies on its first day of sales. Activision (NASDAQ:ATVI) admitted Star Wars: The Old Republic is taking market share from World of Warcraft. Then the Consumerist names Electronic Arts the "Worst Company in America," for nickel-and-diming its customers to death. And I cannot say I do not totally disagree with the nickel and diming statement.
However, worst company in America is a stretch. If people are paying the charges, the Consumerist's complaint is great news. Investors want EA to be profitable. According to EA's slideshow, presented at the Wedbush TMT Conference, on March 8, 2012, the extra content on free-to-play games is the most significant source of digital revenue:
Click to enlarge.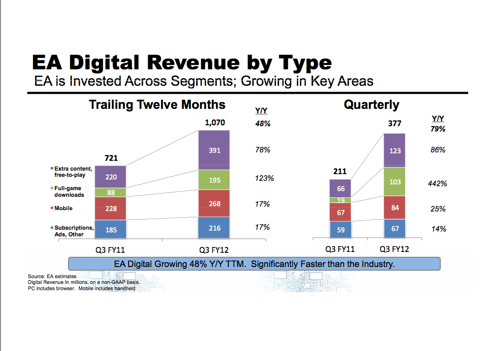 It seems they are not doing too bad with the nickel-and-diming. The freemium model is new, and needs to be tweaked and perfected. Once Electronic Arts finds the right balance between asking for money and game play, the nickel-and-diming problem will be solved. If it was ever a problem in the first place.
The biggest hurdle Electronic Arts has to overcome is maintaining profitability. The mobile content, freemium items, and Star Wars: Old Republic subscriptions seem to be EA's best bet at meeting this goal. Once the freemium pricing model is perfected, Electronic Arts will be one of the main companies benefiting. EA projects digital good sales to grow at a 42% CAGR. It has already developed and licensed the brands for the platform.
Fieldpoint Petroleum Corporation (NYSEMKT:FPP) released its 10-K on March 20, 2012. Fieldpoint Petroleum is still working with Cimarex and plans to drill their second well over the summer.
On April 23, 2012 FieldPoint Petroleum annnounced a new hedging program. Ray Reaves, President and CEO for FieldPoint, said:
As we have previously stated, the Company is protecting itself during this period of fluctuating energy pricing by the use of costless collar hedging. The hedging agreement currently in place has a floor of $95 and a ceiling of $106.50. We have been able to secure a costless collar that will be effective from July 1 through December 31 of this year, having a floor of $95 and a ceiling of $110.30. As with our current agreement, we are hedging 200 barrels per day, believing that this gives us sufficient protection against dramatic price reductions while still allowing a windfall should prices increase significantly.
The costless collar trading strategy is implemented by purchasing low cost out of the money puts and selling out of the money calls, resulting in a $0 hedge. The cost of this strategy stems from premiums charged by the institution implementing the strategy, the risk of a misvaluation of the options, and the lost upside potential. However, it guarantees a profit in a bull market and offsets the cost to hedge the position.
Discover Financial Services (NYSE:DFS) continues to beat EPS estimates. The company has developed an impressive platform for their credit card business. Their loan portfolio is still heavily focused on credit card loans. However, delinquencies continue to decrease.
Discover Financial Services has expanded its reach into India using the RuPay Network. And direct-to-consumer deposits are their major source of funding. They also announced a share repurchase of $2 billion in common stock.
As of April 27, 2012 Fitch gave the new Discover 5.25% notes a BBB rating and stated the issuance was to reduce Discover's cost of funding.
According to the YCharts.com:
ROIC is an acronym for "Return on Invested Capital", and it is a concept that doesn't have a fixed definition. In YCharts, it is the net income that a company earned as a percentage of all of the capital given to a company by shareholders and debt holders. It is a ratio that tries to answer the question: "If I gave $1 to this company, how much money could the company earn by investing that $1?" A ROIC of 5% means that the company can return $0.05 per dollar invested.
I compared the ROIC of Discover Financial Services, American Express (NYSE:AXP), and Capital One (NYSE:COF) using YCharts' software. Discover Financial Services has the highest ROIC of the group.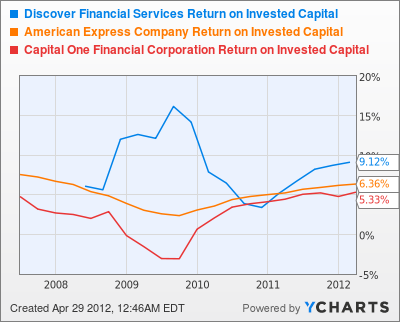 Apple (NASDAQ:AAPL) I saved for last because I am really curious to see how it performs without Steve Jobs, as competitors begin to move into the marketplace. Apple's genius is its marketing and it is in a really strong fundamental position. However, marketing is only so powerful and eventually the consumer will begin to drift to a different end of the spectrum. Even if just out of boredom.
At the same time Apple has a strangle hold of the youth market and is extremely popular among artistic and creative developers. It did just crush earnings: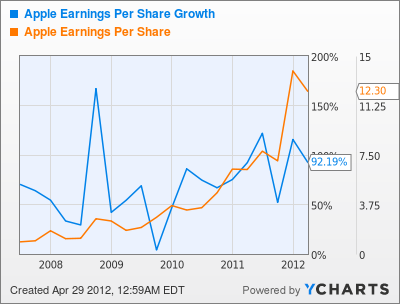 The media needs to be bearish on this stock simply because there is nothing left to say, aside from "Winning!" The bearish sentiment is the market taking a step back and making sure it is not to good to be true. Apple is cult status, and it is getting harder and harder not to drink the Kool-Aid.
Is there any brand in America that comes close?
Disclosure: I am long MSFT, FPP, DFS, AAPL, ATVI.
Disclaimer: The above article is speculative. I am not a licensed investment adviser or broker-dealer. Investors are cautioned to perform their own due diligence.