The market continues to move higher and earnings are generally coming in stronger than expected, affirming my bullish stance and prompting me to add some additional speculative long exposure to my portfolio. Every portfolio should have an asset allocation strategy that meets the financial and psychological profile of that investor. In my case, I am generally very aggressive and most investors would consider my entire portfolio speculative. That said, everything is relative, and I recommend at least 5% of any portfolio should include some speculative names for added return potential and also something more exciting to follow.
You can't get any more speculative than small cap biotech and that is where I have found two positions that have fallen rather dramatically in recent weeks and now appear attractive. Celldex (NASDAQ:CLDX) has fallen almost 25% from its highs in February and Oncothyreon (ONTY) has dropped more than 50% in the same time frame. Both companies have promising cancer pipelines, a drug in Phase 3, and market capitalizations around $200 million with potential for significant upside.
Celldex
Celldex is a biotechnology company focused on the discovery, development and commercialization of targeted immunotherapies. The company focuses on tumor-specific targets, human monoclonal antibodies, and immune modulators as precision delivered therapeutic agents for the treatment of cancer, infectious and inflammatory diseases. The company has labeled this its Precision Targeted Immunotherapy approach and includes its proprietary Antigen Presenting Cell Targeting Technology (APC Targeting Technology™) that utilizes proprietary human monoclonal antibodies to directly target specialized types of immune system cells known as antigen presenting cells or APCs - particularly dendritic cells. Antigen targeting, where the drug uses a patient's own immune system to fight disease, is hot right now, especially in the wake of the approval of Dendreon's (NASDAQ:DNDN) Provenge.
Celldex has been around for a long time but after being left for dead and bottoming out around $2 share late last year the shares have rebounded and prospects for its pipeline are starting to look up. Celldex was once part of another successful biotech innovator, Medarex, which was later acquired by Bristol Myers Squib (NYSE:BMY). Celldex has revitalized itself by acquiring or licensing a variety of properties based on proven drug discovery platforms. The most advanced drug in its pipeline, rindopepimut (CDX-110) for brain cancer, was part of its acquisition of Alteris in 2005 and one of the most promising in its pipeline, CDX-011 an antibody-drug conjugate (ADC), was the reason for its acquisition of Curagen in 2009. CDX-011 is a breast cancer drug developed by license from Seattle Genetics (NASDAQ:SGEN) ADC technology. This drug is what initially drew me to CLDX as I already own SGEN and given I believe that company is a likely acquisition target because of the strength of its technology, CLDX offers another opportunity to invest in this successful platform for developing cancer drugs. See pipeline info below: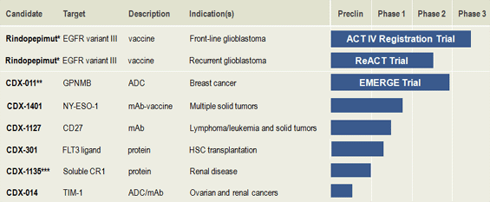 *From the company's website.
Stephen Simpson wrote an interesting piece on Celldex for SeekingAlpha back in January, calling it A Potential Triple With Data On The Way. Within his article he addresses the positives and some of the negatives in an overall positive thesis, stating:
Rindopepimut seems to be quite effective in targeting certain types of glioblastoma and slowing the progression of the disease with relatively benign side-effects. A Phase 2b study (that lacked a randomized control) saw over 12-month progression-free survival, with two-thirds of patients progression-free at eight and a half months. By study-end, the overall survival was over 24 months. But;

Investors need to be very careful about this next part. Those results compare quite well with historical responses of 6.4 months (progression-free) and 15.2 months (overall) and standard-of-care responses of 6.9 months and 14.6 months, but it can be very misleading to draw survival benefit conclusions from historical data (as opposed to an actual randomized control arm). So, rindopepimut is absolutely worth further study and is an encouraging candidate, but there's still room for disappointment. And;

Celldex investors will also soon learn if there's potential in CDX-011 (an antibody drug conjugate) in breast cancer. Early stage data was mixed (9.1 week progression-free survival), but the drug showed a notable response in triple-negative breast cancer (17.9 week PFS), a very hard-to-treat category. Here too the addressable patient population is relatively small - triple-negative breast cancer is about 15% of the total and some of these do respond to other agents - but their alternatives are not good. But;

The worst data point on Celldex is the fact that Pfizer (NYSE: PFE) partnered with the company in 2008 to develop CDX-110 and then ended that partnership in 2010. Some on the Street have argued that Pfizer saw enough to believe that the drug either didn't work or didn't have enough market potential. That may well be true, but it may instead be true that Pfizer was busy with the integration of Wyeth and that in its large-scale restructuring a drug like this just no longer fit in with its priorities.
And he concludes;
I value Celldex on the assumption of $400 million in sales of CDX-110 in 2020, discounted back at a 30% rate. I currently place no value on CDX-011 in breast cancer, nor assign any value to the pipeline. This results in a fair value north of $6, though it clearly assumes clinical and regulatory success for the drug. If Celldex can capture a larger share of the EGFRvIII-positive GBM market, or more of the GBM market in general, or demonstrate viable efficacy in breast cancer, there is easily the potential for this stock to triple.
Stephen is basically saying that he has reasonable confidence that CDX-110 will be approved and generate revenues and profits not currently recognized in the stock price. He is also saying that he has less confidence in CDX-011 and the rest of the pipeline, or those contributions are too far into the future, so he ascribes them no value and still comes up with a $6 price for the shares or almost 40% higher than current levels. If any of the pipeline that he has assigned no value to is approved or achieves broader use indications, the stock as he says could triple. I like Stephen's analysis but I also added extra value to the Celldex's pipeline because the majority of the programs are derived from other previously successful technology platforms of much larger companies in the industry like Medarex, Seattle Genetics and Amgen (NASDAQ:AMGN). It is not often you can invest in proven industry leading drug development platforms targeting multiple broad cancer indications in a $250 million market valuation company.
Oncothyreon
Oncothyreon Inc. (ONTY) is another antigen focused clinical-stage biopharmaceutical company focused on the development of therapeutic products for the treatment of cancer. Its primary product candidate, Stimuvax is in two phase 3 clinical trials for the treatment of non-small cell lung cancer. It is particularly interesting to me that this product is already partnered with industry heavyweight Merck (NYSE:MRK). The company is also developing earlier stage cancer drugs including PX-866, a small molecule that is in phase II trials for various cancer indications.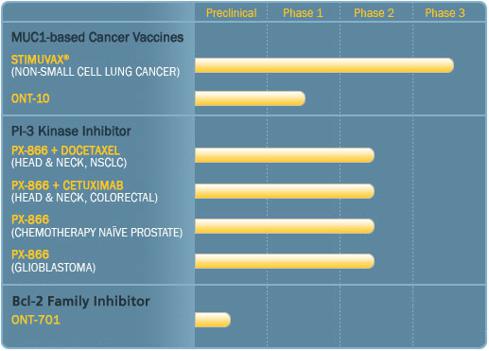 *From the company's website
The near term prospects for ONTY's stock price rest solely on the outcome of the Phase 3 trials for Stimuvax. Stimuvax is another entrant in the antigen targeting cancer vaccine race. It is a therapeutic vaccine designed to stimulate an individual's immune system to recognize cancer cells and control the growth and spread in order to increase a patient's survival. Stimuvax is also known as BLP25 and emepepimut-S and was originally developed by scientists at Cancer Research UK. Merck and Oncothyreon formed a partnership to develop BLP25 and another vaccine called THERATOPE in 2001 when ONTY went by the name Biomira. A decade later and Merck long ago dropped THERATOPE but has made significant progress with BLP25 as it is now being tested in a worldwide clinical trial called the START trial Stimulating Target Antigenic Responses To non small cell lung cancer or NSCLC. The trials were moved to Phase 3 after results from a Phase 2b study presented promising statistics. In that 171 patient randomized study conducted in thirteen sites in Canada and four in the United Kingdom the median survival for that subset of patients with Stage IIIB NSCLC (locoregional disease) was 30.6 months for patients treated with Stimuvax plus best standard of care versus 13.3 months for the patients treated with best standard of care alone.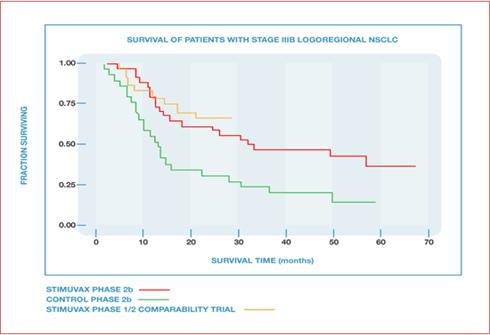 The results of the phase 2 trials were strong enough to convince Merck to advance research into two much larger phase 3 trials. From the company's website:
Stimuvax® is currently being evaluated in two Phase 3 clinical trials:

The global START (Stimulating Targeted Antigenic Responses To NSCLC) trial for patients with unresectable stage III non-small cell lung cancer (NSCLC).

The INSPIRE (Stimuvax trial In Asian NSCLC Patients: Stimulating Immune Response) trial in non small cell lung cancer

The START trial is a randomized, double-blind, placebo-controlled study that will evaluate patients with documented unresectable stage III NSCLC who have had a response or stable disease after at least two cycles of platinum based chemo-radiotherapy. The study has been designed considering scientific advice from the European Medicines Agency (EMEA/CHMP) and has been agreed upon with the U.S. Food and Drug Administration (FDA) through a Special Protocol Assessment (NYSE:SPA). The START trial is expected to include more than 1,300 patients in approximately 30 countries. Currently, there are no approved maintenance therapies for patients responding to first-line treatment for unresectable stage III NSCLC.

The INSPIRE trial is in Asian patients with advanced non-small cell lung cancer (NSCLC). INSPIRE is similar in design to START, the ongoing global Phase 3 trial of Stimuvax in NSCLC. Each trial is a multi-national, Phase 3, double-blind, placebo-controlled, randomized clinical trial to evaluate the efficacy, safety and tolerability of Stimuvax in patients with unresectable, stage III NSCLC who have demonstrated either stable disease or an objective response following primary chemo-radiotherapy. The primary endpoint of both trials is overall patient survival. The trial is anticipated to enroll approximately 420 patients in China, Hong Kong, South Korea, Singapore and Taiwan.
Significant Potential
While there are some concerns about the size of the markets for Celldex's products, the same cannot be said for ONTY and Stimuvax. Unfortunately, lung cancer is the leading cause of cancer death for both men and women. According to the company's website, more people die of lung cancer than of colon, breast and prostate cancers combined and it affects more than 1.2 million patients a year with about 85 percent of all lung cancers being the non-small cell type. Only about 15 percent of people diagnosed with NSCLC survive the disease for more than five years, so any drug that can extend life of people affected will have a significant market opportunity.
Because Oncothyreon has granted an exclusive, worldwide license to Merck for the development, manufacture and commercialization of Stimuvax, it will only receive a portion of the proceeds if the vaccine is approved and successfully marketed. By terms of the license, should Stimuvax be approved, Oncothyreon is entitled to receive future cash payments of up to $90 million for biologics license application, or BLA, submission for first and second cancer indications, for regulatory approval for first and second cancer indications, and for sales milestones. The company is also entitled to royalties based on certain net sales thresholds, ranging from a percentage in the mid-teens to the high single digits, depending on the territory in which the net sales occur. Given that this drug has the potential to be a blockbuster, these contributions will be significant relative to ONTY's tiny sub $200 million market valuation. Other blockbusters like Avastin and Herceptin can generate annual revenues exceeding $5 billion. That type of success would likely make ONTY a $1-2 billion company, or potentially 10x higher than today's valuation.
The Road Has Been Bumpy
Shares have recently fallen precipitously following news that the phase 3 trials will continue on longer than some investors had hoped and results will now be pushed into 2013. Some view this as indication that current results were not strong or definitive enough to halt the trials and announce a positive FDA response, while the company and others more bullish on the name have suggested this is only because patients are surviving longer pushing the study to its end target of 708 deaths. Dan Lukehart summed it up nicely in his March 30th Seeking Alpha piece on ONTY, saying:
This most recent interim look was triggered when 529 of the anticipated deaths occurred. The study will conclude when 708 patients have passed away. Am I the only investor that wants these 708 deaths to be as far away from now as possible? Heck, I'd love to see results in 2014 and not 2013. This means the drug is working. This is also why you can only give your best guess based on the progression of deaths as to when the trial will be completed.
The Tell, a Blog on Marketwatch, had this to say after the announcement of the trial continuing that sent the shares of ONTY tumbling:
That news rattled investors who were hoping the data would be so impressive the monitors would recommend the trial be ended early. However, while such events due occur, they are highly unusual in the drug-development world.

"This just means that people will have to wait several more months for the results, and some people don't have that patience," said Kirkman in an interview.

He noted that the monitors had three choices when they reviewed the data: to allow the trial to continue because the drug appeared to be working, to stop the trial early because the drug was proving to be far more effective than expected, or to end the trial early because the drug was proving to be useless.
Risk Reward Seems Favorable
Investors were not the only ones with expectations that the trials would be halted early because of highly conclusive data. In November of 2011, Wedbush Morgan upgraded ONTY and raised its price target on the stock to $31 while the shares were still trading around $6 saying:
"We view the risk reward opportunity for ONTY as highly asymmetric ($2-4/share downside [futility/continue], $25/share upside). Based upon our assumption that the P value to trigger an early stop at this second interim is <= 0.001, and that at this point in the Study, the Hazard value is roughly 0.65, our calculations suggest that with the 529 events there is better than a 90% probability that the Study will hit the early stopping success threshold."
Obviously they were wrong about that, so where are we now? I have to think that risk/reward now firmly in favor of a long position. While investors may have to wait longer the drug still appears to be effective in the results available and Merck has invested significant amounts of money in trials because they believe it will be approved and generate profits for the company. In Wedbush's comments in November when the stock was over $6, they believed downside was $2-4 and upside was $25. Well, if we believe them at all, upside now is $27 and downside $2. They also viewed the early results from ONTY's other product PX-866 as promising, likely leading them to ascribe some value to the shares even if Stimuvax is ultimately rejected.
Conclusions
Neither CLDX or ONTY are perfect stocks and both present risks, but that is true of much larger biotech companies too. For reference, look at the recent ride investors in Gilead (NASDAQ:GILD), a $40 billion biotech, have been forced to stomach.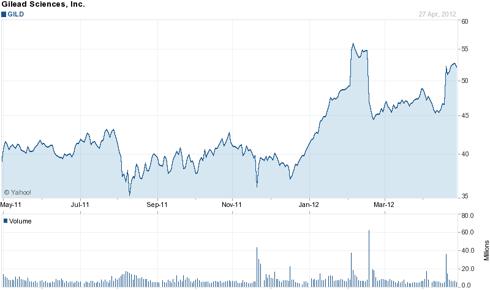 After recent pullbacks, I believe both Celldex and Oncothyreon offer significantly more upside than down, making them worthy inclusions for the speculative portion of any investor's portfolio.
Disclosure: I am long CLDX, ONTY.