Nothing beats value over the long term. Sure, we'd all love to be able to consistently pick the company that is about to have explosive earnings – who wouldn't want to be able to travel back 12 months and put every penny they had into Dryships (NASDAQ:DRYS)? But for consistent returns, finding the under-valued stock can significantly increase your returns.
Datalink (NASDAQ:DTLK), a small Minnesota company, may very well fit the bill. Currently trading around $4, the storage consulting firm has a market cap of just under $50 million. Let's take a look at the numbers and see if that market cap is reasonable.
For the third quarter, Datalink earned .09/per share moving them to a .07/per share profit for the last 3 quarters. These numbers are significantly behind year ago results and the estimated .19/per share profit for the year is well below last year's .57/per share. The drop though, is explainable. In early 2007, Datalink acquired Midrange Computer Solutions – an acquisition designed to increase Datalink's market penetration.
Acquisitions, and the resulting integration of two companies, is a tricky business. Datalink stumbled in 2007 with integration costs, both tangible and intangible, putting a damper on profits. The stock, as a result, has dropped from a 2006 high of $12 to its present level. A short-term hit to profits on an acquisition, accompanied by a huge devaluation to the stock, marks a potential opportunity for a value investor.
At .19/share for 2007, given a 20x multiple, Datalink currently appears to be fairly valued. However, when we look at next year, the opportunity becomes apparent. Analyst estimates for 2008 range from .34/share to .46/share. At a 20x valuation, a price of $6.80 to $9.10 seems rational within 1 year. When a value investor has a realistic chance at 50-100% profits in 1 year, it is time to investigate further.
Let's take a look at price-to-sales valuation. Realistically, Datalink looks to do about $175 million in revenue for 2007. Given a market cap of $50 million, the price-to-sales ratio is .28! Even if we use a conservative price-to-sales ratio of 1.75 (and this is very conservative), we would expect a market cap of around $300 million, or roughly $24 per share. While price-to-sales doesn't drive a stock implicitly, as a value investor I'm always happy when I see a possibility for significant share appreciation that would not over-value the company's price-to-sales ratio.
Given that there is the clear potential for price appreciation based on value over the next 12-24 months, we need to look for trouble. Is there a valid reason for the stock to be selling at a discount?
The balance sheet is solid. $22 million in cash as of 9/30/2007. No long term debt. Inventory levels fairly steady since the acquisition. There just isn't a whole lot to worry about when you look at the balance sheet.
Like a lot of tech stocks, the past month has not been kind for Datalink. Pundits keep whispering scary words – business slowdown, IT spending slowdown and, gasp, recession. These prophets of fear say it is time to get out of tech stocks – these stocks are usually among the first ones hit when business spending slows. Datalink's 2008 profits are at risk because of macro-economic issues, they would tell you.
What these market mavens aren't doing, though, is distinguishing between areas within tech; it's much easier to paint with a broad brush. Savvy investors, though, know that one size does not fit all – and Datalink investors may profit off of that knowledge.
If you work in IT, you know that there is a virtually insatiable thirst for storage. No matter how much you buy, it never seems like enough to satisfy business requirements. When business spending slows down, you may try to make your servers last an extra year, you may defer a costly infrastructure project, and the business may decide to avoid implementation of a new CRM system but storage spending – well, that just can't be easily avoided. Yes, Datalink is a tech company but it is a tech company that is amongst the least likely to be affected by an IT spending slowdown.
In the end, Datalink seems to be an excellent value play with a 1-2 year time frame. The stock is depressed based on a 1-time event and a general market fear, the downside risk is fairly minimal, the valuation metrics point to price appreciation and the potential appreciation is large enough to warrant significant interest from investors.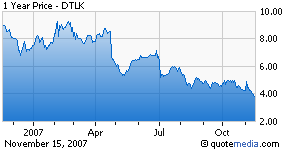 Disclosure: none