If you recall I noted about six weeks ago that HSBC's (HBC) decision to close Decision One Mortgage was just the tip of a subprime iceberg comprised of Mortgages, Credit Card, Unsecured Loans and Auto Loans. Yesterday, there came the news that HSBC is taking a $3.4 billion charge to cover loan losses within its U.S. based lending operations.
From the NY Times:
HSBC Holdings warned today that losses in the United States housing market were spreading to credit card and other consumer loans, forcing the bank to set aside $3.4 billion to cover bad loans, more than it had forecast about four months ago.

HSBC said it set aside $1.4 billion more than anticipated earlier because of a "broader deterioration" in the United States housing market and will also take a $55 million charge to close 260 more consumer finance branches in the country..

However, revenue growth at its consumer lending business in the Middle East, Hong Kong and China more than offset the losses at the American unit, resulting in an increase of third-quarter profit, the company said, without giving any figures.

.. HSBC, which had started to close mortgage units and exchanged managers to limit the effects on its business, said it could take up to three years to resolve the bank's issues related to the subprime crisis, especially as the difficulties are widening.

"Early stage delinquency rates in both cards and branch unsecured lending are also showing signs of deterioration," HSBC said in a statement.
Reading the article I appreciated the candor from HSBC, while U.S Banks are acting as if the end of the mortgage crisis (which is turning into a consumer credit crisis) is right around the corner, HSBC is being honest: "three years to resolve all issues". As an investor, I'd rather hear a company provide a dire prediction of the future, rather than to tell me that everything is going to be fine next quarter only to announce $11 billion in write downs three weeks later. Thinking about the larger issue of recovering from the mortgage crisis, even if it takes HSBC's peers 1.5 years to recover it would still mean we're going to be facing the after effects of the mortgage crisis well into 2009.
As for HSBC, their wellness plan should be as follows:
1. Close down all of their U.S. based subprime lending units; shuttering Decision One was just a start, the next step should be to close down Household Finance. A lot of HSBC's U.S. lending businesses focus on subprime, the company needs to get out of subprime and focus on building its prime lending business.
2. Tighten up lending standards, and begin taking steps to prevent future pain within their credit card, personal and auto lending businesses. If they already see weaknesses in those businesses, I want to know what they're doing to avoid future pains.
3. Make a significant investment into expanding their retail banking operations in the U.S., because outside of the NYC metro area they don't have very many branches state side. Additionally, I think HSBC's premier service for wealthy clients represents a value proposition that no U.S. bank can match as far as providing services for clients who travel/work between multiple countries.
4. Begin to wind down U.K. based subprime operations now; if Northern Rock is any indication and if the predictions of a sharp rise in U.K. foreclosures are true, HSBC needs to start hedging itself against a U.K. subprime debacle ASAP.
5. Continue to invest in the businesses that are doing well, but do a deep review of them to identify any potential risks, particularly around lending standards.
6. Overall the company needs to streamline as there appears to be a lack of cohesiveness in the larger business. The goal should be build a synergistic group of business around the company's present success areas and kill off tertiary operations (like U.S. subprime) that aren't contributing to the success of the whole.
Right now, HSBC is the tale of two companies: the successful international bank and the beleaguered U.S. subprime lender. The key to future success is to try and replicate what had has made the bank successfully internationally in the U.S. and to kill off its stateside subprime operations.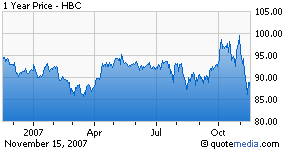 Sources:
NY Times: "HSBC Takes $3.4 Billion Charge" - By JULIA WERDIGIER and LANDON THOMAS Jr. – November 15, 2007
Disclosure: at the time of publishing the Author didn't own a position in HSBC.