Most American workers use their employer sponsored 401(k) plan as their main way to save and invest for retirement. With such a broad reach and appeal, one would think investing in such plans would be streamlined and simplified. Unfortunately, it is anything but. The very nature of 401(k) plans is to blame: plans are specific from one company to the next, and within each plan, only a small - and again, unique - number of investment options are made available. For most investors, this translates into confusion and a lack of a systematic way to go about and properly allocate their 401(k) contributions.
Many investors do not have access to professional financial advice - or do not wish to pay the high fees that come with it. The use of target-date funds seemingly simplifies the process but boxes investors into passive management, a strategy we believe unlikely to generate the returns they'll need to ensure their financial independence in retirement.
Somewhere in between, the use of institutional-grade tools & analytics with professional market insights can deliver ongoing active allocations tailored to one's specific 401(k) line-up. To demonstrate this, we employed a risk framework capturing the movements of 30 different market segments (for equities, fixed-income as well as alternative assets) to allocate risk-based model portfolios given an arbitrary set of investment options. Model portfolios are rebalanced quarterly.
For each 401(k) plan, three portfolio allocations are generated: a conservative allocation comparable in risk to a 60% weighting in broad U.S. stocks (the Russell 3000 index) and a 40% weight in fixed-income securities (the Barclays Aggregate Bond index); a moderate allocation comparable in risk to an 80% stock, 20% bond blend; and an aggressive allocation comparable in risk to 100% stocks.
During the portfolio construction process, weights to each of the 30 market segments can be skewed modestly over, or under, weight relative to their comparable benchmarks based on market views at any point in time. For example, during Q1 2012, our views were to favor small-cap and emerging market equities, as well as high-yield corporate bonds at the expense of international stocks and U.S. government bonds.
Now that the quarter has passed, the following questions can be answered: can the risk framework provide for systematic risk-adjusted allocations on a large scale, and can this optimization deliver active excess returns? We took an arbitrary sample of 140 retirement plans and compared the model portfolio returns for the first quarter of 2012 to those of their respective benchmark comparisons. Below we display the excess returns generated versus the active risk (in annualized standard deviation) undertaken for each set of model allocations []: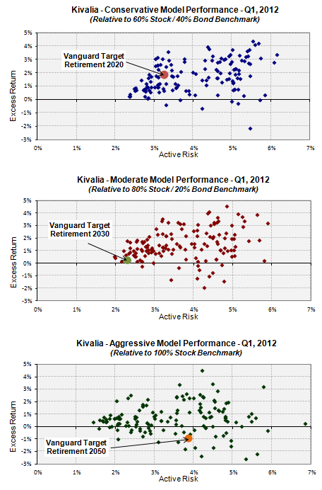 On average plan model portfolios out-performed their respective benchmarks by a bit more than 1.25% while accepting active risk of between 2% and 6%.
The active risk measure implies that in 2 out of 3 years the models should be expected to deviate from their underlying benchmarks by up to this amount. Simply put, the more we emphasize seeking out excess returns in the model portfolios, the greater the deviations between the models and their respective benchmarks; which translates into "active risk."
Our willingness to take on active risk will likely vary dynamically over time, but through a full market cycle, we'd expect to average between 3% and 5% on average for the various models, with the hopes of out-performing each model's benchmark by 1-3% annually.
| | | | |
| --- | --- | --- | --- |
| | Average Excess Return | Std. Dev. Of Excess Return | Average Active Risk |
| Conservative Models | 1.72% | 1.17% | 4.07% |
| Vanguard Target Retirement 2020 | 0.80% | | 2.65% |
| | | | |
| Moderate Models | 1.48% | 1.22% | 3.74% |
| Vanguard Target Retirement 2030 | 0.22% | | 2.30% |
| | | | |
| Aggressive Models | 0.66% | 1.20% | 3.48% |
| Vanguard Target Retirement 2050 | -0.95% | | 3.88% |
A more practical comparison for those results would be Target Date Funds (TDFs), as they are typically specified as the default option for plan participants, and are marketed as the "set it and forget it" approach to retirement savings. Because of their ease of use and providing age-appropriate portfolio risk and diversification, TDFs have gained enormously in popularity amongst 401(k) savers. Unfortunately this ease of use comes at the cost of a lack of flexibility in investment allocation.
We selected the Vanguard Target Retirement fund series for our comparisons, as they are among the lowest cost target date options available and generally well-known. Specifically, the Vanguard Target Retirement 2020 can be compared to our conservative allocation, the Vanguard Target Retirement 2030 compares well with our moderate models, and the Vanguard Target-Date 2050 is appropriate for our aggressive model portfolios. In each case, our models generated higher returns than their comparable target date fund this quarter - about 0.9% for our conservative models, about 1.25% for our moderate models and about 1.6% for our aggressive models.
Of course we can't be assured that our insights this quarter will be as valuable as last, but we expect such a methodology will add value over time.
Our investment biases this quarter are quite similar to lasts, though all our 10-year forecasts for equity sectors have declined notably since the end of the year. The main themes expressed throughout the model portfolios this quarter are as follows:
First, we continue to favor growth over value. In a world where most the world's organic growth is below their rate of inflation, investors are likely to continue bidding up assets they believe will have comparably higher, but stable, growth rates going forward.
Second, over the longer-term Emerging Markets are the places to be. In emerging markets, demographics and trade balances serve as tailwinds to growth. In the U.S., Europe and Japan they are now headwinds.
Finally, the hierarchy of credit-worthiness is in the early stages of being turned on its head. Historically, government issued debt has been viewed as "risk-free." Greece (and soon Spain and Portugal) may go down as "the canaries in the coal-mine" regarding a more general re-pricing of sovereign credit. Alternatively the ability to repay for many corporations has never been greater - even at today's lower rates we continue to favor Corporate High Yield Bonds and other corporate credits in the fixed income markets.
Disclosure: I have no positions in any stocks mentioned, and no plans to initiate any positions within the next 72 hours.