Speculating in biotech stocks is like no other type of investing. There is little to compare it to, but looking back through history, we might be able to find an interesting comparison. Hark back to the early days of World War II when Britain was under siege. To survive, Britain depended on convoys of ships to bring in the needed supplies. As the English waited for these boats containing all the necessities of survival to come in, they were often disappointed as ship after ship was sunk in route.
Fast forward to today, and we see the loose comparison. Biotech investors are the equivalent of the English who are anxiously waiting for their ship to come in and unload the bounty. The ships are the speculative biotech companies trying to bring their wares to the masses. Unfortunately for these ships though, there exists the ever present danger of being sunk. Not from torpedoes or bombs, but from the risks that all speculative biotech companies must face. Such dangers as the lack of funding, failed testing results, outright FDA rejections, and massive stock dilution are just some of the examples.
Unfortunately for many investors, the speculative biotech fleet has been hit rather hard in the past year. While there are still some potential winners still steaming for port, which we will mention at the bottom of this article, many other companies and their investors have fallen to the ever present dangers that lurk in these waters.
Causality List
Keryx (NASDAQ:KERX) and AEterna Zentaris (NASDAQ:AEZS)
The most recent causalities on this sea of biotech investing are Keryx and AEterna Zentaris. These two companies are joined together by the drug Perifosine, which was an oral anti-cancer drug. KERX got the rights to the drug from a commercial license agreement in 2002 with Zentaris AG, which is a wholly owned subsidiary of AEZS. Initial results of the drug proved to be positive. With KERX pushing forward with their Phase 3 trials and AEZS entering deals with such companies as Yakult Honsha (OTC:YKLTF) for Japan, Handok for Korea, and Hikma (OTCPK:HKMPF) Pharmaceuticals for Middle East, all looked good for investors. These ships looked like they were going to come in and deliver as KERX's stock price climbed over the $5 mark.
Then on April 2, 2012 disaster struck the two companies. Like a torpedo slamming into a side of a ship, KERX released results of the Phase 3 clinical trial evaluating Perifosine. It seems that the patients with refractory advanced colorectal cancer did not meet the primary endpoint of the trial. KERX investors could only watch as the stock price quickly sank to trade around $1.60 which equals a 68% instant decline in KERX's price.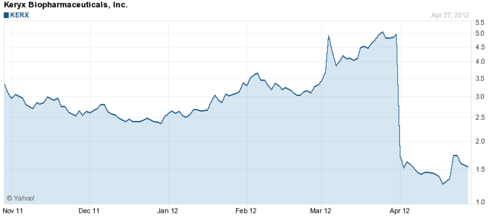 AEZS's stock price suffered the same fate, as it was trading well north of $2 prior to the announcement. After the news, the stock fell to less than $0.80.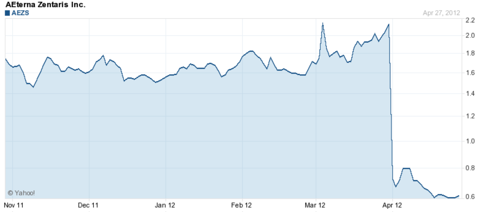 Although this news devastated investors of both companies, it should be known that they do have other drugs and products within their pipelines. For example, KERX has Zerenex which is in a long-term Phase 3 study for end stage renal disease. The problem is that Perifosine had the potential to be a blockbuster drug with far reaching effects. No other drugs in either pipeline will have such potential. So neither of the KERX or AEZS ships has sunk, but they are floundering and leave investors with serious doubts to the future.
Dendreon (NASDAQ:DNDN)
For yet another example of how dangerous and unpredictable biotech investing can be, one has to look no further than DNDN, which is one of those companies that can and will test the will of any investor. Dendreon is a biotechnology company that engages in the discovery, development, and commercialization of novel therapeutics to enhance cancer treatment options for patients. The company's product portfolio includes active cellular immunotherapy and small molecule product candidates to treat a range of cancers. The company's main product is Provenge, which is used for the treatment of prostate cancer.
Early on, DNDN investors had a rough time, as there was serious doubt about the success of the company. Finally, investors who had the stomach to stay long the stock were handsomely rewarded as the FDA approved the product for use. Investors saw DNDN rise from single digits to run all the way to over $50 a share. The company went on to start their own manufacturing facilities and turn into a fully operating medical company. This ship had come in, and investors looked to reap huge rewards.
The interesting thing about DNDN is that even though it made it to port, so to speak, neither the company nor its investors were safe. Very quickly several issues hit DNDN and the stock price. Doubts about the drug's reimbursement issues began to manifest. On top this, investors had to deal with inaccurate company guidance, and it missed earnings, which further hampered the stock. Finally, details about competition from the likes of Johnson & Johnson and their drug Zytiga came to light. It was almost as if the ship began to sink right there at the dock.
As all this negative news piled on, the stock price fell 80% to trade around the $10 -$11 a share range.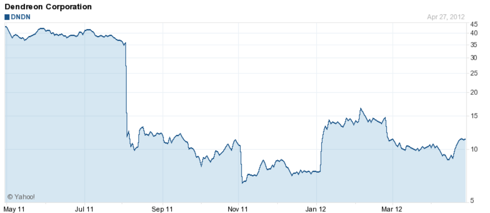 Dendreon is a great example of how risky biotech stocks can be. Just when one thinks that the rough waters are behind them, there is always another unseen danger awaiting. Much like KERX and AEZS, Dendreon is still afloat but has not yet begun to regain its momentum it once had. It will be interesting to see if management can once again right the ship and reward patient investors.
Still Afloat
Antares Pharma (AIS)
Not all failures have unhappy endings, which is the case for Antares Pharma and how it relates to its once partner BioSante Pharmaceuticals (BPAX). Both of these companies sailed side by side in the hazardous waters of biotech in search of bringing the drug LibiGel to market. This drug, if successful, was going to be used to treat female sexual dysfunction. AIS had the rights for the drug's commercialization to the rest of the world outside of the U.S. markets. BPAX was to have control of the U.S. markets. The market value for such a drug was going to be huge, and both BPAX and AIS stood to reap the rewards. What was supposed to happen, and what did happen though were very different outcomes.
The news that top-line results from the two pivotal Phase III efficacy trials failed to meet the co-primary or secondary endpoints hit both stocks like a bomb. This bombshell was particular devastating and BPAX's stock price was decimated in after-hours trading. Prior to the announcement BPAX's stock price traded around $2.50 a share, but recently, those same shares are trading at around $0.50. Investors took an 80% loss on their shares in one day's time.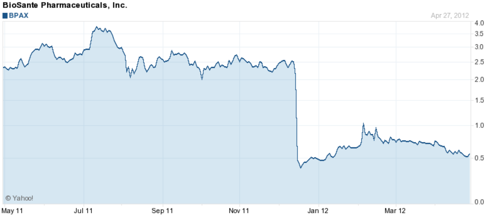 AIS, being so closely tied to the trials, was not going to escape unscathed from the bad news. Prior to the release of the bad news, AIS' stock price closed at $2.41. As the bad news cascaded through the markets, the stock price took a hit of 31% in the following day of trading. Initial it looked as if AIS investors were going to suffer the same fate as those in BPAX, but this was not to be the case. As the story played out, it came to light that BPAX had to spend close to $100 million to conduct the trials for the drug. AIS did not spend a dime, so they were out only the lost potential of what might have been. Looking deeper into the hull of the AIS organization shows a very different picture all together.
Antares Pharma's real value is tied up with their self-injection pharmaceutical and topical gel-based products. A prime example of the company's success in these fields came on December 8, 2011, when the Food and Drug Administration approved the company's topical gel (Anturol) for the treatment of overactive bladder. Prior to the approval, a deal was struck with Watson Pharmaceuticals (WPI) which would be the ones responsible to launch the product and sell it in the United States and Canada. Fast forward to today, and we see the latest announcement out of WPI where they officially announced the launch of Gelnique 3%™ (oxybutynin) gel 3%, for the treatment of overactive bladder. Basically this product has now officially gone to market and joins AIS other product Elestrin, an estrogen therapy.
Investor's real interests will next be focused upon the gel based product Nestragel. This product deals with contraception, and so far is showing some promise. Being a gel based product, the company states that it does not have the same rate of adverse side effects that the current oral products do. According to the company, 31% of women discontinue oral contraceptives use after 6 months, and 44% within 12 months. If AIS could bring this product to market and capture this segment, it would prove to be a huge success.
AIS also looks to capitalize on their proprietary injection technologies as well. Teva, an existing partner, has agreed to provide Antares with device orders of an undisclosed amount in the years 2013 and 2014, to make a milestone payment to Antares upon FDA approval of epinephrine auto-injector, and to assume all litigation costs related to the patent litigation between Teva and Meridian Medical.
Looking at the company's financials one finds some interesting facts. As of December 31, 2011 the cash and investments totaled $34.4 million, and there was no debt. The operating cash burn in 2011 was approximately $1.9 million versus $6.1 million in 2010. Looking at the revenue growth rate also provides some interesting trends. In 2008 the total revenues were $4.6 million. In 2009 it grew 47% to top out at $8.3 million. Then in 2010 there was another 54% increase in revenue as the amount grew to $12.8 million. In 2011 the revenue grew to $16.5 million which was another 28% jump. In the current 2012 fiscal year the company is expecting to grow somewhere between 30%-50%.
In conclusion, AIS is still steaming full speed ahead despite being caught in the disaster that sunk BPAX. Currently, the stock price trades above the $3 range.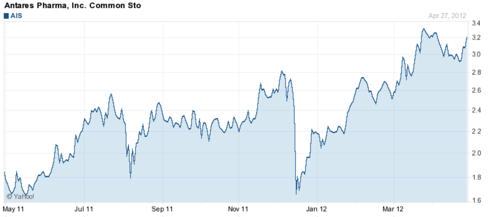 If AIS can keep it going, it could be the ship that investor have been so patiently waiting for to bring them huge rewards.
Advanced Cell Technology (ACTC.OB)
If within our scenario investors are the ones waiting on the shore for their ship to come in, then ACTC could be one monster of a boat. The question is if the ship ACTC can hold together as she slowly steams toward the port. The real question is what lies within this company that makes it so interesting for so many investors.
Advanced Cell Technology is a biotechnology company focused on the development and commercialization of human embryonic and adult stem cell technology in the field of regenerative medicine. The engine that drives this boat revolves around the company's trials dealing with the treatment of Stargardt's macular dystrophy [SMD] and dry age-related macular degeneration (dry AMD). So far the results have been very good, so good that in late January 2012, the Phase 1 / 2 clinical data was published in The Lancet. In this medical publication it noted the safety of the use of ACTC's human embryonic stem cell for the treatment of both diseases. The results were reported for just two of the patients at that time. What is most interesting though was that both patients had measurable improvements in their vision that persisted.
Fast forward to today, and we find ACTC has dosed a third patient in its trial for dry age-related macular degeneration. The delay between dosing seems to have been due to a higher level of scrutiny when screening potential candidates. Also the Data and Safety Monitoring Board [DSMB] have recently authorized ACTC to move forward with enrollment and treatment of additional patients with Stargardt's disease [SMD]. In the U.S. SMD trial, ACT will screen and enroll patients for the second cohort, who, in keeping with trial protocol, will be injected with 100,000 retinal pigment epithelial cells. This is a doubling of the original dosage when compared with the 50,000 cell dose used in the patients of the first cohort. The Company has also been approved to treat the final two patients to round out the initial dosing arm in its European trial.
With all this positive news coming from the trials and programs, one would think that the stock price of this $168 million company would be surging. A look at the recent stock price shows that this is not the case. Actually quite opposite, the stock has lost roughly 50% of its value.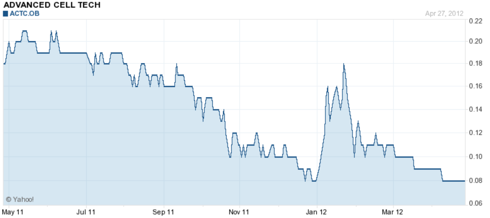 (click to enlarge)
From an initial review, the company does not show any signs of a ship taking on water. In early March 2012, the company released financial statements results and announced that for the year ended December 31, 2011 that ACTC utilized $13.6 million in cash for operations during the year, compared to $8.8 million in the year-earlier period. This increase in cash utilization resulted primarily from ACTC's ongoing clinical activities in the US and Europe. ACTC ended the year with cash and cash equivalents of $13.1 million, compared to $15.9 million in cash and cash equivalents in the year-earlier period.
Looking deeper into the company's history is where one finds the answer to what is holding them back. In years past, the company had to accept toxic financing plans and undergo major dilution to survive the lean years. As a result, the company is saddled with a severely depressed stock price and a huge number of outstanding shares which trade on the bulletin boards. To add to this, ACTC called for a huge increase in the number shares which would help settle the toxic financing and all related litigation issues that have crept into the picture. Not long after the dilution, ACTC announced that it is going to seek shareholder approval for a reverse split of between 1 for 20 and 1 for 80 shares. Reverse splits are usually seen as negative events, but in this case that might not be so. The company is planning to up list to the NASDAQ and the hope is that the reverse split will be the instrument to help get them there.
Investors standing on shore observing this ACTC vessel coming to port can easily be left scratching their heads. On one side, the company is having unprecedented results in their trials dealing with an unmet medical needs worth billions of dollars. The other side is a rather unsavory picture of runaway dilution and unknown events dealing with a reverse split that could be anywhere from 1/20 to 1/80 per share. If ACTC were truly a ship, it would be characterized as a boat steaming full speed ahead while dragging its anchor along the bottom. The question will be if management can finally put this entire negative overhang behind them and raise that anchor. If so, then this company can easily have the potential to make those waiting at the docks truly thankful.
In conclusion, it is easy to see how risky it is to invest in biotech stocks. While companies like KERX, AEZS, DNDN, and BPAX are still very much in the game, they and their investors suffered mightily in recent times. It will be interesting to see how both AIS and ACTC fair as both steam every onward and try to bring their technologies home.
Disclosure: I am long (ACTC.OB), (KERX), (AIS).