The most recent sell-off has been the type that takes down everything in its sight. From the mega-cap tech names to the small-cap growth plays, the bears have had a field day. While a number of the stocks fell from overbought levels and were due for a sell-off, others have been beaten down for no apparent reason. Unfortunately that is the nature of the stock market and there is nothing we can do about. Or is there?
This is a time to begin looking at long-term investment ideas that are now sitting at attractive levels. One of my favorite MegaTrends of the next decade is the infrastructure stocks. I do own a few for our portfolio management clients, but one I have had my eye on recently is AECOM Technology (NYSE:ACM). After going public in May, the engineering & construction firm shot up nearly 100% to a high of $38 in October. The recent pullback has ACM sitting at the $29 area, which is price support and a potential buy zone.
According to Engineering News Record, ACM is the 1# pure design firm and #1 in transportation and facilities. Their portfolio also includes energy and power, water, general building, and infrastructure. According to the company's website ACM ranks either #1 or #2 in the US in engineering for the following areas: airports, mass transit & rail, ports, highways, bridges, sewage & solid waste, and more.
The company's projects are both global and diverse and include: a river embankment design in China, a wastewater treatment plant in Boston, the PATH terminal at the WTC site, the Etihad Towers in United Arab Emirates, and a British research station in Antarctica. Whether the global market slows down or not, the diversity in projects should shield ACM.
Fundamentally the stock has been growing earnings at a steady pace. In August when it announced third quarter numbers the net income came in at $24.2 million, an 82% increase from the prior year. The earnings guidance for the full year is $1.09 to $1.11; based on the current price it results in a P/E ratio of approximately 26. Considering the earnings growth rate, I consider the stock undervalued. Nibbling on ACM in the $28 to $29 region could be a great move when we look back in 12 months.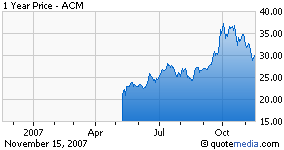 Disclosure: none