Profile
ClearOne Communications Inc. (NASDAQ:CLRO) was formed in 1983 and is headquartered in Salt Lake City, Utah with offices in Austin, Texas, Corvallis, Oregon, Hong Kong, United Kingdom and Israel.
The company operates globally, designing, developing and selling conferencing, collaboration, streaming and digital signage solutions for audio, video and data multimedia communication for business and residential use.
ClearOne is the first in global market share position, with nearly 50% market share in the professional audio conferencing market for products used by large businesses and organizations such as enterprise, healthcare, education and distance learning, government, legal and finance.
Fundamentals
The company's balance sheet is very strong. ClearOne has 1.83 cash per share, a book value of 4.35, zero debt and a current ratio of 4.73 (41.42 current assets / 8.75 current liabilities = 4.73).
ClearOne's revenue growth is also quite compelling. The 4Q of 2011 was the 2nd best Q in terms of revenue, and 2011 represented the highest revenue achievement with a 12% growth after a record revenue growth in 2010.
The company had a gross margin of 59.8% and a net margin of 15% in 2011.
Considering that ClearOne is trading at 5.06 revenues per share, has a price to sales ratio of 0.85, and a 0.76 EPS for 2011, that gives the company a PE of 5.65. It's very hard not to find the stock a bargain at its current price.
If we take into account that the company has $16.68M in cash, or 1.83 cash per share, investors that are buying the stock at present levels are getting ClearOne's revenues and earnings stream for a mere $2.47 per share.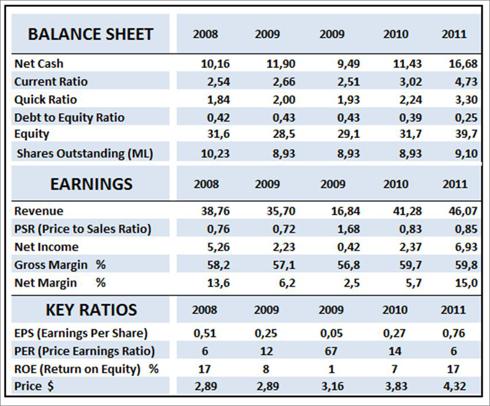 Growth Strategy
In spite of having near 50% of the market share in the professional audio conferencing market, ClearOne is facing some tough competition, namely from Polycom (NASDAQ:PLCM), and has made some strategic acquisitions to boost growth by expanding vertically the company's services portfolio.
ClearOne's management identified 3 strategic technologies to complement the company's services:
1 - Enterprise Audio Visual Streaming
NextStream's acquisition by ClearOne will help the company to take advantage of this market, mainly through the shift in adjusting the original residential orientation of NextStream to the business and organizations market. The enterprise audio visual streaming has an estimated $680 million value in 2012.
2 - Digital Signage
The acquisition of Magic Box by ClearOne gives the company the expertise to target and take advantage of digital signage market that has an estimated $500 million worth in 2012.
3 - Software Based Video Conferencing
With Vcon's acquisition in February, ClearOne's can address desktop, rooms and infrastructure for video conferencing. The global worth for codec solutions alone is expected to be near $2 billion in 2012.
(Data from ClearOne's 4Q and full year 2011 Conference Call)
Conclusion
ClearOne is extremely undervalued and it won't take long until it gets discovered.
From a value standpoint, and taking into account only on the company's present numbers, if we consider a very conservative PE of 10 (half of the PE of Polycom, its largest competitor), ClearOne should be trading at 7.65 which represents a 77% increase from the current price level.
If we consider all the potential of the accretive acquisitions that ClearOne's management has been making to expand the company's portfolio vertically and gaining access to markets that should boost the top and bottom line, I believe that we are at the beginning of a very exciting growth story.
Please note that CLRO is a small cap with a low float and that it presently trades with thin volume. It could be very volatile and may not be suitable for all traders/investors.
Disclosure: I am long CLRO.