Accurate market timing is a critical component of successful trading, especially for short trades. Shorting the market in general is a bad idea, because the market has a tendency to rise over time, so you need the stock to head down almost immediately after entry. Fundamentals alone may get you into a good short, but what if you get in at the start of an up trend? To increase the odds of winning (for shorts), I look for stocks that not only have weak fundamentals, but also have a negative 5-day expectancy.
The 5-day expectancy is calculated by matching the stock against hundreds of pre-defined patterns. Each pattern is carefully selected using a statistical data mining approach. Using these patterns, I calculate the expectancy based on how the stock has historically performed when matched against those patterns.
The current scan has produced two stocks meeting this criteria.
Legg Mason, Inc. (NYSE:LM)
Sector: Financial

Industry: Asset Management

Market Cap: 3.666B

Book Value: 40.044
Legg Mason currently has a PE of 18.31 vs. 13.22 for the industry. However, LM trails the industry in Quarterly Revenue Growth, Operating Margins, and Gross Margins. The company's gross margins are less than half the industry average (34.90% vs 70.75%). Quarterly Revenue Growth is -13.20% vs 22.90% and operating margins is 14.79% vs 25.25%. All of these factors point to LM being overvalued relative to the industry as a whole.
If you look at next year's earnings per share estimate of $2.05, you get a PE near industry average. This assumes LM can shake the negative 13.20% quarterly revenue growth and increase EPS by 40% from this year's estimate. Even if this rapid EPS growth happens over the next year, the stock would still be overvalued compared to the industry, based on margins. This weakness makes Legg Mason a good shorting candidate.
5-Day Expectancy -2.0%
(Click to enlarge)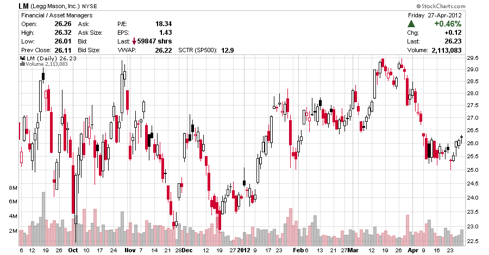 Reynolds American (NYSE:RAI)
Sector: Consumer Goods

Industry: Cigarettes

Market Cap: 23.311B

Book Value: 10.493
Like many companies in the tobacco industry, Reynolds American's quarterly revenue growth is small. However, RAI's growth is underperforming the industry at -2.90% vs 6.00%. Currently with a PE of 18.27 vs 18.68 for the industry, RAI is not grossly overvalued. However, based on the revenue growth alone a case can be made that the stock is at least slightly overvalued. Remarkably, the stock is only trading 5% from the 52 week high. The slightest hiccup in the broad market should send RAI tumbling.
These revenue growth numbers combined with the fact that operating and gross margins also lagging the industry makes RAI worth watching on the short side. Lorillard (NYSE:LO), with a positive quarterly growth rate and a PE of only 16.95 would make a good hedge against the RAI short.
5-Day Expectancy -1.6%
(Click to enlarge)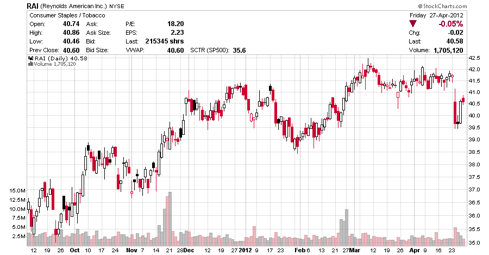 Disclosure: I have no positions in any stocks mentioned, but may initiate a short position in LM, RAI over the next 72 hours.
Disclaimer: The 5 day expectancy only serves as a guide for how the stock may perform. Historical performance is not indicative of future performance.