"Cellulite describes a condition that occurs in men and women where the skin of the lower limbs, abdomen, and pelvic region becomes dimpled after puberty… Descriptive names for cellulite include orange peel syndrome, cottage cheese skin, the mattress phenomenon, and hail damage." – Wikipedia
Appetizing isn't it? As the ultimate end user this is why I love Synernon (NASDAQ:ELOS), the only FDA approved cellulite treatment that women around the world are quickly discovering. Like a beautiful dress in the window that brings shoppers into the stores, Synernon's cellulite reduction therapy has introduced customers to the other patented ELOS treatments for skin tightening, skin rejuvenation, hair removal, leg veins and vascular reduction, acne care, and other similar non invasive skin treatments.
So they offer us the fountain of youth, but why invest?
76% average revenue growth over the last 5 years
50M share repurchase recently announced
Proctor and Gamble (NYSE:PG) partnership with the capability to excel growth to a new level- 37M owner earnings
90M+ in cash and short term investments
International company with nearly half of its revenues coming from outside the US
I'm taking a shot at estimating a future price of Synernon. I am estimating owner earnings of 37M and assuming that the market will bare 10X owner earnings if growth rates are 10%, 15X for 15% growth and so forth. After trading down to $17.14 from an all time high of nearly $45 the market is paying just shy of 13X owner earnings today.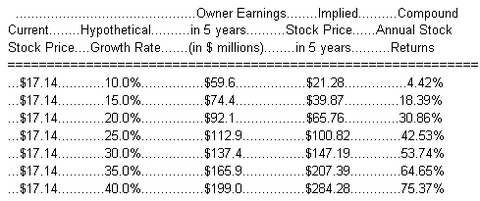 Now that is an appetizing return.
The Business
Syneron develops, manufactures, sells and supports systems and technology for non-invasive aesthetic medical applications. Synernon was founded by master physicist, Dr. Michael Kreindel, and his long-time colleague, Dr. Shimon Eckhouse, the inventors of the patented ELOS (Electro-optical Synergy) system. The company was incorporated in 2000 and listed with an initial offering in 2004 and has since had a secondary offering in 2005.
Revenue is generated by the sale of five different product families or consoles to physicians, med spas, and dentists at a price tag of $170,000 to $250,000 a unit. The consoles are portable, lightweight devices that are used to perform non-invasive procedures that typically last less than an hour and range in price from $200 to $4,000 and may involve several treatments over the course of several weeks.
I do not claim to have a medical expertise to weigh in on the safety and effectiveness of the procedures, but for now my confidence lies with the FDA approval, lack of lawsuits, a partnership with Proctor and Gamble, positive message boards, news reports, and increasing sales.
The market for cosmetic surgery in the US and the world varies from report to report, but ranges from $1-2 billion in the US and from $10-30 billion world wide and growing at 10-40% annually. Currently just over 50% of revenue comes from North America while the faster growing European and Asian markets make up the remaining sales.
The Financials
The financials of the company by most metrics are healthy. There is no debt, $93 million in cash/short term investments, a tangible book value of $8 per share, and a PE of 12. Given the fourteen fold growth over the last 5 years in revenue and high profit margins the value to price ratio is high. In addition, Syneron has a favorable tax status until 2014 allowing it to pay only 2% to 4% in taxes.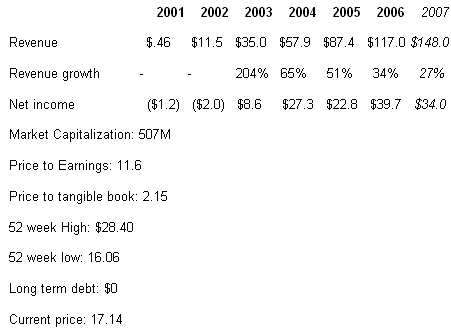 Management
The management team is strong consisting of the founders, seasoned healthcare experts, and doctors with notoriety and volumes of papers published. Both original founders currently serve in management positions - Dr. Shimon Eckhouse as the chairman of the board and Michael Kreindel as the Chief Technology officer. The CEO Doron Gerstel came on board in 2006 and refocused the company on customer relationships. Most interesting is Fabian Tenenbaum, the CFO, who while serving as the vice president of business development created the growth strategy for home based treatments that later became the partnership with Proctor and Gamble.
Risks
Competitors
The Company competes with Candela Corporation, Lumenis Ltd., Thermage, Inc., Cutera, Inc., Cynosure, Inc. and Palomar Medical Technologies, Inc., Sciton, Inc., Radiancy Inc. and Reliant Technologies, Inc. Without question, the competition is both numerous and fierce, most notably Palomar Medical technologies and Candela Corporation, but such competition is also assurance that the market has room for long term growth and with more than one major player servicing the market. Syneron differentiates itself technologically in its patented ELOS technology and remains the only supplier of devices approved by the FDA for treatment of cellulite. From a strategic growth opportunity Syneron sets itself apart from the others in its partnership with Proctor and Gamble. From an investment point of view Syneron represents the most value of the competitors in terms of growth potential and net asset value compared to price, with Palomar a close second with comparable growth potential given their partnership with Gillette.
Slowing revenue/income growth and profit margin erosion
Revenue growth has slowed every year since 2002 and net income for 2007 will have decreased from 2006 levels. The gross margins and operating margins are high and that probably has to do with their unique patented technologies. Given the extensive competition and slowing revenue growth my concern is that margins will continue to fall and net earnings will stagnate.
Opportunities
Market growth
Cosmetic surgery growth is undeniable, the only disputable figures are how fast and which geographical areas will see the most growth.
Asia and South America
Synernon's market share comes largely from North America and Europe leaving Asia and South America unexplored. As the disposable income of these developing continents continues to grow, so will each culture's love affair with vanity creating more opportunities for companies like Syneron.
Proctor and Gamble (P&G)
The most exciting of Synernon's opportunities is its partnership with P&G where the patented ELOS technology will be commercialized for home-use devices for treating fine lines, wrinkles, sun spots, and cellulite. Synernon will develop and manufacture products while P&G will market and distribute directly to consumers. Entirely speculating, but if the partnership goes well, it may offer a profitable buy out opportunity
Bottom Line
In summary, Synernon offers the synergy of many solid investment cornerstones: A great story representing the fountain of youth – for sale, a consistent history of growth, a clean balance sheet, a partnership with Proctor and Gamble propelling it to the next level, and finally the most attractive buying opportunity via Mr. Market in over three years.
Disclosure: Author has a long position in ELOS