EXACT Sciences (NASDAQ:EXAS) is still on track for an exponential growth curve with recently released positive results for its second generation [V2] stool DNA-based colorectal cancer screening test. The solid test results provide additional supporting evidence for inclusion of the Company's stool DNA-based screening test in upcoming American Cancer Society and US Multi-Society Task Force colorectal cancer screening guidelines. In addition, the Company will provide the results to Medicare in support of its reimbursement application for a testing population that exceeds 40 million people and to the FDA in support of its filing strategy for the V2 test, which is targeted for launch in mid-2008 by LabCorp (NYSE:LH) pending feedback from the FDA on the regulatory filing strategy proposed by EXACT Sciences in response to a previous warning letter from the agency for the currently marketed V1 PreGen-Plus test. A letter appearing on the American Gastroenterological Association website from 11/9/07 indicates that new colorectal cancer screening guidelines are imminent and EXACT Sciences is also awaiting a response from the FDA for its proposed 510(k) regulatory filing pathway, which entails conducting reproducibility studies of the Company's test at different laboratory locations.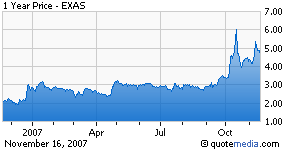 Cytori Therapeutics (NASDAQ:CYTX) recently received the CE Mark approval in Europe for its second generation Celution System, which is poised to begin commercialization in early 2008 for both therapeutic applications in breast reconstruction following partial mastectomies in Europe and also for its StemSource cell banking applications in Japan. In mid-December, results of a clinical study of breast reconstruction after partial mastectomy in 11 patients will be presented at the San Antonio Breast Cancer Symposium. The Company also recently announced an investigator-led clinical trial in Japan of the Celution System as a source of adipose-derived regenerative cells which will be combined with each patient's own fat tissue for enhanced breast augmentation cosmetic procedures. The study is about 20% enrolled with a nine month follow-up anticipated following completion of the procedures, with results providing additional support for pending commercialization efforts in Europe and a potentially lucrative opportunity in a "growing" area of cosmetic medicine.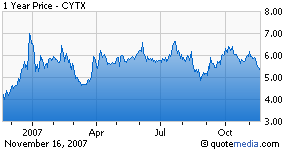 BioSante Pharma (BPAX) recently began trading on the Nasdaq under a new ticker in early November and the Company has recently achieved clarity from the FDA on the clinical development requirements for its low-dose testosterone transdermal gel treatment candidate for female sexual dysfunction called LibiGel. BioSante expects to launch a Phase 3 safety trial before year-end and also plans to conduct a second Phase 3 efficacy trial in early 2008. The cardiovascular safety study will involve 2,400 to 3,100 women with one year results sufficient to support a NDA filing (with a four year follow-up also required) for LibiGel along with the two Phase 3 efficacy studies, which will be shorter in duration and involve fewer women. Other recent events include the acquisition of Bradley Pharma (BDY) by privately held Nycomed. Bradley currently markets BioSante's lowest-approved dose transdermal estradiol gel for the treatment of hot flashes and the Nycomed acquisition could boost sales of Elestrin as part of a bigger company with a larger marketing budget. Finally, BioSante anticipates a licensing deal by year-end for its CaP nanotechnology in the area of cosmetic medicine as a dermal filler for the treatment of wrinkles and other applications.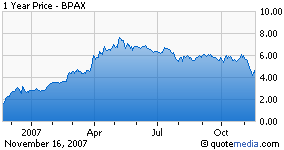 Targeted Genetics (NASDAQ:TGEN) recently reported positive interim Phase 1/2 clinical trial results for its experimental gene therapy treatment tgAAC94 for inflammatory arthritis conditions that are not adequately controlled by currently available treatments at the most recent American College of Rheumatology annual meeting. More importantly, final molecular testing results confirmed preliminary indications, which demonstrated that tgAAC94 played no role in the patient death in this Phase 1/2 trial, which is currently on clinical hold by the FDA in response to a patient death from a fungal infection. The Company also reported improved third quarter financial results at the end of October with higher revenues and a smaller loss than the year-ago period. The Company expects to issue an update on the clinical hold of tgAAC94 before the end of the year, with a key upcoming meeting in December of the Recombinant DNA Advisory Committee of the National Institutes of Health (RAC) likely to serve as a catalyst in the FDA's decision-making process. I expect the FDA to remove the clinical hold on tgAAC94 sometime before year-end, as molecular testing evidence clearly shows that the Company's experimental gene therapy treatment played no role in the patient death, which was likely due to a weakened immune system from the combined effects of other medications being taken by the patient who died in this trial, which included Humira, methotrexate, and prednisone.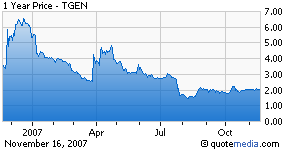 Disclosure: Author holds positions in the above-mentioned securities