Several important data points were released in the past week. Stocks started the week with a bearish investor sentiment. The U.S. markets joined the global sell-off on Monday. The FTSE 100 was down by almost 2%, whereas the Nasdaq composite was down about 1%. The Nasdaq kept sliding on Tuesday, but other major indices were slightly up. Commodities ended the day with mostly positive gains.
The following day, stocks supported a big rally led by Apple. Tech stocks led the markets higher. Apple (AAPL) was up by almost 9% on Wednesday. Bernanke's remarks on the possibility of another bond purchase round also boosted stocks. The gains extended into Thursday. Stronger-than-expected earnings reports, combined with a rise in home sales, pushed stocks higher. The earnings of industrial giants such as Boeing (NYSE:BA) turned out to be much better than analyst estimates. Thanks to the positive GDP growth of 2.2%, stocks made a positive ending to last week. Industrials were the top performers, followed by technology and service stocks.
Amid this investing atmosphere, several stocks made it to new lows in the past week. A stock is usually considered oversold, when the relative strength index slides below 30. That does not mean that these stocks are dirt-cheap. I would rather consider them as out-of-favor stocks, under short-term selling pressure. Investors have a tendency to panic when their stocks show a strong negative performance in a short period. Therefore, these stocks might offer good opportunities for contrarian investors. Based on the Relative Strength Index (RSI) indicator, I noticed five stocks that are being dumped by the investors. Let's see, why these stocks are in the oversold territory, and whether they can be good contrarian picks after making significant losses recently.
Petroleo Brasileiro (NYSE:PBR) - Buy
Petroleo Brasileiro (Petro Bras) is one of the largest oil & gas companies in the world. It operates in the exploration and production, supply, gas and energy, and distribution segments. While its operations primarily concentrate on the oil-rich Brazilian fields, Petro Bras also engages in the exploration and production businesses in Americas, Africa, Europe, as well as Asia. Brazilian equities have mostly underperformed global markets this year, and Petro Bras is no exception. The stock lost 4% in this year.
Click to enlarge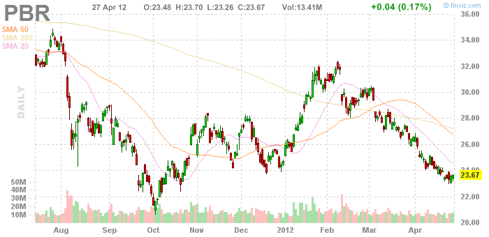 (Source: Finviz)
Founded in 1953, Rio de Janeiro-headquartered Petro Bras has grown into a global energy titan. The company generated profits of $20 billion from revenues of $146 billion in the last twelve months. At a trailing P/E ratio of 7.69, it looks like a cheap deal. The forward P/E ratio is expected to be as low as 7.44. Analysts estimate a modest growth of 3.8% for the next five years. Based on this estimate my FED+ minimum fair value for Petro Bras is $37. Thus, the stock has substantial upside potential. Analysts also agree with me. Their mean target price of $37.5 imply about 50% upside potential.
Chesapeake Energy (NYSE:CHK) - Ready to Double
Chesapeake is one of the top producers of natural gas in the U.S. The company ranks second to only Exxon Mobil (NYSE:XOM). Established in 1989, the Oklahoma-headquartered company is primarily engaged in natural gas and oil development in North America. The company holds substantial interests in several natural gas resource basins, as well as liquids-rich resource plays. As of the last quarter, it had interests in more than 45,000 wells across the U.S. Due to depressed natural gas prices, the stock has been a big loser. It lost 20% in this year alone.
Recently, BMO Capital upgraded Chesapeake Energy from market perform to outperform. According to BMO Capital, the negative market sentiment has already peaked. I totally agree with BMO. Natural gas prices are trading near multi-year lows. The divergence of natural gas prices within the U.S. and the rest of the world is not sustainable. The last week's spike in natural gas could be a sign of a price floor.
I think natural gas prices have nowhere to go, but up. As we experience a recovery in natural gas prices, related-stocks will keep rising. Chesapeake is currently trading around $17, which suggests a trailing P/E ratio of 8.02. Forward P/E ratio is 6.54. Analysts estimate a modest earnings growth of 9.8%. Based on this estimate, my FED+ fair value model suggests at least 100% upside potential. With an RSI index of 28.5, the stock is in the oversold territory. I think the stock is primed for a rebound, and it is ready to double.
First Solar, Inc. (NASDAQ:FSLR) - Hold
First Solar is one of the most speculated stocks in the market. It consistently ranks among the most active stocks based on the average trading volume. First Solar is a specialized semiconductor producer, headquartered in Tempe, Arizona. Established in 1999, the company specializes in solar energy panels. It designs, manufactures, and retails, thin-film based semiconductor technology and photovoltaic solar power systems on a global scale. The dark clouds over solar stocks have overshadowed company's sales growth. The stock lost 46% in this year alone.
Looking at the graph above, $18 looks like a strong support level. While the stock was recently subject to a downgrade by Maxim Group, I think it is too late to sell this stock. Actually, after losing 90% of its market cap, it looks like a good deal. It is also trading at 55% discount to the book value. The bears still overwhelm the bulls, but it is too late to sell FSLR. Therefore, I rate it as a hold.
Hess Corporation (NYSE:HES) - Buy
Hess operates as an integrated energy company that has interests in high-profile oil and gas projects. Morningstar rates the company as a large-value style and offers a four-star rating to the stock based on valuation. The stock is trading at an attractive P/E ratio of 13.32, and forward P/E ratio of 6.42.
The stock was among the losers of the last year, returning -40% to its shareholders. While the stock was an underperformer, the company was able to beat target estimates. Its Q1 EPS of $1.6 was 4 cents higher than the consensus estimate. I think most oil refineries are deeply undervalued and Hess is no exception. Howard Well has an outperform rating. Analysts' mean target price of $74.84 also implies significant upside potential.
Nustar Energy (NYSE:NS) - Hold
The San Antonio, Texas-headquartered NuStar Energy L.P. engages in the energy infrastructure development. The company operates in three segments: storage, transportation, and asphalt and fuel marketing. As of the last quarter, it owned and operated 6 terminal and storage facilities in the U.S. While most MLPs outperformed the broad market indices, NS has been an underperformer, returning -14% in the last year.
As a master limited partnership, NuStar offers a yield of 8.09%. MLPs are not tax exempt, but their distributions can be registered as capital depreciation, effectively reducing their tax base. Thanks to this favorable tax status, these companies offer substantial distributions to the unit holders. Given the low-interest environment, their distribution rates are much better than the paltry interests offered by government bonds.
NuStar is no exception. It offers one of the top yields among MLPs. The company keeps increasing distributions, but payouts are not covered by operating cash flow. The company issued shares worth $317 million, and borrowed about $150 million to support the yield. While I do think the company still is in oversold territory, I would rather wait for signs of recovery before buying this stock.
Disclosure: I am long AAPL.