If you like these two sector favorites, Pharma/Biotech and Technology, then you'll love Bio-Imaging Technologies, Inc. (Nasdaq: BITI). Pharmaceutical companies are under increasing pressure to cut costs while continuing to fill pipelines and crank out blockbuster drugs and medical devices in the face of increasing regulatory scrutiny. The number, length and costs of clinical trials is on the rise and the trend is only getting worse. Bad for Big-Pharma, but great for the organizations that help conduct these trials.
Dow Jones and Barron's supported our emerging trend thesis recently in two separate articles entitled, "Drug-Research Firms Look Set For More Growth" [DJN] and "The Very Pictures Of Health" (Barron's). Both articles highlight the pressures causing tremendous and long-term opportunities for Contract Research Organizations (CROs). These trends are also driving demand and growth for BITI, who may not be a turnkey CRO, but a company that plays a critical role in clinical development areas requiring medical imaging such as oncology, musculoskeletal, central nervous system, neurovascular and cardiovascular.
BITI is the world's largest independent, dedicated provider of medical image management for clinical trials and the Company's growth and profitability is beginning to escalate. After a big loss in 2005, BITI has reported strong double-digit revenue growth and average triple-digit earnings growth in seven consecutive quarters, and backlog is near record levels outpacing revenue growth over the trailing twelve months. Last week, BITI issued its first guidance for fiscal 2008, predicting +10-19% revenue growth and +23-53% earnings growth, but we think, just like last year, that these forecasts are far too conservative.
Oh...we forgot to mention the Company's CapMed segment that provides Personal Health Record (PHR) applications to consumers, insurers and providers. On October 4, 2007, CapMed was selected as a vendor on Microsoft's new online consumer platform, HealthVault. This segment has yet to produce material revenue, but we believe that is about to change. BITI has nearly $15 million in cash, ZERO debt, clear upward business and stock momentum, and most of all; we believe a significant upside to their current FY08 forecasts and beyond.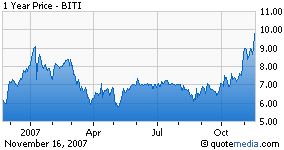 Disclosure: none