By Nick Blair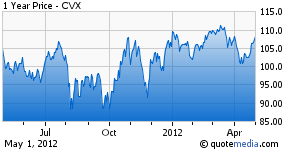 Chevron Corporation (NYSE:CVX) has been in the headlines lately after reporting its first quarter performance. The company's earnings per share rose (from $3.09 to $3.27) as have the total earnings, from $6.2 to $6.5 billion. These earnings fell short of analysts' expectations of $3.31 per share. The main reason for the setback is the decreased production of oil from 2.76 million barrels a day to 2.63 million barrels of oil per day, but we think the setback is temporary. Chevron is also raising its yield (up by 11% to 90 cents a share). These excellent gains are definitely a cause for excitement, but should be closely watched until the company is able to boost its oil production.
This shouldn't take too long. Chevron is beginning Australian natural gas production and Gulf of Mexico oil production projects within the next three to five years. In fact, a new rig that is capable of drilling 7.5 miles into the Gulf of Mexico is to be sent to a Chevron well soon, and is expected to begin drilling before the spring of 2012 is over. This rig is the fourth active rig in Chevron's repertoire, and it will be followed by two new rigs in 2013.
While Chevron is making some gains, rival Exxon Mobil (NYSE:XOM) is not enjoying the same success. The company reported an 11% decline in quarterly earnings from the same period last year ($9.45 billion from $10.7 billion.) The decline in earnings stemmed from a 7.7% decrease in oil production and a 3.4% decrease in natural gas production - a direct result of aging oil fields and limits from foreign governments on production.
As far as production goes, right now Exxon is facing some hard issues that will be slow to fix due to a lack of growth projects in the near future. The company's recent dividend yield increase (up 21%), to the untrained investor, could promote undeserved bullishness. In fact, the rise is due to pressure from investors to release funds from an, up to this point, growing cash flow. Do not be fooled though. We think production will continue to decline for Exxon and expect its dividend yield to do the same.
Another major competitor to Chevron, BP P.L.C. (NYSE:BP), is expecting to go the way of Exxon when they report their first quarter report. The company is facing decreased production as well as decreasing gains which stem from recent lawsuits. As many investors know, BP faced an oil spill in 2010 and lawsuits from over 100,000 Gulf of Mexico businesses, as well as the United States Department of Justice. The company has already to a $7.8 billion settlement, and has set aside $3.5 billion to pay fines. Department of Justice officials, though, have decided to pursue the company with a lawsuit that makes the $3.5 billion pale in comparison - an $18 billion dollar suit. This lawsuit, coupled with the fact that an engineer was recently arrested for obstruction of justice (related to the deletion of text messages discussing the severity of the 2010 spill), has hurt the company not only directly, but it has also gave the company a negative view in the eyes of the public. With the negative outlook on BP from many analysts, and the public in general, it is not even worth comparing directly to Chevron. With all this going on, it is best to invest in oil companies, like Chevron, that are showing strong growth coupled with a positive outlook from analysts.
ConocoPhillips (NYSE:COP), another competitor to Chevron, is facing issues of its own. The company, in its first quarter of 2012 report, showed earnings of $2.9 billion, as opposed to $3 billion in the first quarter of 2011. One issue that ConocoPhillips is charged with was fixing its oil spill in China, which also lost 700 barrels of oil, by paying $351 million. The rig, which usually produces 160,000 barrels a day, has been run at a reduced rate to wait for State Oceanic Administration approval to allow full production once again.
At the moment, ConocoPhillips is in the middle of splitting into an oil exploration company and an oil refining company, which will go by the name of Phillips 66 (NYSE:PSX). This move has some analysts feeling very positive about ConocoPhillips, such as Oppenheimer energy analyst Fadel Gheit, who recently said, "successful implementation of the divestiture program and the use of proceeds to reduce debt and supplement operating cash flow in funding profitable growth could provide the needed catalyst to boost stock performance further." With the separation, ConocoPhillips plans to invest in high return projects and cut unnecessary trimmings to save cost. Likewise, Phillips 66 plans to also cut certain assets and focus on more profitable ventures (such as petrochemicals.)
The company is set to buy back $10 billion in shares over the course of 2012, a move that is sure to excite the market. After the buyback, yield rates are expected to rise from the current 3.59% to 5.9% by 2013. The company is expecting that by 2016, yields will be between 6.87% and 8.58%. Moreover, for the amount of the growth that the company is expecting over the next few years, it would be very wise to getting in on 5% yield rates while the price is still relatively cheap, even if it means forsaking Chevron.
Disclosure: I have no positions in any stocks mentioned, and no plans to initiate any positions within the next 72 hours.