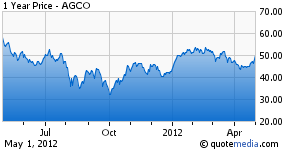 AGCO Corporation (NYSE:AGCO) came through with another blowout quarter Tuesday. This marks at least the 13th straight quarter the company has beat estimates, the majority of times by a significant amount like today. Based on the report and the stock's fundamentals, the stock would appear to have significantly more upside.
Key earnings highlights for AGCO:
The company posted earnings of $1.21 a share, 35 cents over consensus estimates.
Revenues improved a little over 26% Y/Y to $2.27B, over $200m over estimates.
Raises FY2012 guidance to $5.50 a share in earnings, significantly over the consensus range of $5.00 to $5.07.
Gives revenue guidance $300mm to $600mm above the consensus sales estimate of $9.9B for FY2012.
Surprisingly, states strongest growth is coming from Western and Eastern Europe.
4 reasons AGCO is still a buy at under $50:
Consensus estimates for FY2012 and FY2013 had already risen over the prior three months. Look for these estimates to be taken up smartly given the earnings beat and guidance.
The stock is now selling around 9 times the new guidance for $5.50 EPS in FY2012, this is significantly below its five year average (15.8).
The company more than doubled its operating cash flow from FY2009 to FY2011. The stock sells currently for less than 7 times OCF.
The stock is a solid Ag play given its five year projected PEG that is under 1 (.68) and it goes for about 50% of annual revenues.
Note: AGCO's blowout earnings and revenues should bode well for its competitor Deere (NYSE:DE) when it reports on May 16th.
Disclosure: I have no positions in any stocks mentioned, but may initiate a long position in AGCO, DE over the next 72 hours.