The combination of stock options and dividends make for interesting opportunities almost every week. A lot depends on timing the ex-dividend date and option expiration date in combination with the dividend amount. When the alignment is correct, it's possible to get an (almost) free ride.
The reason why we can often buy high delta (option price moves close to same amount as the stock) options is because options are priced in part based on dividends paid by the underlying stock.
Linear Technology Corporation (NASDAQ:LLTC), together with its subsidiaries, designs, manufactures and markets various analog integrated circuits worldwide. The company was founded in 1981 and is based in Milpitas, California.
Yield: 3.04%
Dividend Amount: $0.25
Ex-Dividend Date: April-30-2012
Beta: 1.04
If I look at buying Linear call options, we quickly find I may not get a totally free ride, but it comes darn close. Linear traded near the close at $32.71 a share while at the same time the May $30 strike options traded with a bid to ask mid-price of $2.725 and asking price of $2.80. Linear trades ex-dividend on May 16th so even though the options don't expire until two days later on the 18th I will likely want to close out on May 15th. Even at $2.80 a call I am only paying $0.09 for over two weeks of exposure. If I believe Linear Technology will move higher in price in front of the upcoming dividend I can buy the stock or buy a $30 strike price option and pay $0.09 for time premium, but I also have lowered my downside risk. Instead of risking $32.71 a share, I now have a total of $2.80 at risk.
(Cck to enlarge)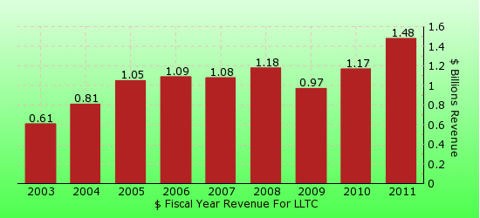 I can also sell the $32 strike May call option for about $1 each. This option has a time premium of $0.29 and by adding a spread to my option trade I completely erase the time premium cost, lower my total risk from $2.80 down to $1.80, but lower my upside potential as well. With a spread the most I can make is about $0.45 ($0.25 dividend and $0.20 spread premium), with an expected gain of $0.20 if Linear stays above $32 into the close of the day before trading ex-dividend.
Depending on my objectives, I can position for straight application with buying the stock, "renting" the stock by buying the $30 strike May call option or seek out a safer, but less profitable method of using an option spread.
The other way to possibly profit from Linear is to buy shares in Linear Technology and also sell May $32 strike call options for a covered call position for about $1 each based on shares trading for $32.71.
If the calls get exercised before expiration day I make $0.29 and if not I receive in addition to the premium of $0.29 a dividend of $0.25 for a total gain of $0.54 as long as Linear is trading at or above $32 at the closing of expiration day.
I use a proprietary blend of technical analysis, financial crowd behavior and fundamentals in my short-term trades, and while not totally the same in longer swing trades to investments, the concepts used are similar. You may want to use this article as a starting point of your own research with your financial planner.
Disclosure: I have no positions in any stocks mentioned, but may initiate a long position in LLTC over the next 72 hours.