At the average consumer level, display technology is being made into a commodity. This almost invariably happens when a technology becomes mature and standardized after settling on a 'dominant design' and driving cost lower as a result of mass production. These developments tend to squeeze margins and drive production to lower cost locations.
This is happening in the display world, with the standard active matrix TN panels that drive most consumer electronic products (from phones to laptop and computer screens to LCD TVs). There is a shift towards China in production, consolidation between players, margins are thin, and the only way out seems to be innovating to improve the product (and/or production process).
There are various interesting innovations ongoing. We'll focus here on the shift towards higher resolution displays, what we will call the 'retina revolution,' and assess who the likely winners in this development are.
Apple (NASDAQ:AAPL) seems to have started a revolution with its 'retina' display, first in the iPhone, and now on the iPad. We have often wondered why PCs haven't been able to do this, although in all fairness, Sony (NYSE:SNE) sort of preceded Apple with the 'chicklet' keyboard.
Sony had an iconic netbook, the Sony P series. You could put in your pocket, and it had an 8 inch display with a rather staggering (for these days) 1600x768 resolution. Too bad that, as basically all these netbooks were woefully underpowered by Intel's (NASDAQ:INTC) Atom processors.
Much better computer-wise was Sony's 13 inch Z line of laptops, which also had a 1600x900 resolution but one could opt for a full HD (1920x1080) screen, the first and only 13 inch laptop with that possibility (at least we're not aware of any other).
But Apple has upstaged Sony with the iPhone retina display, and other phone makers followed. Samsung (OTC:SSNLF), HTC (OTC:HTCKF) and others followed with screens which had an even higher revolution (1280x768), even if the screens are considerably bigger (4.3 inch upwards to 5 inch for the Note) than that on the iPhone (3.5 inch).
And then Apple upped the ante and came with the retina display for the iPad, armed with a whopping 2048x1536 IPS panel. To start with the latter, IPS technology is very unusual to see in laptops (they're almost invariably equipped with the cheaper but inferior twisted nematic - TN - panels), let alone one that sports this kind of pixel density.
(Click to enlarge)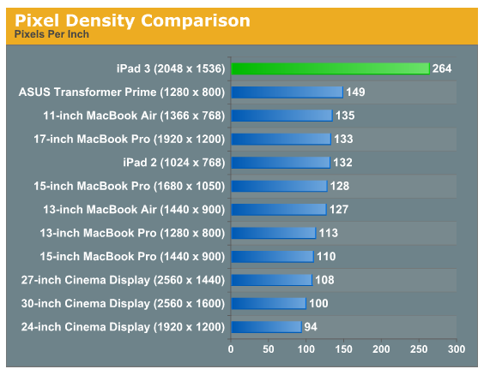 Asus (OTC:ASUUY) followed with its revolutionary transformer. This is a tablet with a keyboard docking system that doubles as a secondary battery and gives it more connection options, recreating the form factor of a laptop. The newest version (the Transformer Pad Infinity) has a 1920x1200 full HD 10 inch screen that also uses a similarly expensive display technology not found on laptops, the Super IPS-plus display. While not as pixel packed as the iPad, it beats it in contrast and brightness.
It's quite possible that these new screens set the standards for laptops, and consumers will start to ask why they can't get these kind of fantastic screens on laptops or PCs. Well, there is a simple reason for that, cost. Laptop makers like Acer are striving to make the ultrabook laptops in the same $499 price category as these tablet computers, but the reality is that:
Acer (ACEIF.PK) responded to this downturn by backing Intel Corp.'s ultrabook push, unveiling designs like the S3 and the S5. These ultrabooks have been very competitively priced -- the S3 starts at $799 USD/ €699. But there's one minor hiccup -- according to Christoph Pohlmann, an Acer laptop team leader who spoke with The Verge, Acer makes no profit currently off its ultrabooks.
How Acer is going to make profits at $499, let alone if it is adopting much more expensive displays, is anyone's guess. But of course, one doesn't have to accept Acer's premise that ultrabooks have to compete price wise with tablets. It does show, however, that serious computer makers are worried enough about the possibility that tablets will cannibalize laptops that they consider this a necessity.
But we know that firms like Microsoft (NASDAQ:MSFT) are also preparing to enable very high resolution screens in the upcoming Windows 8 operating system, even 10.1 and 11.6 inch screens with a 2560x1440 resolutions will be enabled, going beyond the iPad 3 resolution.
Manufacturing technology
We look at which firms could profit from this trend and we come up with a couple. The first is Applied Materials (NASDAQ:AMAT). The company has developed a manufacturing technology for depositing thin films of materials onto surfaces, allowing the use of different materials, like indium gallium zinc oxide (IGZO), for the backplane of displays (the layer of transistors that control the pixels). This
makes it easier and cheaper to build displays with extra-dense pixels, like the one Apple installed in the latest iPad. Making displays with this kind of resolution larger than seven inches diagonally would be impossible without using IGZO, Applied Materials claims.
The material normally used in TFT screens, amorphous silicon
doesn't have the right electrical properties for controlling very large, or very-high-resolution, displays, says Hayden. [Dough Heyden, senior director of global product management at Applied Materials's displays division, AKT.
There is an alternative besides IGZO, which is partially crystallized silicon (or LTPS, used in the iPhone and other smartphone displays), but this is twice as expensive as amorphous silicon while IGZO is only a third more expensive.
Products using this Applied Material technology will appear this year as five customers have already installed the new machines and are using them to produce displays. According to Charles Annis, an analyst with DisplaySearch, Apple may be making iPads using IGZO displays:
We believe IGZO-based LCDs from Sharp are currently being evaluated by Apple, and they have a good chance of being adopted this year.
Speaking about Sharp (OTCPK:SHCAY), apparently it has already begun producing IGZO panels. It's not hard to figure out why:
Large television screens have become cheap to produce, and Japanese manufacturers cannot compete with the low prices offered by manufacturers in China and Taiwan.
Moving to a TV near you
This suggests something else as well, the move to 'retina TVs.' The metal oxide back panels in TVs not only mean higher resolutions are possible, they also enable faster refresh rates.
But there are rival technologies. OLED (organic light emitting diode), so long a mere promise, might finally come alive in the TV world. Already available in smaller screens (mostly used on smartphones), there are a few small size TVs available (an 11 inch Sony, for instance), but these are very expensive.
In a development that is akin to the emergence of a factory process in the 1990s that allowed the use of LCD's to expand from laptop computers to hang-on-the-wall TVs, LG (NYSE:LPL) has announced a 55 inch OLED TV, although without specifying what it would cost. It has bought a technology, a new patterning method, from Eastman Kodak (EKDKQ.PK) that stacks the three color materials vertically. The red, green and blue combine into a white pixel, allowing to overcome problems with the traditional patterning method that kept screen sizes limited.
Samsung is refining the traditional patterning process, but not ruling out alternative technologies. It is about to launch a 55 inch OLED TV as well. Samsung and LG are actually in a bit of an OLED fight ahead of the Olympics. But these TVs are likely to be very expensive ($8000). These panels will be extremely thin, (no backlight necessary, of course) and have vivid colors and deep blacks, but how much cost can be driven down for these TVs to gather mass acceptance remains very much to be seen.
Samsung and LG are not the only ones, though:
A number of smaller display makers also have OLED plans, typically for smaller factories, including AUO, Tianma, Chimei Innolux, BOE, and Panasonic (PC). Annis said SMD has a two-year lead on its competitors (and said SMD thinks it has a five-year lead).
The IGZO back panel might be one way to drive cost down for OLED screens. There is already a prototype 32 inch OLED screen from AU Optronics (NYSE:AUO), and it's really incredibly thin with 3mm.
There are reports that argue that Apple wants IGZO OLED panels for its upcoming iTV, but neither Samsung, or Sharp, nor LG seem to want to sell these panels to Apple, at least not yet. Perhaps that's why they're working on pieces of the puzzle to be more independent, like inventing a new laser beam focus system to produce IGZO panels.
4K TV
We haven't yet mentioned going beyond the full HD (1920x1080) standard of TVs today, but this is in the works. While not yet a standard, so-called 4K TV, with four times the resolution of full HD, is being developed. The resolution is likely to be something like 4096x2160 or 3840x2160, depending on format.
There are already some prototypes on display at the CES electronics show. The 60 inch 4K TV from Sharp drew especial plaudits as it sort of solves a common problem, lack of genuine 4K content for these kind of TVs (DirecTV is preparing for 4K signals though).
This Sharp TV contains up-scaling processes which scales lower resolution feed into the massive 4K resolution of the TV. This is so good that it makes a notable difference, overcoming the lack of original 4K content (for now). The higher detail creates such depth that it almost seems like a 3D TV (without glasses needed). The idea is to have this TV in the shops by September this year, a rather exciting prospect.
It is likely that the new back panel technologies will help considerably:
IGZO will also likely help establish the next upgrade to TV picture quality, known as "ultra definition," which has four times the resolution of 1,080-pixel HD images.
Not to be outdone, Panasonic is already moving to even higher resolution TVs, in this case, a rather extreme 7680x4320 145 inch plasma TV. Before you get too exited, realize that this Super Hi-Vision standard broadcast is not expected before 2022, and only in Japan. On closer inspection, Panasonic wasn't the first, Sharp had beat it with a 85 inch 7680x4320 TV.
There are skeptics who argue that 4K only makes sense for digital cinema (that is, in commercial theaters) as the human eye isn't able to tell the difference on screen sizes made for the living room, but the reviewer of the 4K Sharp TV that becomes available in September seemed to be quite blown away, even in the absence of genuine 4K content.
It is funny, therefore that there are already much smaller 4K screens in the works. Panasonic has made the world's first 3820x2160 20 inch IPS screen. Here is what a trusted reviewer had to say:
And the difference in quality between each screen really was nothing short of startling - especially to people as previously cynical about small-screen 4k as us. The extra detail, texture, clarity and simple precision in the 4k screen was astonishingly obvious.
So, apparently if it makes that much of a difference on even a 20 inch screen, 4K TV could be a winner in the living room. Indeed, his conclusion was that
it's still another very strong addition to the growing 4K product canon in that it shows that you don't, after all, need a really huge screen to enjoy the benefits 4k resolution can bring.
Et tu, PC?
What's missing? Indeed, laptops and PC's with that 4K 20 inch screen from Panasonic we just raved about will only be a niche product, where an extreme amount of detail needs to be seen (medical applications and the like). As of yet, there seem to be little concrete plans to move up the PC and laptop screens to a similar 'retina' density revolution as is waged first in smartphone screens, then tablets and now TVs and cinema projectors.
However, that might very well change with Sharp (once again), with its IGZO back panel technology, in the forefront. MacRumors reports:
In its press release, Sharp gives several different examples of displays at different sizes being manufactured using IGZO materials, including 7-inch tablet screens running at 1280x800 (217 pixels per inch), 10-inch notebook screens running at 2560x1600 (300 ppi), and 32-inch LCD monitor screens running at 3840x2160 (140 ppi).
Who might use these panels? Look no further than Apple:
Apple is likely to launch its new MacBook Pro lineup with a display resolution of 2880 by 1800 in the second quarter of 2012, setting a new round of competition for panel specifications in the notebook industry, according to sources in the upstream supply chain.
So it looks like Apple and Sharp will be the early trendsetters in the 'retina revolution,' the move upwards in display resolution. Applied Materials is also likely to benefit.
Disclosure: I have no positions in any stocks mentioned, and no plans to initiate any positions within the next 72 hours.