Brazil has declared a fresh round of "currency war" on the U.S. and Europe, extending taxes on foreign borrowings and threatening further capital controls in an effort to protect the country's struggling manufacturers. Brazil's finance minister Guido Mantega, who coined the term "Currency War" in 2010, has repeatedly blamed rate cuts by central banks in the U.S., Europe, and Japan, for unleashing a "monetary tsunami."
The reason and the backdrop for this war on currency is almost the same as it was in 2010: Quantitative Easing: While in 2010, the U.S. Federal Reserve was blamed for the real's strength, this time it is the European Central Bank's decision to inject of €530bn into the eurozone banking system.
The issue of managing the plenty seems to be a tough and unusual task for a nation that has struggled to attract investment flows, cramped between currency crashes and economic upheavals. But the learning curve of the country to stabilize the currency, tame inflation and lower the debt load starting in the 1990s has resulted in $365 billion in foreign reserves and stable investment-grade credit ratings. Though rates have been cut low, it's still big enough to foreign investors facing near-zero-percent returns in the U.S. and Japan. Unlike its counterpart China, money can flow easily into Brazil given its free floating currency and sophisticated stock, bond and derivative markets. Further, Brazil is one of the world's largest suppliers of raw materials given its abundant natural resources, garnering more interest from investors who seek indirect exposure to the Chinese economic ascent. For instance, Brazil is the world's biggest seller of iron ore, beef, chicken, sugar and coffee. With new oil discoveries being made off its coast, it could make it into a leading global producer of that as well.
Does Brazil need capital controls on Foreign Direct Investment?
Brazil has so far restricted FDI from any probable capital restrictions because of the potential advantages they bring in. Though many valid projects could be undertaken by foreign companies in Brazil, some of them have actually been camouflaged to take advantage of the untaxed carry potential created by higher Brazilian interest rates.
Brazil's Solid FDI Inflows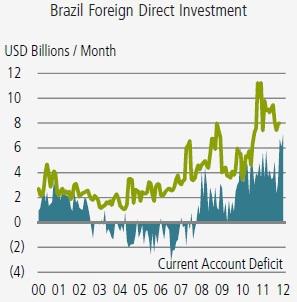 Source: Haver Analytics till Feb 2012
Why is this FDI inflow causing a wave of suspicion? The running rate of Brazil's FDI has been in the range of $8-10 billion per month, big enough to finance a growing current-account deficit at an even elevated gap of close to $6 billion per month. Looking at historical numbers, there was a significant jump in FDI during late 2010 after a severe IOF tax was imposed on portfolio investment. In this case, FDI was used as an avenue for investors to park their money in Brazil's high-interest-rate environment.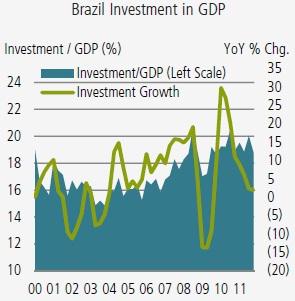 Source: Haver Analytics till Feb 2012
Comparing FDI numbers with the 2011 gross GDP figures shows investment spending in Brail stagnant over the last 3 quarters. Also, investment growth is on a down spiral during the period. Investment has reached its high at 19% of GDP and has headed back down to 18%.
Another important data point to look at is the share of foreign ownership of equities in the Bovespa index. The share held by foreign investors has been at or just above a third for much of the past few years but, after a dip in the 2010 sell-off, rose strongly above that.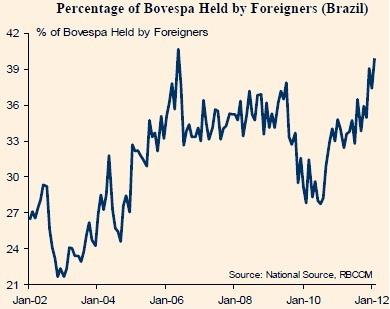 Source: FT
That lower level of Investment to GDP ratio and higher level of equity stock holding with foreigners isn't consistent with expectations and hopes for fast economic growth in Brazil. This phenomenon points to a conclusion that special treatment for FDI is doing more harm than good. The capital inflow is keeping the exchange rate overvalued and hurts growth prospects without visibly supporting economic growth - at least in the important manufacturing sector.
Brazil has already won round one of currency war
Brazil is seeing a tactical shift of its economic policies from a more populist, electoral oriented and expansive policies of Lula to a more progressive tightening under Dilma Rousseff. The Rousseff government has come under intense domestic pressure from industrialists and labor unions to act decisively and bring down the value of the real to combat unfair foreign competition. The foreign currency influx into countries such as Brazil leads to a stronger real and increased imports, and makes Brazil's exports more expensive. Some of the measures taken by the government to weaken the currency include:
Resumption of daily dollar purchases
Tripling of taxes on foreign purchases of bonds to 6% to curb inflows into fixed income market
Government increase of tax on derivatives margins to dissuade short-term investors
Purchase of dollars in the forwards market after resuming intervention in the futures market via reverse swaps.
60% reserve requirement on banks' foreign exchange position to curb speculation on a stronger real and volatility in the currency market
Raising bank reserve requirements to cool a credit boom and pave way for lower interest rates
Authorizing Sovereign wealth fund authorized to buy dollars on spot market
Cutting benchmark interest rate by about 300bps in the past 1 year to 9%
To support that argument, in the next two charts we see a similar position in Brazil. Notice how bets that the real will appreciate against the U.S. dollar reversed at the right hand edge.
(Click to enlarge)

Source: FT
With government being committed to depreciate the currency, Bank of America Corp (NYSE:BAC) recently cut its year-end forecast for the real fall to 1.92 by 2012 year-end and decline to 1.95 by 2013 (vs. previous forecast of 1.85 and 1.92 respectively). According to Bloomberg survey, the median forecast of 23 analysts is for the real to rise to 1.8 per dollar by Dec 2012. Brazil is not alone, with countries like Colombia, South Africa, Turkey, and Thailand, having their own currency measures and curbs. In March 2011, even the IMF endorsed the use of capital controls, which gives the Brazil government further ammunition.
Time to invest in currency defensive, export oriented sectors
Investors wanting to profit from this currency war should move into currency-defensive stocks within Brazil region given government's unwavering commitment to keep the currency at a weaker rate. One of the best picks would be Embraer SA (NYSE:ERJ), which sells planes to international airlines like Air France (OTCPK:AFLYY) and American Airlines (AAMRQ.PK).
Disclosure: I have no positions in any stocks mentioned, and no plans to initiate any positions within the next 72 hours.