By: Brendan Gilmartin
MasterCard (MA) is slated to report 1Q 2012 earnings before the opening bell on Wednesday, May 2. The actual results are typically released between 8:00 and 8:10 a.m. EST and will follow with a conference call at 9:00 a.m.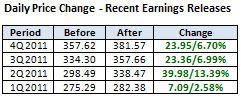 Outliers & Strategy
MasterCard shares recently hit all-time highs ($462.34 high on 04/27/2012), thanks in large part to the improving U.S. consumer spending backdrop. Note that MasterCard finished higher the day after earnings for six consecutive quarters.
MasterCard is expected to report earnings of $5.30 per share (range is $3.10 $5.49) on revenue of $1.73 bln, a y/y increase of nearly 15%. (Source: Yahoo! Finance). EPS have topped estimates by an average margin of 8.4% over the previous eight quarters.
Last quarter, MasterCard posted EPS of $4.03, WELL ABOVE the estimate of $3.91, triggering a nearly 7% rally in the share price. This will be a tough act to follow and with the stock near an all-time high, MasterCard shares are vulnerable to any missteps.
MasterCard's closest rival Visa (V), is slated to report its quarterly earnings after the closing bell. The market backdrop and expectations are equally positive for Visa ahead of its earnings.
US Bancorp (USB) reported back on April credit card loan growth was up 3.1% sequentially, while credit volume growth rose 9.8% from 4Q 2011 - positive news for the credit card issuers (MasterCard & Visa).
Recent News
· 04/24: Jefferies raised its 1Q 2012 EPS estimate from $5.28 to $5.31 ahead of its quarterly earnings release, according to a post on StreetInsider.com. The price target was increased from $436 to $521. The Buy rating is maintained based on valuation, earnings visibility, and a manageable regulatory and legal backdrop.
· 04/09: According to a post on Benzinga.com, Stifel Nicolaus raised its price target on MasterCard from $440 to $505. The firm also reiterated a Buy rating, based on valuation, market share gains and solid spending trends.
· 04/05: Oppenheimer raised its price target on MasterCard from $400 to $475, according to a post on Benzinga.com. The firm cited solid volume trends, an improvement in U.S. retail conditions, and valuation. The firm also reaffirmed an Outperform rating.
· 02/07: MasterCard increased the cash dividend to $0.30, up 100% from the previous $0.15 per share. CEO Ajay Banga added he remains confident in the company's ability to execute its plans to drive long-term business growth.
Technical Review
MasterCard shares are up more than 21% YTD after touching an all-time peak of $463.38 and 64.3% higher over the past year. Sentiment in the name is also high, with 25/35 firms carrying Strong Buy/Buy ratings ahead of the release. After recently breaking through the 20-Day SMA near $450, there is little resistance at these levels. The same level is the first crucial support in the event of a pullback, followed by $430 (just above the 50-Day SMA), and $420. (Chart courtesy of StockCharts.com)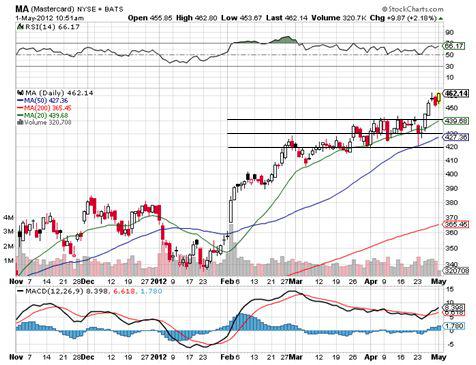 Summary
MasterCard shares are at all-time highs ahead of the 1Q 2012 earnings release, based on a more favorable and certain regulatory climate, an improved consumer spending backdrop in the U.S., increasing market share, and higher loan volumes from the major banks. The positive backdrop is also reflected in the overwhelmingly positive sell-side sentiment surrounding MasterCard in recent weeks. With that being said, the shares could be vulnerable at these lofty levels. MasterCard is expected to report earnings of $5.30 per share on revenue of $1.73 bln, a y/y increase of nearly 15%. Anything less could be seen as a major disappointment in the context of the recent advance. For MasterCard shares to extend the recent advance, it would take surprisingly strong numbers to underpin further gains. Note the shares have moved higher on the past six earnings releases.
Disclaimer: By using this report, you acknowledge that Selerity, Inc. is in no way liable for losses or gains arising out of commentary, analysis, and or data in this report. Your investment decisions and recommendations are made entirely at your discretion. Selerity does not own securities in companies that they write about, is not an investment adviser, and the content contained herein is not an endorsement to buy or sell any securities. No content published as part of this report constitutes a recommendation that any particular investment, security, portfolio of securities, transaction or investment strategy is suitable for any specific person.
Disclosure: I have no positions in any stocks mentioned, and no plans to initiate any positions within the next 72 hours.