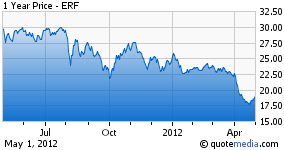 Enerplus (NYSE:ERF) is a Canadian-based producer of oil and gas assets. ERF currently pays out $0.18 CAD per share on a monthly basis, which results in an annual payout of $2.16 CAD. Over the past three months, the stock price of ERF has decreased from $24 to $18, resulting in a current yield of 12%. Given the substantial yield, the purpose of this article is determine if the ERF payout is sustainable.
Per the latest investor presentation, ERF production is split 50/50 between natural gas and oil. ERF, however, has no hedges in place to protect it from natural gas prices. From the latest earnings report (Q4 2011), the average natural gas selling price was 3.41 per Mcf. The current market price for natural gas is just under 2 dollars. As such, revenues from natural gas production will be cut by about half going forward as a result of ERF's unhedged position.
Using numbers from the latest earnings report, the funds from operations were 157M, and dividends paid out to shareholders over the quarter were about 97M. Based on the drop of natural gas prices, I estimate that funds from operations will drop to about 130M. Using this updated revenue number, ERF can still cover its distribution albeit with a payout ratio closer to 100%.
The bigger issue confronting ERF is its debt load. As of Q4 2011, ERF had 900M in debt. On top of that, 385M in debt was just recently issued bringing its total debt load to 1,285M. Per the latest investor presentation:
We have plans to manage debt levels through a number of initiatives over the next 18 months:
• monetizing our equity portfolio
• joint venture or sale of a portion of undeveloped land

Depending on the progress with respect to these funding initiatives and realized commodity prices, there could be downward pressure on:
• capital spending and growth rates
• dividends
I believe that over the course of the next 12 months, ERF will be cutting its dividend by as much as 25% to bring its payout ratio in-line with its average payout ratio the last few years (~55%). The cut in its distribution will be a response to the increased debt load experienced by ERF.
Disclosure: I have no positions in any stocks mentioned, and no plans to initiate any positions within the next 72 hours.