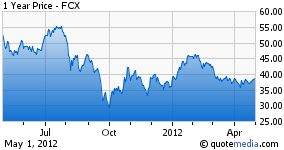 The past two quarters have been tough on precious metals miners owing to several factors which entail a detailed inquiry and analysis. Not so for Freeport-McMoRan (NYSE:FCX). Heavily dependent on its prize asset, the world's largest gold mine and second biggest copper mine, a single long-running event has so significantly impacted recent earnings and share price that the company is being viewed as an attractive takeover target.
Freeport-McMoRan is an unusual firm for two reasons. It is unlike the quartet of Goldcorp (NYSE:GG), Barrick Gold (NYSE:ABX), Agnico-Eagle Mines (NYSE:AEM), and El Dorado which are Canadian mining firms with an exclusive or very strong gold focus. Unlike Rio Tinto, BHP Billiton, and Anglo American, it is not a mining giant with diverse mineral and extraction interests. As a mining industry player headquartered in the United States (as opposed to London, England, Canada or Australia), it is somewhat unusual. Its dual focus, reflected in its name, make it even more unusual. (Only Barrick has the same two focus points, but for Barrick, gold is king and copper is truly the 'base metal'.) (Only the explicit focuses are unusual, practically speaking, gold-and-copper as a duo makes perfect sense because geologically, gold deposits and copper deposits frequently occur together.)
Freeport-McMoRan does have one proper peer, Newmont Mining (NYSE:NEM). Similar to Freeport-McMoRan it is headquartered in the United States, in Colorado; what's more, it too focuses on gold and copper! The striking difference is in their ages: Newmont was founded in 1918 which makes it the grandfather to young Freeport-McMoRan, birthed only in 1987. At a market capitalization of $36 billion for Freeport-McMoRan and $23 billion for Newmont, the two companies' sizes are in the same range, making for fair comparisons.
Another thread runs through the two companies: closures and losses engendered by mining strikes. Newmont has a heavy presence in Peru and the mineral-rich country was rocked by mining strikes from last July until the end of the year. As a result Newmont lost several days of mining activity during October. Its troubles were a walk in the park compared to what Freeport-McMoRan suffered, and is suffering, in Indonesia, however. By March, both Peru and Newmont rode highs on gains posted by gold production while Freeport-McMoRan continues to flounder in production and growth numbers.
Perhaps tolerable comparisons can be made with Anglo American (OTCPK:AAUKY), the least large of the major diversified miners with a market capitalization of $28 billion though it is extremely diverse with no primary focus, or with Southern Copper (NYSE:SCCO), an American company with a sole focus on copper. However, a detailed side-by-side with peer Newmont and an equally detailed examination of business news will work best in throwing Freeport-McMoRan into bas-relief.
From November through mid-January, Freeport-McMoRan and Newmont's share prices tracked each other fairly well. But in mid-January the two diverged. Freeport-McMoRan started to rise steeply, later leveling out and then tailing off, but still posting a 10% price gain over six months. Newmont, on the other began a tumble on that date that has left its shares losing 24% in value over six months. However, these are atypical 'worms' as we will see.
Newmont's sound health, or, more accurately, investor perception of sound health, is reflected in an amazing price-to-earnings ratio of 65. Its relatively low earnings-per-share of 0.73 either also signifies investor confidence in growth or future earnings or signals an overvalued company - take your pick. Exactly the reverse holds true for Freeport-McMoRan: its earnings-per-share is a hefty $4.8 while is price-to-earnings ratio is a very attractive 7.9. While its main competitor is a little 'goosed up', could Freeport-McMoRan be an undervalued company and, as a consequence, a prime takeover target? I believe so.
Though we shall see just what has reduced this solid company to its current fragile state, I am not the only one thinking that Freeport-McMoRan could be a plum acquisition. Seeking Alpha says 'Aye', even identifying "a short list of possible suitors, BHP Billiton (NYSE:BHP), Rio Tinto (NYSE:RIO) and Anglo American" and rating the company's shares a 'Buy'. That opinion is echoed by the company's hometown newspaper, The Phoenix Business Journal. And mining.com reported, "Freeport McMoRan Copper & Gold is currently valued so low that it is an excellent target for a takeover, according to media reports today." So the consensus in April is that Freeport is a takeover target.
So what has been ailing this miner? Long-running strikes and violence, including deadly violence, at a mining concession brings terrible press and has a way of spooking investors - and that's just what is at the heart of Freeport-McMoRan's woes. Dollars-and-cents-wise, the resultant plunging productivity has negatively impacted the bottom-line.
In September miners at Freeport-McMoRan's Indonesian Grasberg mine went on strike, demanding better wages, and stayed on strike. Within a month the company estimated that it would have to take a double hit, suffering losses of 100 million pounds of copper and 100,000 ounces of gold, with a concomitant decline in third quarter net profit, down by 11% with fourth quarter profits to plunge by a staggering 59% - from $1.55 billion down to $640 million.
The news would soon get worse: "In October, police officers opened fire on striking Freeport workers who were trying to board Freeport buses from the nearby town of Timika to demonstrate by Grasberg Mine's gate. One striker died from gunshot wounds, at least six were injured, and a security officer later died from injuries sustained in the clash," reported The Atlantic in a November story it provocatively titled "Is a U.S. Mining Company Funding a Violent Crackdown in Indonesia?", also stating that the "strike is not only the longest in Indonesian mining history, but also one of the more violent, with sabotage to pipelines and deadly attacks on company employees."
If The Atlantic has its facts right then Freeport-McMoRan's decision-makers used reprehensible methods and may be deserving of punishment. That said, investing is a dollars-and-cents game and the dollars and cents are very much on Freeport's side.
In December strikers said that they would continue with their strike until January, leaving "Grasberg producing only 5% of its daily 230,000 metric ton capacity because of the strike." But by mid-December the strike came to an end after Freeport's executives made significant concessions to the striking workers' demands. But the damage was done: investors regarded the company as damaged goods and lost confidence in the firm.
That was possibly an investor over-reaction. After all, "Freeport has probably the most attractive assets in the world with its copper mine in Indonesia,' said Jean-Francois Comte, co-founder of Lutetia Capital." That mine, the Grasberg, is the world's largest copper-and-gold mine and is believed to hold the world's single largest gold reserves.
As a result of the unresolved strike, Freeport-McMoRan lost productivity, it lost profits, it even lost some of its reputation. But there was no change to its assets, its infrastructure, its mining rights, its probable and proven reserves, and the firm's ability to extract copper and the precious yellow stuff. Over-reaction indeed!
So, as I wrote to begin with, this company is being viewed as an attractive takeover target - call it a low-hanging "plum." And, as we see, at its fundamentals the company is healthy. Do I have to state the obvious conclusion that this stock is probably a value buy?
Disclosure: I have no positions in any stocks mentioned, and no plans to initiate any positions within the next 72 hours.