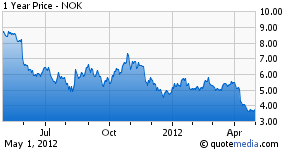 There has been a lot of discussion lately about Nokia (NYSE:NOK) as the company is going through a reorganization. Nokia shares have declined by about 70% for the past two years and many fear the company will soon be gone for good. Currently, Nokia is launching the Lumia phone in the U.S. AT&T (NYSE:T), the carrier of the phone is reportedly spending $150 million to market the phone. I think the phone is off to a good start. Even Steve Wozniak, Apple's (NASDAQ:AAPL) co-founder likes it and he said that there is no contest between Android and Windows based Lumia 900.
Without a doubt, the partnership between Microsoft (NASDAQ:MSFT) and Nokia, the only surviving European mobile device maker, has been very eventful so far. In its short period of existence, there has been an unfair share of publicity surrounding the partnership. It is interesting to note that in its latest quarterly conference calls Nokia was mentioned twice in Microsoft's call, while Microsoft was mentioned 18 times during Nokia's call. It is clear that in this partnership Microsoft is more important for Nokia than Nokia for Microsoft. Also, during Nokia's call, management confirmed that Nokia is working on new mobile technologies that would be disruptive. It looks like Nokia is going to put up a good fight for survival in this competitive industry.
Interbrand's report of the 100 most valuable global brands ranked Nokia 5th in 2010 with a brand value of $29.5 billion compared to 14th in 2011 with a brand value of $25 billion. Unfortunately, for Nokia shareholders, Wall Street disagrees, as the current enterprise value for the company is $6.8 billion. Enterprise value includes market capitalization ($13.6 billion for Nokia) and subtracts net cash (in the case of Nokia) or adds net debt. In my opinion, Nokia's business is worth more the $6.8 billion currently suggested by the stock price.
Even Nokia is not able to provide guidance beyond this quarter so any speculations on the company's future value is almost irrelevant. In the rest of this article, I will attempt to value each of Nokia's businesses as if the company was broken up tomorrow and sold piece by piece. Even this simplified analysis should be taken with a grain of salt.
Devices & Services - $1.80 per share
Devices & Services segment had $33.5 billion in revenue in 2011. Sony (NYSE:SNE) acquired Sony Ericsson for $1.5 billion in October of 2011. The joint venture between Sony and Ericsson (NASDAQ:ERIC) had revenues of $7.3 billion in 2011. Sony Ericsson had a gross margin of 28% for 2011 compared to 27.7% for Nokia. Thus it seems that based on a similar valuation the devices & services segment is worth $6.9 billion. Nokia has 3.8 billion shares outstanding, so this valuation is about $1.80 per share.
Location & Commerce - $0.40 per share
This segment had about $1 billion in sales in 2011. One of its competitors, TeleNav (NASDAQ:TNAV) had sales of $210 million or about five times less than Nokia's location & commerce division. Based on TeleNav current market capitalization of $300 million, Nokia's location & commerce is worth about $1.5 billion or $0.40 per share.
Nokia Siemens Networks - $0.37 per share
Nokia has a joint venture with Siemens (SI) to build, service and maintain networks. During 2011, the venture had $19.6 billion of sales and a gross margin of 29%. For comparison, I will look at Alcatel-Lucent (ALU), which is a pure network company. Alcatel Lucent had $21.5 billion in revenue in 2011 and a gross margin of about 35%. Providing a 20% discount for the higher margin and sales Nokia is worth 80% of Alcatel-Lucent's market capitalization. Recently, Alcatel-Lucent's market cap stood at $3.5 billion so Nokia Siemens Networks is worth $2.8 billion. Since Nokia owns 50% of the joint venture, its part is worth $1.4 billion or $0.37 per share.
Summary
In addition to valuable businesses, Nokia also has cash, net of long-term debt, in the amount of $8.2 billion or $2.16 per share. Adding the above per share values of each business and the per share cash I get a current value per share for Nokia of $4.73 which is about 29% higher than Nokia's current stock price. This excludes any brand value, goodwill and other intangible and tangible assets.
In conclusion, if Nokia decides to sell its parts tomorrow, it will receive about 30% more than its current stock price. In my view, Nokia's real value is even greater because it has a well-known brand, global presence, powerful research and development, and a priceless partnership with Microsoft. It appears that at under $4 per share, Nokia is grossly undervalued.
Disclosure: I have no positions in any stocks mentioned, and no plans to initiate any positions within the next 72 hours.