ATP Oil & Gas Corporation (ATPG) initiated drilling the Shimshon well in the Levant Basin of offshore Israel. The Shimshon well (ATPG is the operator with a 40% WI) is in 3,622 feet of water with a target formation depth of 14,764 feet.
"With the recent discoveries in the Levant Basin already exceeding 35 Tcf, the Basin is a prolific area for natural gas exploration efforts," said T. Paul Bulmahn, ATP Chairman and CEO in the news release. "Of the 26 ATP invention and system patents and pending applications, 16 deal with deepwater natural gas development methods and facilities, giving ATP an advantage if it secures an exploration success with this well."
Click here for the news release.
OAG360 Comments:
It is challenging to expand operations to areas where a company has never worked before - especially when drilling in water depths of 3,622 feet. Even simple logistical issues are more complicated when operating in a foreign country. During the wake of the Gulf of Mexico drilling moratorium, ATP diversified into Israel to target multi-Tcf offshore opportunities. In most cases, a spud announcement is a non-event; however, ATP has never operated in Israel before making today's on-schedule announcement, which, in our view, regardless of the ultimate outcome, a positive step for ATP.
Isramco Negev, ATPG's partner in Shimshon, hired Lockwood & Associates to perform an independent reservoir engineering resource evaluation of the project. Lockwood's evaluation used a 100% interest for the resource and assigned a 20% total geological and geophysical exploration probability (Ps). Lockwood estimated Shimshon's range of gross resource estimates between 1.5 Tcf to 3.4 Tcf (0.9 Tcf to 1.2 Tcf net to ATPG's account), with a best resource estimate of 2.3 Tcf.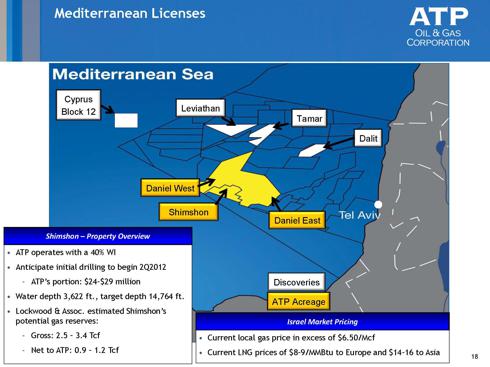 Source: ATP Oil & Gas April 2012 Presentation
As we noted in our write-up on March 7, 2012, "Loaded with Catalysts in 2012: ATP Oil & Gas Drilling the Deepwater Gulf of Mexico and Offshore Israel," just north of ATP's three offshore blocks in Israel are the Leviathan, Damar and Dalit blocks. In two and a half years, Noble Energy (NYSE:NBL) discovered collectively 25 Tcf of reserves in those three blocks.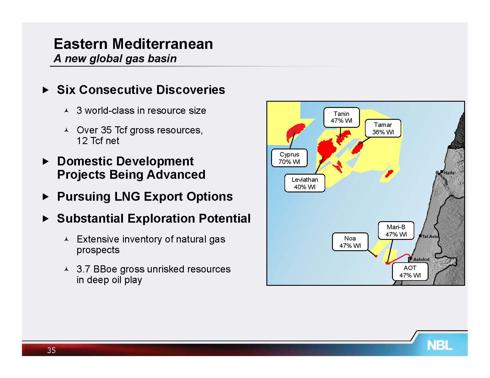 Source: Noble Energy March 2012 Presentation
We do want to make mention the different strategy that ATP is deploying in Israel compared to its historic projects in the Gulf of Mexico and North Sea. Traditionally, ATP focuses on acquiring proved properties that were not producing and putting them on production. For approximately 21 years, ATP has been successful at that nearly 98% of the time. Israel, however, will be different for the company in that they will be focusing purely on the exploration aspect of the fields.
The company is levered. At year-ended 2011, ATPG had a debt-to-market capitalization ratio of 517%. However, the company does have financial flexibility. ATPG's first and second lien obligations mature in 2015 and have no financial covenants. ATPG's 2012 capital plans are an estimated $400MM to $500MM, with $50MM to $70MM funded from net profit interest payments or vendor deferrals. In March 2012, ATPG announced closed a $100MM cash transaction in a temporary exchange of an ORRI interest in the company's deepwater Clipper asset located at Green Canyon 300 property. This cash will fund the company's development of Clipper. The company disclosed via news release on March 26, 2012: "On Friday, March 16, 2012, ATP increased its First Lien facility by $155 million and the interest rate was reduced from a fixed 9.00% to a floating 8.75% per annum. These transactions are in addition to the approximately $80 million of asset monetizations that closed earlier this month. In total, ATP has improved its liquidity by closing transactions totaling approximately $335 million during March 2012."
The chart below provides a snapshot of the company's pro forma total debt and long-term obligations as presented by ATPG in the company's presentation dated April 16, 2012. Click here for the presentation.
Checking Off 2012 Catalysts
ATP recently announced the company's fourth well at Telemark, utilizing the ATP Titan drilling and production platform, recorded IP rates in excess of 7,000 BOEPD (85% oil). The Mississippi Canyon Block 942 A-3 (#2) well encountered 239 feet of net pay. In addition, ATP is working on two workover operations at Telemark, the A-1 and A-2, which when finished, is collectively expected to add approximately 4,000 to 7,000 BOEPD to those wells.
At Clipper (Green Canyon Block 300), the company expects first production from both wells in Q3'12 or early Q4'12. The two wells combined tested at 22.1 MBoe/d (16.4 MBoe/d net; 62% oil).
And last, ATP says it plans to announce results from the Shimshon well in Israel sometime during Q3'12.
Net Asset Value
Developing a Net Asset Value on ATP Oil & Gas does require some "what-if" thinking. The company ended 2011 with a reserve base of 713 Bcfe (approximately 119 MMBOE), 33% classified as developed. ATPG's reserve base was 66% at year-end 2011, 85% located in the U.S. In our NAV table we're assigning 100% Ps for the Proved Developed Producing [PDP] reserves, 75% Ps for the Proved Undeveloped [PUD] reserves, and 10% Ps for the 75.5 MMBOE of 12/31/2011 probable reserves reported by ATPG. We are also adding in the published midpoint of unrisked net reserves associated ATPG's offshore Israel properties using a 10% Ps. Debt is an inhibitor to the calculated NAV per diluted share calculation. We are using year-end 2011 debt balances in the calculation.
Our Net Asset Valuation of $10.49 per basic and diluted share uses the median enterprise value-to-proved-reserves multiple of $19.17 per BOE for an offshore peer group.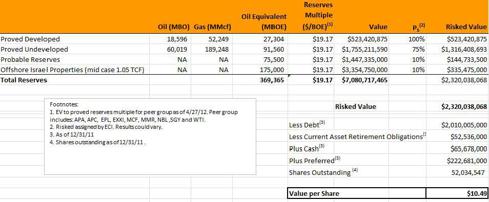 Disclosure: I have no positions in any stocks mentioned, and no plans to initiate any positions within the next 72 hours.