Rochester Medical (NASDAQ:ROCM) is a company with predictable results and an unpredictable stock. By carefully modeling predicted results, a smart investor can take advantage of the unpredictability of the stock. On the flip side, investors relying solely on rumor and emotion would do well to avoid Rochester Medical – though they haven't as yet.
Rochester Medical is a $150MM market cap provider of medical equipment. Specifically, Rochester markets a catheter that is an advance from the standard catheter in terms of patient safety. Rochester has learned the hard way, though, that a good product isn't necessarily a guarantee of overnight success in the medical products field. Management has been forced to turn to the courts to redress some of the more malignant practices of the medical distribution business.
Before going into the company's easily predictable financial performance, let's take a look at the stock over the past year. From last November until early March, the stock was bouncing around the $15 mark. In early March, the rocket was lit. It soared to close to $30 by late April fueled mainly by speculation, momentum and –it would appear – pumping. A court settlement was booked as income and unwary investors have been lured by a seemingly ludicrous 4.5 P/E. The proverbial wheels came off the bus though in early May, and the stock was back at $15 in the blink of an eye. Since then, it has continued to see spurts of appreciation unsupported by news.
I find Rochester fascinating simply because of the emotion that people have placed in this investment. The numbers are readily available to all yet message boards are filled with increasingly excitable investors pinning hopes on random dreams.
The numbers are pretty straightforward. It is not difficult for anyone to build a model of future earnings for Rochester that will be reasonably accurate. As with any model, the further you get into the future, the less precise you will be. Still, through 3 quarters of my current model, I am within a penny of actual earnings per share.
Building a model shouldn't take you more than 15 minutes. Start with gross revenue. It was $8.4 million for Rochester's Q4 which ended 9/30. Growth has been fairly steady quarter-over-quarter – I'm using 8% sequential growth per quarter. Gross margin is equally predictable – 50% is a pretty solid estimate. You can easily estimate SGA, R&D costs, interests and taxes using historical growth patterns. Do all that and predicting earnings per share becomes a science – not a blind guess or an emotion-filled experience.
Based on my model, I believe earnings per share for the next 4 quarters will be around 38 cents per share. Your model may come up with a different number but, if you use historical growth rates as your benchmark, you should be in the same ballpark. I get 58 cents per share for Fiscal 2009.
Obviously, Rochester is a company with both growing revenue and earnings. What is a realistic P/E to apply to a company in Rochester's position? At $15, the stock is trading at over 40 times trailing earnings. This kind of valuation makes me uncomfortable as an investor. Apply whatever valuation makes you feel comfortable but, even for a company with reasonable growth prospects, I'm not going to go above 30 times trailing earnings.
Using a P/E of 30, I have fair value today at $9.50. Using my model, I have fair value at $11.50 for 12 months from now and $17.50 for 24 months from now.
A great deal of emotion surrounds Rochester Medical. Ultimately, though, the numbers will drive the stock. Build your model. Determine what you believe future income will be. Find a valuation that you are comfortable with and then make your investment decision. As for me, I'll continue to watch Rochester closely but I'll remain on the sidelines until the stock price gets closer to what I believe fair value to be.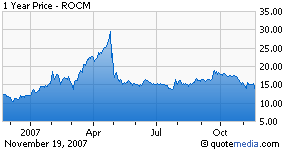 Disclosure: none