For the past few months, anyone who's looked around the markets and come across a Chinese company can probably attest to the seemingly low valuation being placed upon it. Barring a few unique powerhouses like Chinese search engine monopoly Baidu (NASDAQ:BIDU) and state-owned oil exploration company CNOOC (NYSE:CEO), the majority of Chinese companies trading on the American exchanges have had a significantly rough time retaining their stock's value on the market.
All this might seem surprising for those who've actually taken the time to sift through the books of these companies. Many continue to show significant growth and healthy balance sheets. At least when compared against their American counterparts, it becomes clear that the amount of investor confidence in Chinese companies continues to remain low.
Yet even anomalies tend to have reasons. As it stands, the most likely culprit remains to be the reverse merger crisis that took place over the past year. Seemingly overnight, a slew of Chinese companies that had snuck onto the American exchanges via the reverse merger process fell victim to their own schemes. Exposures of fraudulent behavior and reporting inconsistencies silenced many companies altogether as their stock prices fell sharply. Many would eventually be de-listed off of the exchanges themselves. As an inevitable result, the contagion of fear spread to companies that were seemingly uninvolved in the space.
But for those who believe that value can hide where fear exists, the abundance of small-cap Chinese companies available for the picking are far and wide in scope. The once widespread accusation frenzy has slowed to a halt and those which have continued to trade continue to do so at seemingly clearance-level discounts. Yet for investors willing to dip their toes in small cap Chinese stocks, perhaps the best way to go about in doing this is to pair normal due diligence with a reason beyond mere fundamental analysis. As if gathering further validation for investment in a company who's trustworthiness is at risk, pairing such a rationale can help serve in eventually mitigating the concerns that market may hold over the demographic as a whole.
Here are a few such examples to consider. All values were taken as of April 27, 2012:
| Name | Mkt. Cap. | Trailing P/E | Last Price | Book Value |
| --- | --- | --- | --- | --- |
| Giant Interactive (NYSE:GA) | $1.29 B | 9.08 | $5.46 | $1.68 |
| Xinyuan Real Estate (NYSE:XIN) | $247 M | 2.51 | $3.39 | $8.70 |
| Longwei Petroleum (LPH) | $160 M | 2.00 | $1.59 | $2.97 |
| CD International Enterprises (NASDAQ:CDII) | $28 M | 2.96 | $0.68 | $1.83 |
Conducting a share buyback and paying a consistent dividend. Giant Interactive may be a bit larger than your typical small-cap China stock, but the company continues to trade as if closely correlated to one. The online gaming company boasts a high profile of multiplayer online role playing games (MMORPGs) within the Republic of China, and continues to exploit a growing internet population with a high affinity towards digital entertainment.
The company has consistently paid out a dividend over the last 3+ years and even delivered a monstrous special $3 dividend in 2011. In 2012, the company increased the regular annual dividend by 66% to $0.30/ADS. The company has shown its willingness to support its shareholders with a share buyback. As late as September 2011, the company has illustrated this with $50 million expansion of their share repurchase program.
Click to enlarge.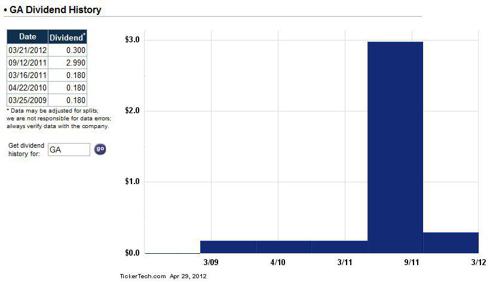 Having an IPO on a higher exchange. Xinyuan Real Estate is the first Chinese real estate developer to have the privilege of listing its company on the New York Stock Exchange, the elite exchange with some of the most stringent of listing requirements. An IPO process allows for underwriters to do their due diligence and vocalize their support by vouching for the business they bring to the market. This increased scrutiny upon its initiation can offer additional validation to the company in question. The company was underwritten by Merrill Lynch, Deutsche Bank (NYSE:DB), and Allen & Co. Raising $245 million at $14/share, the company has since plummeted to the current market capitalization of $247 million despite continually robust business performance since its IPO. The company recently raised its dividend by 60% from $0.10 to $0.16 annually, and currently has more cash on hand than the company has market value.
Having verifiable high-value infrastructure. Longwei Petroleum Investment Holding Limited is a leading distributor of diesel, gasoline, and other petroleum products. The company is based in the Shanxi Province, Republic of China. With two facilities equating to 120,000 metric tons of capacity, the company serves as a vital supply link in an area lacking modern pipeline infrastructure. Yet along with most Chinese small-cap companies, Longwei has seen its stock price fall by association. What makes Longwei unique to investors however, is the ability to physically see a significant portion of the company's value in the facility assets alone. Unlike most Chinese companies where a building with a name may or may not house a thriving business, oil and gas equipment tends to have a verifiable value to it. As an oil and gas distributor/wholesaler, the high barriers of entry along with the expensive equipment means that ownership of the facilities easily vindicates much of the asset value of the company. The company's latest campaign to increase transparency serves as a small, but welcome gesture in an environment still marked by suspicion.
Keeping the accountability within the United States. CD International Enterprises is a US-based Chinese company with a core market segment in magnesium production. Though diversified through a growing international commodity trading segment and consulting service, the company has quietly been consolidating a magnesium empire. Through several acquisitions, the company believes that it is or will soon be the largest magnesium producer in the world, a position that is gaining momentum through the evolving need for lighter industrial materials. Yet above all, the company's core officers and much of the company's key assets remain based in the United States over in their offices in Florida. As a result, the accountability risk is severely mitigated due to the need to operate under U.S. law.

Overall, while it may be easy to look at a company's fundamentals and see bargain in light of a falling share price, investors in small-cap Chinese companies may want to express caution in the choosing of their investments. Finding additional reasons that are meaningful and difficult to dispute can help support their possible validity when it comes to identifying true bargains. Alleviation of the underlying fearful sentiment surrounding these investments is likely the one clear pathway to stock price recovery.
Yet for most investors, sticking to the larger Chinese companies with proven track records like China Life Insurance (NYSE:LFC), PetroChina (NYSE:PTR), and China Mobile (NYSE:CHL) is the safer and more reliable strategy to take. But for those looking for the diamonds in the rough found in Chinese small-caps, patience, confidence, and due diligence may prove to be the more rewarding pathway to explore. Regardless of the correct methodology, every investor should pursue the suitability of their own risk tolerance when matched against the level of risk they take.