Doug Kass, prominent helmsman at Seabreeze Partners and frequent commentator at CNBC, embraces social media. In fact, Mr. Kass tweets roughly 8-10 times throughout the day.
Yesterday (4/30), Mr. Kass tweeted that his largest investment was short bonds, and he listed Inverse Bond ETFs like ProShares UltraShort 20+ Treasury (NYSEARCA:TBT) and ProShares Short 20+ Treasury (NYSEARCA:TBF). This morning (5/1), the formerly famous bear took note of the ISM Manufacturing Index's robust reading of 54.8 and wrote, "buy stocks, sell bonds."
For my own part, it is difficult to disagree with the basic premise. Stocks are somewhat undervalued and treasury bonds are seriously overvalued. Moreover, as long as the trend remains favorable to core Vanguard positions like Dividend Growth (NYSEARCA:VIG), High Yield Dividend (NYSEARCA:VYM), Growth ETF (NYSEARCA:VUG) and REIT ETF (NYSEARCA:VNQ), my clients will benefit from exposure to equities.
That said, the desire that others may have for exposure to treasuries may not dissipate due to an overvalued status. As I pointed out in my recent commentary on the popularity of Treasury Bond ETFs, iShares 7-10 Year Treasury (NYSEARCA:IEF) is sitting near 52-week highs. This may be an indication of ongoing investor fear or simply a recognition of the Fed's bond buying program in the middle of the curve.
Either way, the phenomena isn't disappearing. In fact, as the Dow flirts with new a new price peak in the current bull market, some institutional investors have loaded up on leveraged long treasury exposure. A little used "ultra" fund, ProShares Ultra 7-10 Year Treasury (NYSEARCA:UST), witnessed 25x its normal volume and an inflow of $40 million. UST only had about $15 million in its coffers the day prior.
I do not see enough value in treasury bond ownership, though I believe it is still important to garner income from corporate credit in the middle of the curve. That is why I use a fund like iShares Intermediate Corporate Credit (NYSEARCA:CIU).
Yet I find it fascinating that there are those who will pursue price appreciation by seeking daily investment results that correspond to twice (200%) the daily performance of the Barclays Capital U.S. 7-10 Year Treasury Index. In essence, if a 2% yield isn't enough income, these folks hope to benefit from falling yields and rising intermediate term bond prices.
Click to enlarge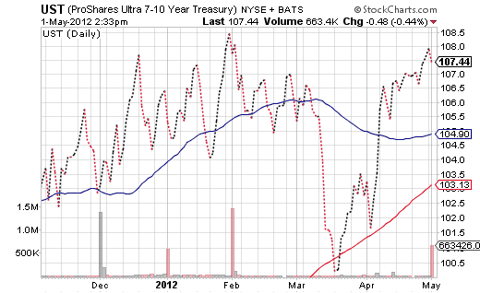 In the grand scheme of things, $40 million of inflow into UST may seem like a non-event. However, within that same big picture storyline, it may symbolize an ongoing commitment to treasury bond purchasing. Indeed, U.S. treasuries have exhibited far more "rebirths" in the present stock bull than almost anyone would have imagined, and the uptrend still favors the believers.