Shares of Zynga (NASDAQ:ZNGA) and Electronic Arts (NASDAQ:EA) illustrate a common phenomenon in the markets, undervaluing what is known and overvaluing what is not. Electronic Arts is a longtime industry leader whose growth has slowed as competition from online gaming has taken share and the lack of a new console and game renting have taken a toll. Zynga on the other hand has vaulted to the lead in online social gaming with its strong Facebook partnership and a series of hot offerings like Farmville and Mafia Wars. Because these companies are at different stages of maturity, investors have assigned very different multiples to each company's shares. I will suggest that the market is generally wrong and that there is opportunity to create a profitable trade around investor's overenthusiasm for the short term and underappreciation of long term performance.
Electronic Arts
Electronic Arts is the third largest video game company in the world by revenue, behind Nintendo (OTCPK:NTDOY) and Activision Blizzard (NASDAQ:ATVI). Interestingly, it is now also the third largest in terms of market capitalization but in first and second position are Activision , Zynga and then Electronic Arts. In its most recent quarterly report EA reported non-GAAP revenues of $1.6 billion, including $377 million from digital offerings and generated non-GAAP profits of $.99/share. All this GAAP and non-GAAP reporting gets complicated as you look to 4th quarter guidance where non-GAAP revenues are expected to drop to approximately $925 million when accounting for a change in deferred revenue recognition. In any case analysts on average expect the company to deliver full year 2012 revenues of roughly $4.2 billion and profits of $.85/share. Looking forward to 2013 expectations are for revenues to grow to $4.5 billion and profits to $1.13/share. The company has a strong balance sheet with over $2 billion in cash, short term investments and marketable securities and a current market valuation of roughly $5 billion.
| | | | |
| --- | --- | --- | --- |
| Company | EA | ZNGA | ATVI |
| Market Valuation | $5.1 Billion | $7.25 Billion | $14.5 Billion |
| Revenues | $4.2 Billion | $1.45 Billion | $4.6 Billion |
| EPS | .85/share | .27/share | .97/share |
| Book Value | $6.82 | $2.42 | $9.26 |
*Source Yahoo Finance 2012 Estimates
Zynga
Zynga has vaulted into the lead in online social gaming by means of an extremely successful partnership with Facebook (NASDAQ:FB). According to website AppData, Zynga has more than 246 million users, and operates six of the seven most popular games played on Facebook. Looking at Zynga's most recent results for Q1 reported on April 16, 2012, the company reported revenues of $321 million and earnings of .06/share, as revenue increased 32% year over year and 3% sequentially. The big jump was in advertising revenue of $28.2 million, an increase of 117% compared to the first quarter of 2011. Non-GAAP net income was $47.0 million and the company has $1.8 billion in cash and marketable securities on the balance sheet and no debt. The company projected full year 2012 bookings in the range of $1.425 billion to $1.5 billion and full year 2012 non-GAAP EPS is projected to be in the range of $0.23 to $0.29. Based on 880 million outstanding shares the company carries a current market valuation of roughly $7.25 billion.
Divergent Valuation Profiles
Zynga generates less than half the revenues of its larger competitor EA and sports a market valuation 50% larger. This is the result of a consistent mistake that analysts and investors make by over-extrapolating growth for a new market entrant and undervaluing and underestimating the potential of more established market players. Money managers love growth and will pay a premium for it until a company stops delivering. This happened to EA itself, as it too was once a Wall Street growth darling.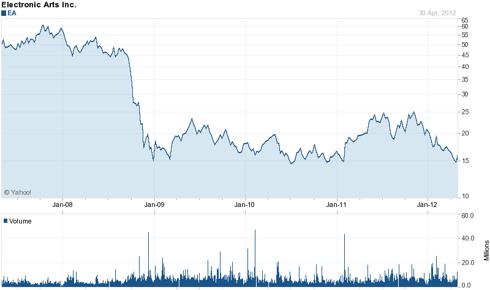 *Source Yahoo Finance
The discount accorded EA is compounded by negative sentiment. The company was somehow voted the worst company in America over likes of Bank of America. EA may be a stodgy old console based relic of trends gone by but for 2011 the company generated over $1 billion from online gaming almost identical to that of Zynga. Zynga may by growing faster but EA can count another $3 billion in revenues from traditional console gaming and a large catalogue of premium franchises like Madden NFL Football, The Sims and Need for Speed. With this type of valuation discrepancy Zynga has to continue growing much more rapidly than EA to avoid its share price falling, while EA has to do very little right to see its shares move higher. Some suggest growth at Zynga may already be slowing:
"But as we saw earlier this week from Facebook s revised filing, the social game market on Facebook may be slowing a bit, and Zynga appears to be experiencing that trend as well," Colin Sebastian, an equity research analyst at Baird Research told CNBC's Squawk Box.
Growth at a Premium or Value at a Discount
Investors are faced with many choices when it comes to their investments. EA and Zynga crystallize one specific market dynamic that we encounter everyday, to pay up for growth or look for value in underpriced stocks. Sometimes the premium is justified and it is a true long term growth story, $10 billion companies do become $100 billion companies. Some $100 billion companies even become $600 billion companies, but that does not happen with very often. As a company gets larger it becomes more difficult to attain growth and more to difficult to maintain stock premiums. Is Zynga so unique that it is going to be able to continue to grow at a faster rate than its peers and generate more profits per dollar of revenue to maintain its significantly higher than industry price to sales ratio? Time will tell, but typically things revert to the mean. Even Activision Blizzard is now only twice as large as Zynga on roughly 3x as much revenue while carrying almost $3 billion in cash on the balance sheet and no debt. For Zynga to double from current levels and become the largest player in the industry everything has to go right, for EA to double from its depressed market valuation to be just larger than Zynga is currently, it likely just has to stop doing things wrong. I would rather take the lower risk play with EA.
Disclosure: I have no positions in any stocks mentioned, and no plans to initiate any positions within the next 72 hours.