The old mantra of "sell in May and go away" is rearing its ugly face again as we turn the calendar from April to May. Over the past 22 years, 15 of them have seen strong Mays followed by relatively strong summers. It is only recently that the sell in May has been so negative. The S&P fell 8.2% in May 2010, and another 5.4% in June. During 2011, the S&P500 fell just 1.4% in May; however, it fell another 16% over the following three months. The following chart outlines the Dow, S&P 500 and the Nasdaq's move changes during May.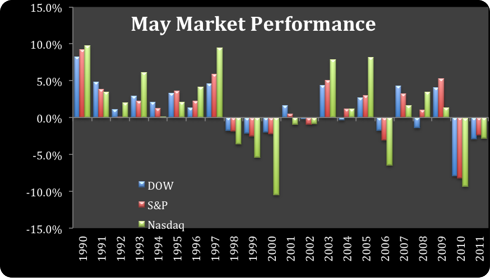 May is getting off to a good start today with the ISM Manufacturing Index showing a faster increase than the Street was expecting. However, with so many questions circulating about the strength of the U.S. economy, the strength of the Chinese economy, and of course the problems in Europe, some are saying that it is smart to just take the profits that we have seen through the first four months of the year, and relax for the summer. The S&P 500 is on the verge of breaking through resistance levels not seen since 2008 at 1,440. The Dow is up almost 10% year to date and hit a four-year high and the Nasdaq is up more than 18% year to date.
Since 1990, the month of June has seen 11 positive months and 11 negative months.
However, as the following chart outlines, it has been decidedly negative over the past several years. Since 1998, the S&P 500 has averaged a 1.0% decline during the month of June.
This is the type of question that can only be answered in hindsight, but with all the fear that is in the market today, it is really hard to see the light at the end of the tunnel. However, the American Association of Individual Investors said the percentage of retail investors who are bullish for the next six months dropped to 27.6%, well below the long-term average of 39%. That's the lowest percentage since the week ending Sept. 22, 2011, which was just approximately two weeks before the current bull market began.
The contrarian in me thinks this is absolutely great news. Despite the moves in the market recently, most of the negative feelings have already been priced into the market. The train hasn't left the station yet, and that still gives investors time to pile in. Additionally, when those professionals come back from their beach houses out in the Hamptons, they will buy back some of the stocks that retail investors are buying today.
Disclosure: I have no positions in any stocks mentioned, and no plans to initiate any positions within the next 72 hours.