My father taught me, years ago, the old tutelage "Liars figure, and figures don't lie". I disregarded the phrase thinking I knew the ways of life. I was wrong. Retirement dollars should be deployed in "safer than usual" investments and watched like a hawk. I spent my salad days in Seattle when Microsoft (NASDAQ:MSFT) was taking on Netscape. Times have changed and Microsoft is a cash cow. I recommend Microsoft stock for retirees for 4 reasons.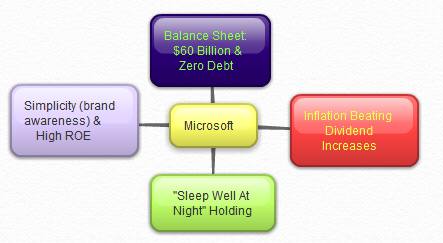 Microsoft develops, licenses, and supports a broad spectrum of software products and services. Microsoft has recently invested in Skype, the Nook division of Barnes & Noble (NYSE:BKS). Windows 8 is expected to be released this year. The company has focused upon returning earnings, via dividends, to shareholders: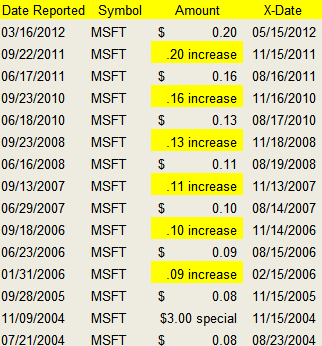 1. The first reason is downside protection. As a retiree, we can all acknowledge the benefits of zero debt and a savings account with significant cash. This is the case with Microsoft. Microsoft has close to $60 billion in cash and short term investments.
We have time and choices to make. We don't have to be aggressive and can invest in companies we feel 100% comfortable in. Microsoft is trading at a reasonable 11x price to earnings ratio. This is a very low earnings multiple.
2. The second reason is the "sleep well at night" factor. Microsoft is a cash cow growing revenues slowly but surely. Microsoft's 2011 4th quarter revenues, $17.4 billion, were a 6% increase from the 2011 4th quarter revenue. Microsoft's 2011 revenues were $73 billion. This was a tepid increase from prior years. The company has adequate cash to enter new venues and become opportunistic with venture deals. I can guarantee you that 10,000,000 kids and adults will be playing XBox somewhere around the world. Those are captive customers.
3. The third reason is the combination of simplicity and return on equity. In 2011 Microsoft provided shareholders a 40.6% return on shareholder equity. The simplicity factor is the known brands. The XBox console and services, Microsoft Cloud computing services, Microsoft Office (e.g., MS Word, MS Excel), and Microsoft Windows 7 (soon to be Windows 8) are all known products with worldwide reach. These products offer brand awareness and a high return on equity as many software products do.
4. The fourth reason is dividend growth. The dividend currently provides a 2.5% annual yield. Management has focused upon increasing the yield. This is exactly what retirees need during a time of rising healthcare costs, rising transportation costs, and a reduction in corporate retirement benefits.
Alternative Income Ideas

A) Starbucks Corporation (NASDAQ:SBUX)
Starbucks Corporation is another Seattle juggernaut. The company is the worldwide leading coffee retailer, and roaster of coffee. The company also owns Seattle's Best Coffee. The Starbucks' K-Cups have been hot sellers. As an avid Starbuck's consumer, I have been overwhelmed by the presence of a new roast, "Blonde". I adamantly will stick with my French Roast!
The company's dividend began in 2010. The dividend has rapidly grown to a 17 cent per quarter. The company has a captive audience who will gladly pay $6, every day of the year, for the perfect skinny latte. Revenue and dividends should continue to grow for years to come.
The balance sheet shows a 10% debt to capitalization. This is a reasonable percentage and could easily be reduced through Starbucks's free cash flow.
B) Intel Corporation (NASDAQ:INTC)
For a couple of years, I thought the name "Wintel" was 100% owned by Intel Corporation. A computer geek had to advise me that Wintel referred to a computer with Microsoft and Intel technology. Times have changed. Apple (NASDAQ:AAPL) has entered the computer hardware space with a passion.
C) iShares Dow Jones Select Dividend Index (NYSEARCA:DVY)
iShares Dow Jones Select Dividend Index is an exchange traded fund in a diverse dividend paying collection of equities. In my opinion, a retiree could easily - with research and commitment - outperform the exchange traded fund. The retiree needs to make the choice if he or she has the "know how" or time to find such alternatives.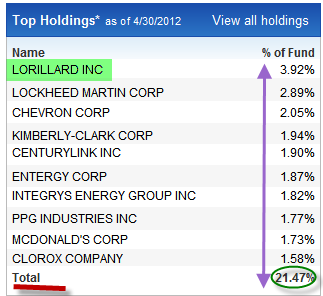 D) The Coca-Cola Company (NYSE:KO)
The Coca-Cola Company is my favorite, when times get tough, true and blue dividend company. Selling sugar water has never been perfected as well as the excellent job provided by the Atlanta Coca-Cola management team. The company recently announced plans to split shares 2:1. In addition, management squelched rumors of a Monster Beverage Corporation (NASDAQ:MNST) takeover. I believe there is a lot of truth to management's desire to dominate the energy drink market. Coca-Cola will pay their price. Such is the luxury of the dominant shelf space retailer.
Action
In retirement, an investor has to play it close to the vest. Major mistakes are not an option. Investing in a debt free company removes a major obstacle. General Motors (NYSE:GM), General Electric (NYSE:GE) both had to be bailed out by the U.S. Federal Government not even 5 years ago. Avoid the high debt companies to avoid a liquidity crunch that may occur in future years.
Retirement holdings must first avoid losses. Asset selection is crucial. Retirees are well-advised to buy dominant franchisees, with growing dividends, as their portfolio cornerstone. A caveat is the companies must not have excessive litigation risk or high debt to capitalization levels. This decision will make up for many mistakes in any riskier asset selections.