Shares of Downey Financial Corp. (NYSE:DSL) soared about 11% on Monday, November 19th on news that Hilltop Holdings Inc. (NYSE:HTH) took a 7% stake in the bank and that it was considering a business combination with DSL. Based on my biased opinion, I think DSL investors should take advantage of this short-term price increase and sell out, as opposed to holding on to this notion that any deal with HTH will occur in the near-term or that it will offer a significant premium. HTH is headed by Gerald Ford, who also approached Fremont General Corp. (FMT) about an acquisition only to walk away as FMT's operating performance further deteriorated. DSL does not appear appealing as a long-term investment or even a risk arbitrage play at this point for a number of reasons.
First, while Ford has an impressive history as an investor in the financial services arena, his recent experience with FMT has hurt his near term credibility. Secondly, HTH's overture is very clear in indicating that these are very preliminary discussions. DSL investors should conduct their own due diligence of HTH and try to determine how HTH would consumate a deal with DSL. The market capitalization of HTH is just under $700 million and is valued at roughly 1.5x book value. While HTH appears well capitalized, DSL, even with its recent price drop, is worth just under $1 billion, meaning HTH could need to issue equity to make a deal work and effect a stock swap to combine with DSL. That notion may concern HTH holders, which could further increase the difficulty of combining with DSL.
The next obstacle to completing a deal would be evaluating a fair price for DSL. Bank deals are typically done against a multiple of P/B. In DSL's case, it trades for a discount against its GAAP book value but the latest Q reveals that its earnings hardly contain any cash interest income. This has been a growing trend for DSL in recent years as its earnings quality has become terrible. Table I provides an updated summary income statement that presents the growing reliance on capitalized interest from negative amortization loans [CINA] and the declining net interest margin. This is what makes DSL's metrics that much worse. Despite the heavy recognitiion of phantom-like CINA, the bank still can't maintain a healthy net interest margin.
Table 1: DSL Historical CINA Recognition



As Table I illustrates, 82% of YTD 2007 net interest income is from CINA while the bank's net interest margin has declined considerably to just 32%. The bank's current condition and regional conditions in California would suggest that further net charge-offs and further growth of non-performing assets will also increase, further impairing the value of DSL. In addition, the "real book value" of DSL is likely to be far below the GAAP amount because of growing recognition of CINA in recent years. These phantom earnings are recognized as GAAP profits and booked in retained earnings/book equity, but they represent accounting earnings as opposed to true economic value. In that same sense, DSL's book value is just an accounting illusion that is significantly overstating the bank's economic/true book equity/worth.
Another important item to consider is the fact that DSL Chairman Maurice McAlister met with HTH just last week. This is just conjecture but McAlister, as a significant shareholder of DSL, was likely approached in previous years about a possible sale for DSL as a significant amount of bank M&A was occurring yet no deal occurred. Of course, meeting with a significant shareholder like HTH is probably business as usual, but investors should wonder if there are any other further issues or concerns held by DSL's Chairman, if he is seriously contemplating some sort of transaction when prices are about 50% below DSL's peak.
DSL's share price has also held up rather well against other banks despite the considerable headwinds it's now facing. The chart below is from Credit Suisse and presents the massive wave of mortgage resets that quasi-prime/prime mortgages will be facing in the coming years. As I've mentioned before, much of the focus has been on subprime mortgages but I feel the major issue is the resets that will occur in the Alt-A/prime option ARM mortgages. These loans are DSL's main lending product and comprise the vast majority of its asset base.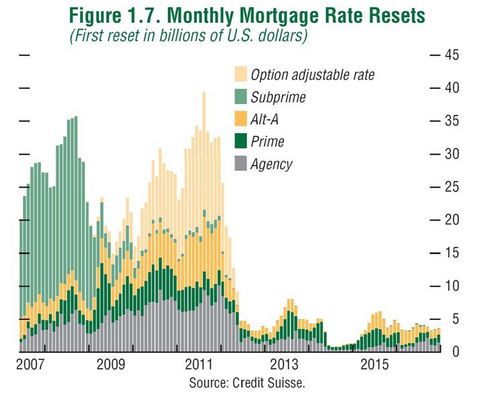 What's interesting about the chart is the sheer level of Alt-A and option ARMs that will reset in the coming 2-3 years. While DSL is now starting to set aside reserves, it's conceivable that far greater reserves will be necessary as many homeowners will balk at the mortgage resets and try [and fail in many cases] to refinance out of those mortgages. DSL investors should also realize that the bulk of the bank's mortgages are secured against assets that are declining in value, which could result in much higher losses than in previous cycles.
In summary, there's little reason to believe DSL represents a compelling buy for a long-term investor or even a potential acquirer like HTH. The bank has no credible book value which leaves one to value it based on EPS. Even the Street, which had maintained optimistic 2008 EPS projections of $7 per share at one point, has in some cases reduced EPS expectations to just $2.50 for 2008. What's rather humurous/pathetic is that in some cases, price targets are still around $60, meaning that the Street believes investors should pay 24.0x forward EPS for a thrift when typical bank EPS multiples are in the 8-12.0x range. Given the significant uncertainity with DSL's asset book, it's ridiculous to suggest the bank is undervalued.
Based on the data in the above chart, DSL is most likely just entering the reset storm heading into 2008, California housing prices are dropping, and Q3 2007 really marked the first quarter where DSL started adjusting its financial statements to account for the deteriorating market. With that information, it appears as though DSL is in the early stages of feeling the impact of its crumbling home market, and a 50% haircut in price is likely inadequate given the challenges facing DSL. Against this backdrop, DSL should struggle in the coming months, and I suspect that HTH may have an opportunity to buy the bank for far less than current prices in the coming year.
Disclosure: Author manages a hedge fund that owns DSL puts.