Chesapeake Energy (NYSE:CHK) has been an extraordinarily polarizing stock of late. As it currently stands, share price has sunk to near 52 week lows under three main catalysts: protracted low natural gas prices, a loan scandal involving CEO Aubrey McClendon, and most recently (after market hours on Tuesday, May 2) an earnings and revenue miss for the first quarter of 2012. There is enough there to scare away the average investor, but we think things are bound to shape up for the Oklahoma-based oil and gas company.
Chesapeake Energy Corporation
$19.60; 52Wk Range: $16.78-35.75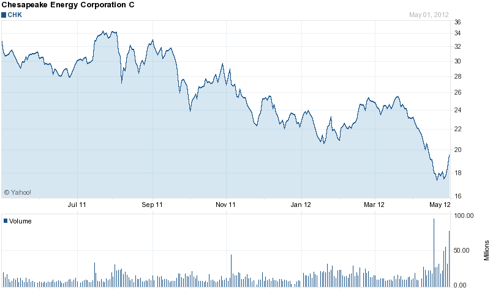 Chart from Yahoo Finance.
Loan Scandal Resolved?
On Tuesday, Chesapeake made the important decisions to strip Aubrey McClendon of his role as Chairman and end the controversial Founders Well Participation Program that landed him in hot water and received scorn from the market. The stock rallied over 6% on the news. We view favorably these steps by the company to put the troublesome scandal behind it. As investors, we are satisfied that Chesapeake can move forward.
An Earnings Miss, Planned Asset Sales
Despite gaining on the day on Tuesday, Chesapeake's earnings report after hours is likely to give some of that back. Q1 2012 EPS of $0.18 falls short of consensus by $0.10, and revenue of $2.42 billion falls short of consensus by $290 million. Perhaps most alarming in the report is Chesapeake's planned sale of assets in order to keep the company financially afloat amidst record low natural gas prices. Given the expected downsizing, Chesapeake slashed 2012 and 2013 cash flow estimates by nearly 50%.
The Most Important Hurdle
With the Founders Well Participation Program seemingly behind Chesapeake - and the damage already wrought - the biggest obstacle the company faces remains the low price of natural gas. If prices turn around, Chesapeake is a substantial value play at current levels. Since we are bullish on the long-term prospects of natural gas prices, agreeing with Jeff Gundlach's take that buying natural gas now is like buying gold in the 90s, we see real value in Chesapeake at current levels.
Alternatives to Chesapeake
Numerous companies stand to benefit from rising natural gas prices and, as such, may constitute viable alternatives to Chesapeake. Some of them provide an investor a more diverse strategy in the industry, thereby mitigating the risk that the investment will go sour if gas prices remain low.
Some of our picks include gas-heavy oil and gas driller Devon Energy (NYSE:DVN), global energy equipment and services companies Halliburton (NYSE:HAL) and Weatherford International (NYSE:WFT), oil and gas mega-corp Exxon Mobil (NYSE:XOM), global integrated energy company ConocoPhillips (NYSE:COP), and one of our favorites in BP (NYSE:BP), which we believe trades at an attractive valuation following legal fallout from the 2010 Gulf oil spill.
Bottom Line
We acknowledge the investment is risky - and we caution against an overweight position - but we like the upside and have faith that the company can maintain its health by selling down assets, as well as by capitalizing on its non-gas investments for a long enough period to reap the benefits of future rising gas prices.
Of particular note, as well, is the fact that Chesapeake currently trades at a discount to its book value of $21.20/share (source: Yahoo Finance). Since the company is selling down assets, it is essentially realizing its book value, providing an attractive justification for accumulating shares at the current discount.