A protected covered call or collar search performed using PowerOptions tools, seeking to find the highest returning position for profitable companies with a maximum loss of 8% and a stock price in an uptrend, produced online travel company Priceline.com (PCLN) as shown below:

Four of the top five highest returning protected covered call positions belong to Priceline, each with differing %Return and %Maximum Risk. A position for the beverage company Monster Beverage (NASDAQ:MNST) was stuck in the middle between the Priceline positions.
A protected covered call may be entered by selling a call option against a purchased or existing stock and using some of the proceeds from selling the call option to purchase a protective put option. The Priceline protected covered call has a potential return of 3.5% (71% annualized) with a maximum potential loss of 7.4%. Even if the price of the stock drops to zero, the maximum loss that can be sustained is 7.4% (at expiration).
The highest returning positions as shown above were found by selecting to sort by the highest returning positions. Profitable companies were found by selecting to search for companies with a Price-to-Earnings ratio (P/E) greater than zero. The stock price for companies in an up trend were found by including in the screen companies with a 100-day moving average greater than the 200-day moving average. The 8% maximum loss parameter was selected, as a loss of 8% or less can typically be recovered fairly quickly using income generating investment methods.
The protected covered call enables a current investor to protect a profit in Priceline's stock and enables a new investor with the potential to realize a very nice return, while also protecting the position from bad news. The specific call option to sell is the 2012 May 760 at $37.20 and the put option to purchase is the 2012 May 680 at $7.20. A profit/loss graph for one contract of the protected covered call position is shown below: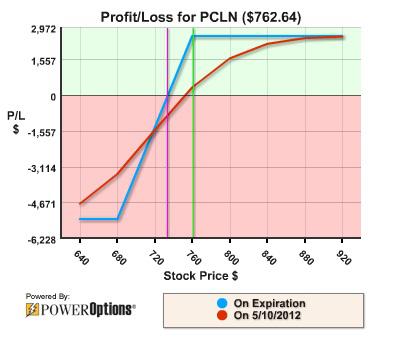 For a stock price below the $680 strike price of the put option, the value of the protected covered call remains unchanged (at expiration). If the price of the stock increases to around $830 to $840 or above the position can most likely be rolled in order to realize increased potential return.
The reason, or at least a partial reason for Priceline's high potential return protected covered call is its upcoming earnings conference call scheduled for May 9, 2012. Another reason, or partial reason for the high potential return is probably due to the stock's ballistic price over the last few months as shown below: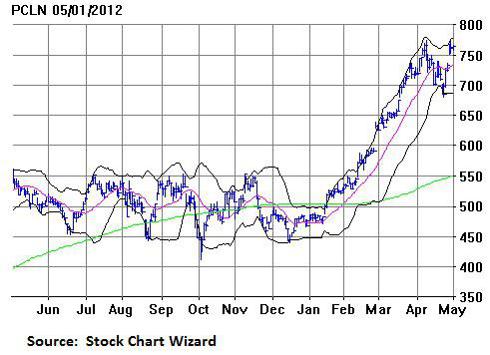 Priceline's stock price appears as if it has requested to be beamed aboard the Starship Enterprise over the last four months. While "Beam me up, Scotty" may not yet be a phrase in the repertoire of would-be voyagers here on earth, Captain Kirk can still draw enterprising travelers to the booking site operated by Priceline.com. William Shatner is 'The Negotiator', appearing in Priceline's advertising and fronting the company's core website, Priceline.com, which offers worldwide hotel reservations (210,000 participating hotels), airline tickets, rental cars, vacation packages, tours and cruises. The groups four primary brands are Priceline.com, global hotel reservation site Booking.com, Asian-based Agoda.com and multinational car hire service Rentalcars.com. There company also has a number of smaller brands. Online travel services are provided in Europe, North America, South America, the Asia-Pacific region, the Middle East and Africa, in 41 languages. The focus is on discount travel, including a 'Name Your Own Price' opaque bidding operation, involving deep discounts in return for a non-refundable commitment to a deal with little in the way of prior details (like the name of the hotel).
An online business like Priceline must stay abreast of technology and consumer trends. As well as having easy-to-use websites and the usual presence on Facebook and Twitter, there are free Priceline smartphone applications available at Apple's iTunes store, including the 'Hotel Negotiator' and 'Tonight-Only Deals' Android application. In March 2011 Priceline received a rating far higher than any of its competitors - Expedia and Hotwire (NASDAQ:EXPE), privately-held Travelocity and Kayak, and Orbitz (NYSE:OWW) - in web content analyst NetBase's 'Brand Passion Index'. Both Google (NASDAQ:GOOG) and Microsoft (NASDAQ:MSFT) have made recent acquisitions which allow them to offer meta-search travel services comparing available deals, and they may in future decide to become direct competitors in the online travel business by engaging directly in transactions. 'Daily deal' sites like Groupon (NASDAQ:GRPN) and privately-held Living Social present a further type of competition.
As well as addressing problems created by increasing competition, Priceline must face challenges beyond its control, such as natural disasters like the 2010 volcanic eruption in Iceland which disrupted air travel globally. The 2011 earthquake, tsunami and nuclear emergency all had a severe downward impact on the demand for travel both into and out of Japan, a major travel market. Civil unrest in Thailand in 2010, followed by the 2011 floods, caused many cancellations affecting the business of Agoda.com. There is almost nothing Priceline can do to protect itself from such occurrences, other than continue to develop all of its regional markets so that it is not too heavily dependent on any one of them.
In a recent announcement, Priceline has indicated that it will make a private offering of $875 million in convertible senior notes to fund a $200 million repurchase of common stock, debt repayment and corporate acquisitions. The most recent major acquisition was TravelJigsaw (now Rentalcars.com) in May 2010.
Priceline recorded $4.4 billion in revenues in 2011, a massive 41% increase over 2010. International operations of $2.6 billion (mostly hotel reservation services through Bookings.com) were responsible for most of the increase, posting growth of 78%, and were a major contributor to the 61% growth in gross profit. Operating income of $1.4 billion was 78% higher, and net income more than doubled to $1.06 billion ($20.63 per diluted share). President and CEO Jeffery H. Boyd, remarked in the Q4 2011 earnings press release (pdf), that Booking.com, Agoda and Priceline.com had gained share in the retail hotel room reservations market, but that the 'Name Your Own Price' hotel business in the US had suffered from increased competition in the discount market. Rentalcars.com (a re-branding of the previous TravelJigsaw business) had what he described as 'an outstanding year', and global hotel business also continues to build market share, with particularly strong growth in Asia. He emphasized that although Priceline's growth is expected to continue it would not be possible to maintain the current spectacular rates of increase, particularly given the weak economic conditions in Europe. Guidance for 1st quarter 2012 includes the following year-on-year increases: gross travel bookings +33-38% (international +41-46%, domestic +10%); revenue +22-27%.
During the Q4 2011 earnings call, Priceline's CEO Jeffery Boyd quoted statistics indicating that Priceline had a 'mid-single-digit' market share percentage of the reported 1.6 billion hotel room nights used in EU countries in 2011, so clearly there is both room for long term growth and a not too alarming amount of current revenue to be lost while Europe struggles. A question about TripAdvisor (NASDAQ:TRIP) elicited the response that they are a good source of traffic and a good advertising partner for Priceline. Opportunities in China and Japan, which have a low penetration of multinational online travel agents, were highlighted.
Priceline's extraordinary growth is partly a result of the changing pattern of travel purchases, which have moved from offline to online in recent years, and also of the high growth of travel in emerging markets such as Asia-Pacific and South America. This competitive arena is of course not exclusive to Priceline, so credit must be given to the company's well-executed marketing, user-friendly websites and vast supply of global hotel partner rooms. Worldwide economic conditions, particularly those in southern Europe, unfavorable currency exchange rates and the impact on airfares of higher oil prices, are likely to slow the growth rate of a company so dependent on international business. However, Priceline's management appears confident that growth will only slow, not stop, as consumers continue to boldly go where they have not gone before.
With Priceline's stock at such an elevated price any slowing related to earnings could significantly impact stock price. In this situation, an investor might be wise to consider a protected covered call. In a previous article (and first article posted on Seeking Alpha), I considered a protected covered call or collar for Priceline, after which the stock price declined. An investor in the protected covered call/collar at option expiration in November would have only been down -1.6% as opposed to being down -4.6% in a long position. Additionally, an investor entering the position mentioned in the article and remaining in the stock following expiration would be up 3% over the return of a straight long investment.
Disclosure: I have no positions in any stocks mentioned, and no plans to initiate any positions within the next 72 hours.