I have to say that I do not like silly shoes. Crocs (NASDAQ:CROX)(the shoes) are dumb, overpriced, and ugly, and Heelys (NASDAQ:HLYS) wheeled shoes are dangerous, and faddish. Of course, that has not kept Crocs ($38.76 +0.18%, market cap: $3.196B), or Heely's ($5.94 -3.10%, market cap: $160.8M) from making some nice money.
But seriously, Skins? At best it is a niche idea. With the price they are selling at, they are not likely to go big. While the company is serious and has brought in some substantial outside talent, this is a classic case where foolish investors bid up the price of the company to an absurd level. When it had a market cap of $100 million, Skins (OTC:SKNN) was priced as if it had already achieved niche status and was growing beyond that. Yet, the company had no sales at the time.
Reality has caught up with the stock and it has fallen 80% since its high last summer, and almost 90% since its 52-week high last December. Reality often catches up to those who unwarily speculate in 'the next big thing.' Don't let reality catch you off guard. Even with a market cap of $16 million I would not touch the stock. That being said, the company's management is a welcome oasis of decency in the cesspool that is the OTC BB.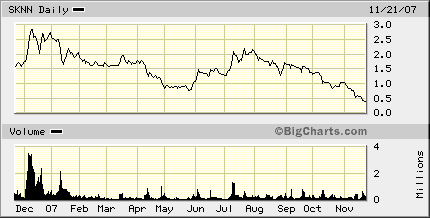 Disclosure: I have no position in any stock mentioned above. My disclosure policy loves wearing its Birkenstocks.